Is your business ready for the holiday season? Along with hiring enough staff, restocking your best-selling products and planning out your festive season promotions, there's one crucial task that needs to be at the top of your to-do list: batching your social media content. 
Why? Because showing up consistently online during the peak holiday season is what will keep your brand front-of-mind for your ideal customers. 
Plus, batch creating your holiday social media content streamlines your workflows, maximizes your time and allows you to get ahead (meaning you can unlock a well-deserved break once the sale season is over). 
Ready to boost your sales and learn how to batch your content creation like a pro? We've rounded up six must-try strategies to ensure you efficiently batch your social media content over the holiday season.
Pinpoint your busiest periods over the holiday season
First up, you need to understand the timelines you're working towards. To take the guesswork out of batching your social media content, you need to know exactly what key sales and promotion dates you'll be leveraging. 
While every business is different, the most common festive season moments include:
• Black Friday "early bird" sales: late October to early November 2023
• Black Friday: November 24th 2023
• Cyber Monday: November 27th 2023
• Green Monday: December 14th 2023 
• Last Minute Christmas Sale: the week or two before Christmas (December 25th 2023)
• Boxing Day: December 26th 2023
• New Year's Day Sales: January 1st 2024
With these dates in mind, you can work backwards and identify when you need to start creating your content to promote these key sales moments. 
Plus, it's important to be realistic about your capacity and set yourself up for success when batching your holiday social media content. Planning to create a month's worth of content during your busiest week of the year isn't going to allow you to produce your best work. 
Instead, block out your busiest weeks from October to January and set aside time to batch your content creation outside of these times. Your future self will thank you for it! 
Block out time to batch create your social media content 
Here's the thing about batching your social media content: you need to make it a priority. 
In the midst of peak season, sitting down to craft a caption and film an Instagram Reel will likely feel like an impossible task. That's because you've got urgent tasks demanding your time and attention, like packing orders, answering emails and planning next week's roster. 
Don't leave things to chance or try to squeeze in content creation in between urgent tasks. Instead, treat content creation as a non-negotiable appointment in your diary that you can't miss.
By blocking out your calendar with dedicated time for batching your content creation, you'll avoid being swept up in other tasks and will boost your chances of getting ahead with your content creation. The sooner you set aside this deep work time, the more time you'll have to plan ahead and be strategic with your brand's social media content ahead of the holiday season.
Tackle your holiday content creation in task-specific blocks
Ready to maximize your time when batch-creating your holiday content? Here's an insider trick of the trade: dedicate time blocks to specific tasks. 
Rather than writing captions, designing graphics and selecting hashtags in one session, set aside work blocks to tackle one specific part of the content creation process.
That might look like:
• Setting aside two hours on a Friday morning to shoot video content for Instagram Reels
• Dedicating an hour to designing a month's worth of graphic tiles and carousels
• Spending a couple of hours writing captions for next month's content calendar
The benefits of working in task-specific batches are you'll boost your productivity and supercharge your output, meaning you'll get more done in less time! 
To really fast-track your holiday social content creation, try following a time management technique (such as the Pomodoro method or timeboxing approach) to beat distractions and make every second count. 
Design branded templates to supercharge your asset creation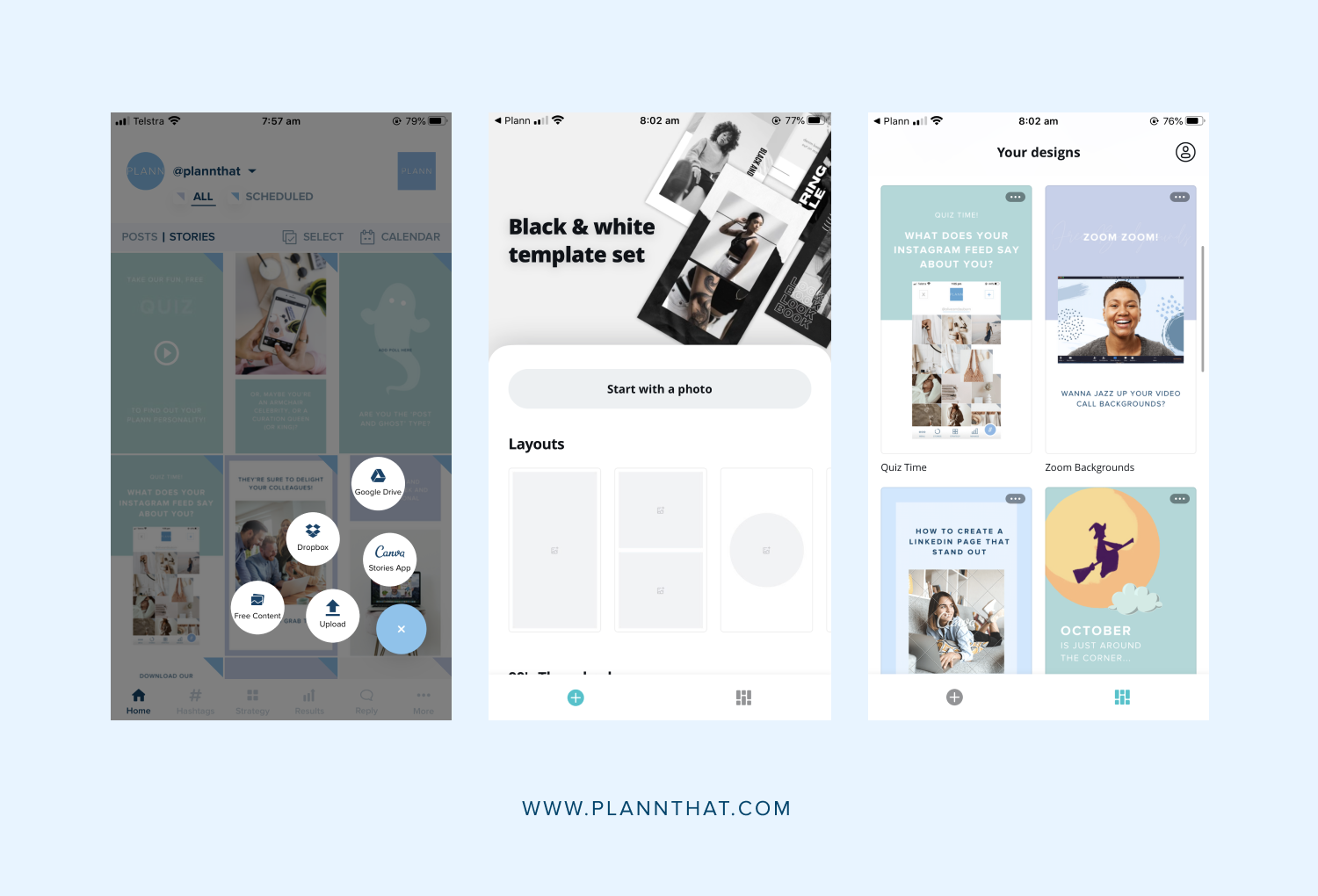 Imagine if you never had to start from scratch when creating your carousels or graphic posts. That's exactly what you'll score when you harness design templates to your advantage. 
By whipping up a range of templates ahead of the holiday season, you can ensure every post you design is aligned with your brand identity (without having to reinvent the wheel with every single design). 
In fact, templates are one of the smartest ways to bath creating your content, as they:
• Offer plug-and-play designs you can customize and repurpose for months to come.
• Ensure every design you produce is clearly aligned with your unique brand identity. 
• Significantly reduce the time it takes to produce new assets for your sales or promotions. 
Even better, with Plann's Canva integration you can produce a huge library of branded templates without leaving your Plann workspace. Input your brand colors, fonts and logos and quickly design a series of on-brand templates ready to promote your flash sale, new product releases or festive season messages. 
Harness the power of AI to fast-track your caption writing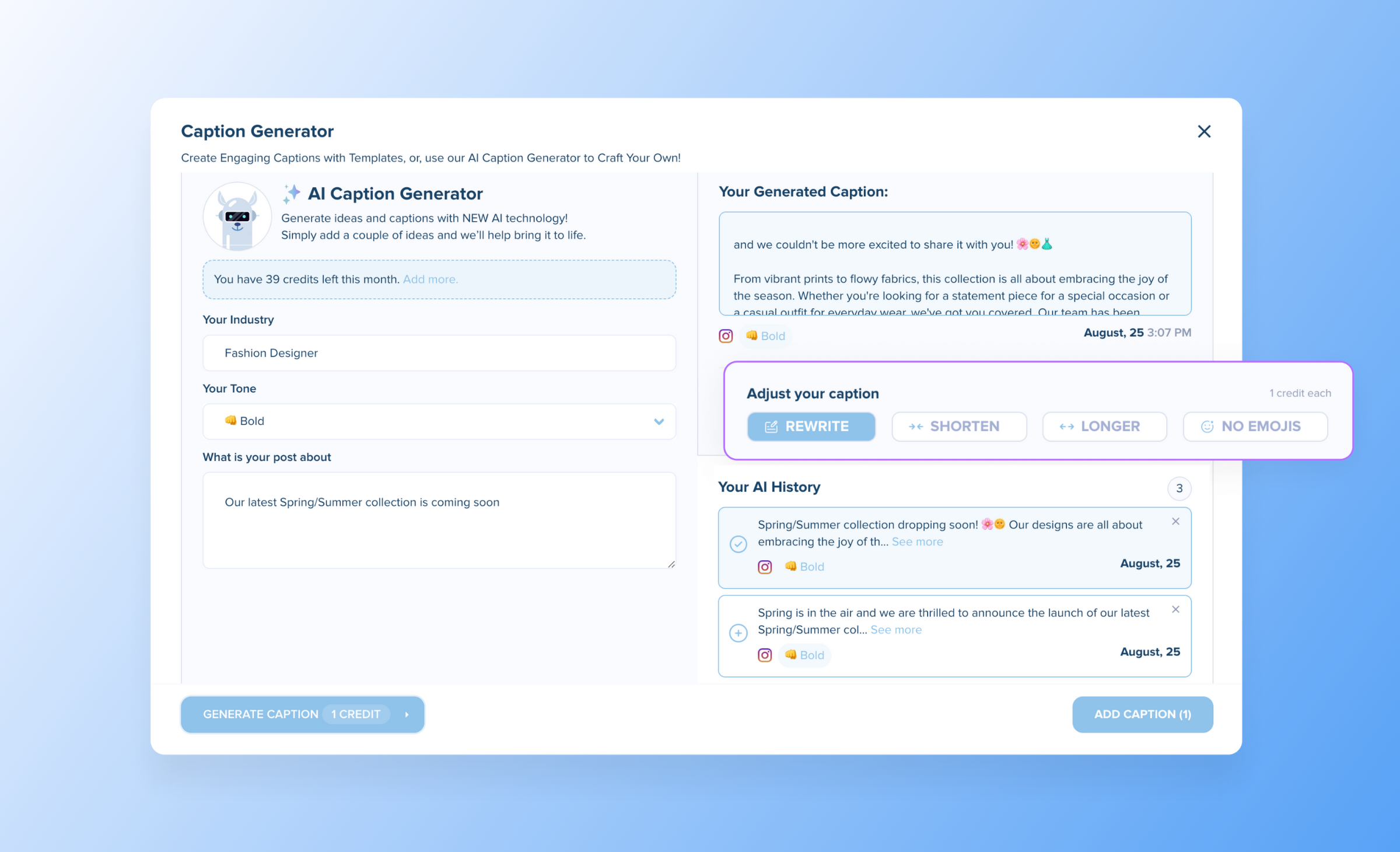 Want to whip up your social captions in minutes, not months? You need to be tapping into the power of AI. 
AI is your ultimate wingwoman when it comes to social copywriting. Skip staring at a blinking cursor and get your captions sorted sooner with prompts and templates that you can customize to align with your brand's unique tone of voice. 
In fact, AI is your secret weapon to:
• Beating writer's block once and for all 
• Tapping into proven conversion copywriting techniques and frameworks
• Fast-tracking your caption writing to get back to doing what you do best sooner
PSA: Plann's AI caption generator is a game changer for your business this holiday season. Select your industry, your tone of voice and input your prompt to receive a bespoke caption, ready for you to use!
Best of all, our latest update allows you to adjust your caption by shortening, rewriting, lengthening or even removing all emojis. Talk about the smartest way to craft captions that cover this holiday season! 
Strategically repurpose and cross-post content across platforms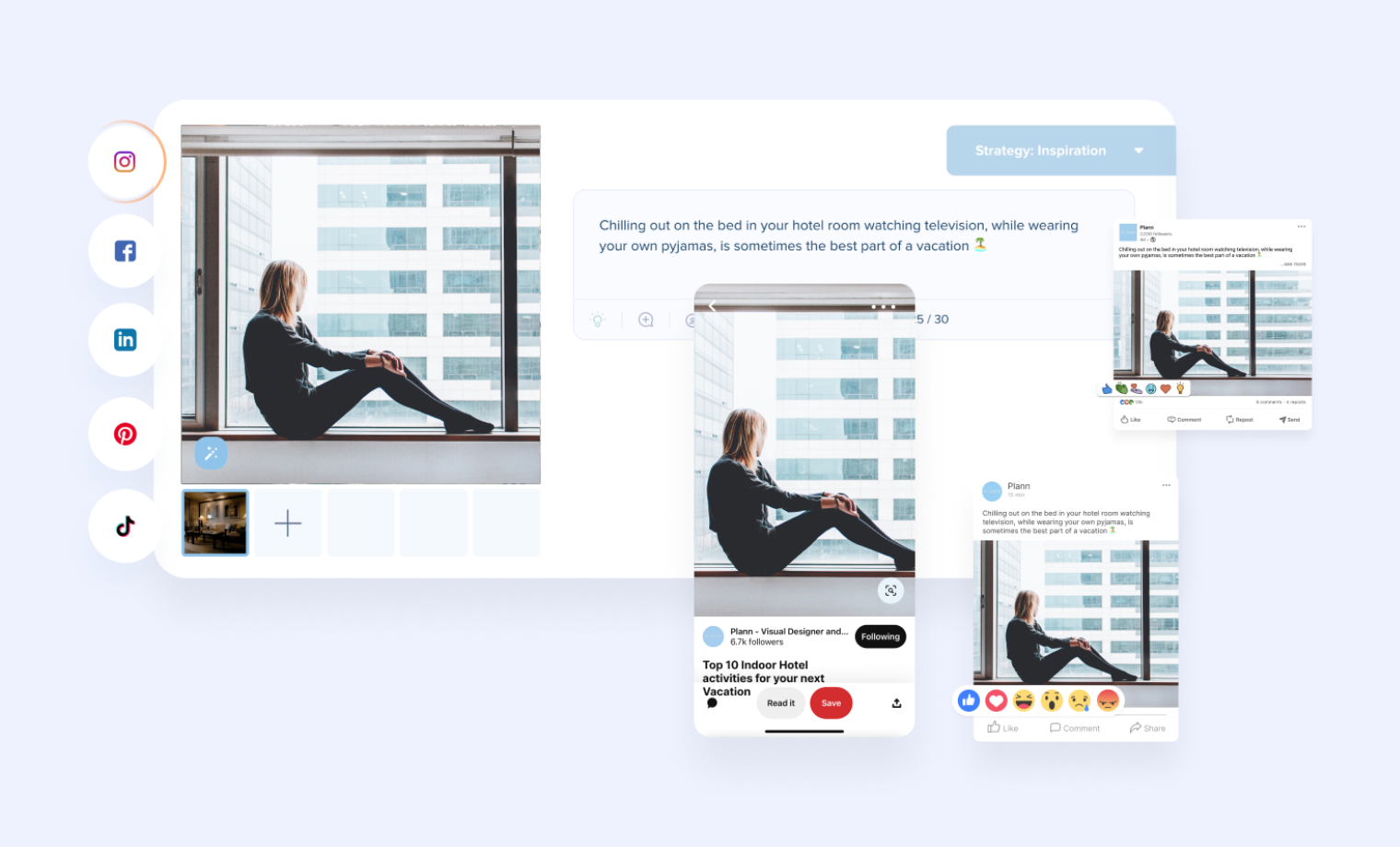 Batch-creating content for multiple social media platforms can seem overwhelming. But what if you didn't have to create unique posts for each channel? That's where the power of repurposing and cross-posting content comes in. 
The truth is that with a few simple tweaks, you can repurpose content across all your social media channels, from Instagram to TikTok and beyond. This allows you to save precious hours during the peak holiday season, maximize the value of every post you're creating and ensure you're fostering an active online presence across all platforms. 
And with Plann's handy cross-post feature, repurposing content has never been easier. Simply upload your content to your Plann scheduler, select the cross-post option and make any tweaks to the image ratios, hashtags or caption and you're ready to schedule! 
Ready to sleigh your socials this holiday season? 
Looking for an all-in-one content creation suite that simplifies managing your social media channels? Inside Plann, you'll discover everything you need to effortlessly map out your strategy, repurpose your content, and take your Reels content to new heights.
Ahead of the busy holiday season, Plann allows you to proactively batch your content creation and get ahead to maximize your sales and make 2023 your best year yet. 
Go on, and redeem your 7-day free trial of Plann Plus. If you don't like it, keep using Plann for free!