Whether you're looking to boost website traffic, increase enquiries or drive sales, increasing engagement on social media is the first step to get you there. 
As a brand or small business, you need to foster a loyal, engaged community and build trust through social media content that educates, entertains and inspires your audience. In fact, 47% of consumers are willing to pay more for brands they trust, making this a crucial tactic for success.
With more competition than ever on social media, it's no surprise that the biggest social media platforms are experimenting with new tools and features to boost engagement between brands and users. 
This month, Instagram is testing a new way for users to co-create carousel posts, YouTube is scoring a new discovery tool for Shorts, and LinkedIn marks an epic milestone with new AI-driven tools. Ready to score the latest social media scoop? Let's dive in. 
Instagram is experimenting with co-created carousel posts 
Is your brand already using Collab posts on Instagram? If so, you'll want to hear about this brand new collaborative post placement, allowing you to co-create Instagram carousels with other users.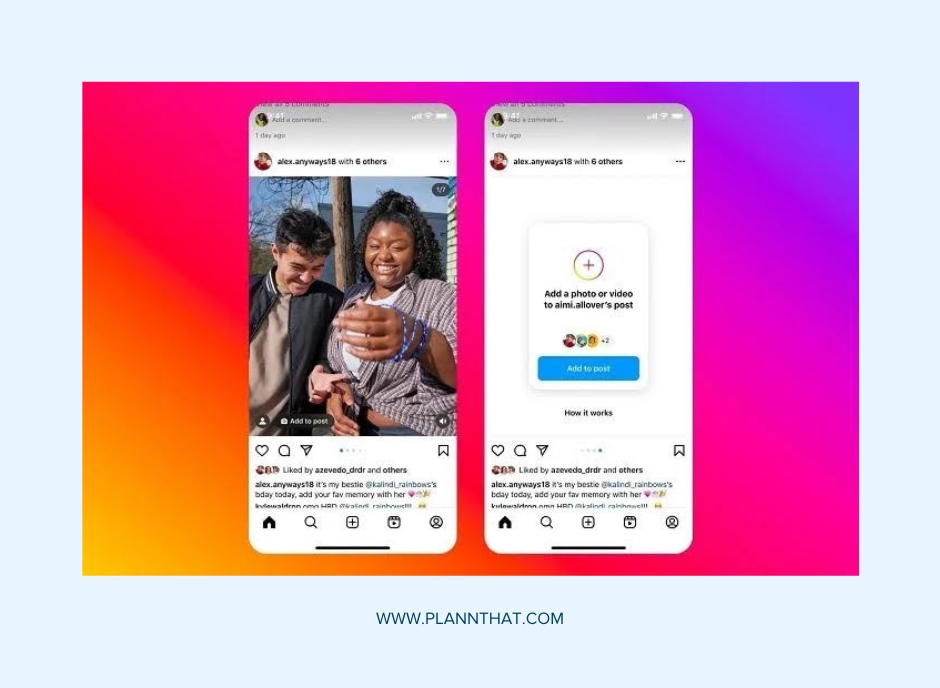 While Instagram Collab itself has been around since 2021, the ability to co-create carousel posts on Instagram is a brand-new feature. Currently in the testing phase, this new co-create post option will allow users to submit photos or videos to be included in your carousel post. 
When publishing a carousel to Instagram, you'll need to toggle on the option to 'Allow others to add to this post'. From there, you can accept or reject submissions from other users, allowing you to control exactly how your carousel comes together.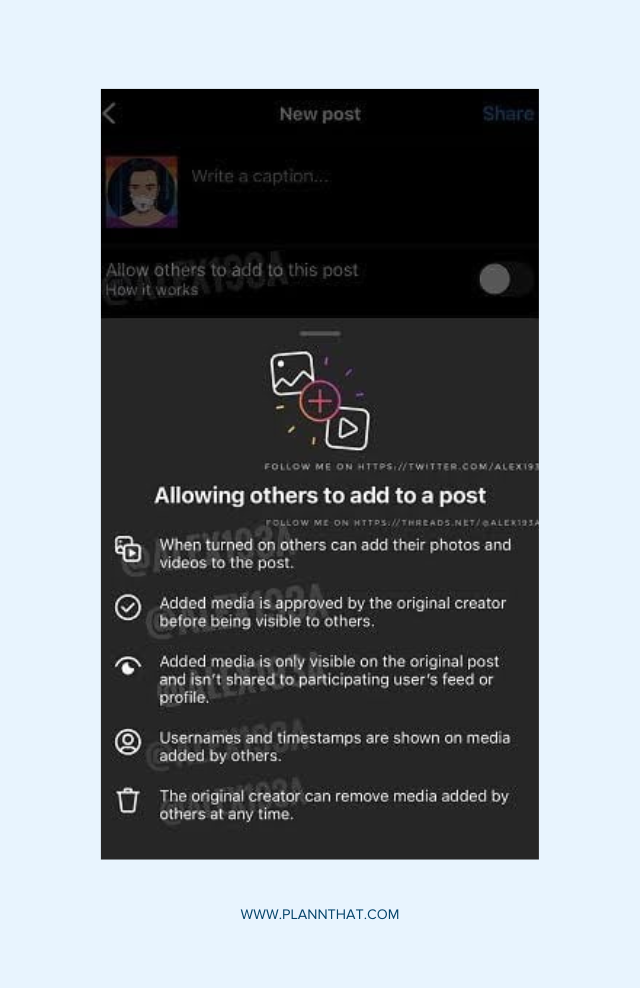 Each user that contributes to your carousel will have their handle included in your post as well as timestamps for when their media was added.   
It comes off the back of a series of new collaborative features launched on Instagram in recent months. Now, users can share an Isntagram Story with multiple group lists at once and even share feed posts with Close Friends only. 
What does this tell us? Instagram is heavily investing in new tools that allow users to target specific segments of their audience, even in their organic feed and Stories posts. 
As a brand using social meida for business, now is the perfect time to refine your audience segments and strategize ways to harness these features collaborative features, such as:
• Teaming up with influencers to co-create a carousel post to celebrate a new product release
• Joining forces with other brands to co-create a carousel as part of a competition or giveaway 
• Resharing user-generated content and harnessing powerful social proof using a collaborative carousel post 
YouTube Shorts score a new in-feed discovery tool  
Are you creating YouTube Shorts to boost your organic visibility on YouTube? Good news: YouTube is currently testing a new in-feed prompt to help more users discover your content.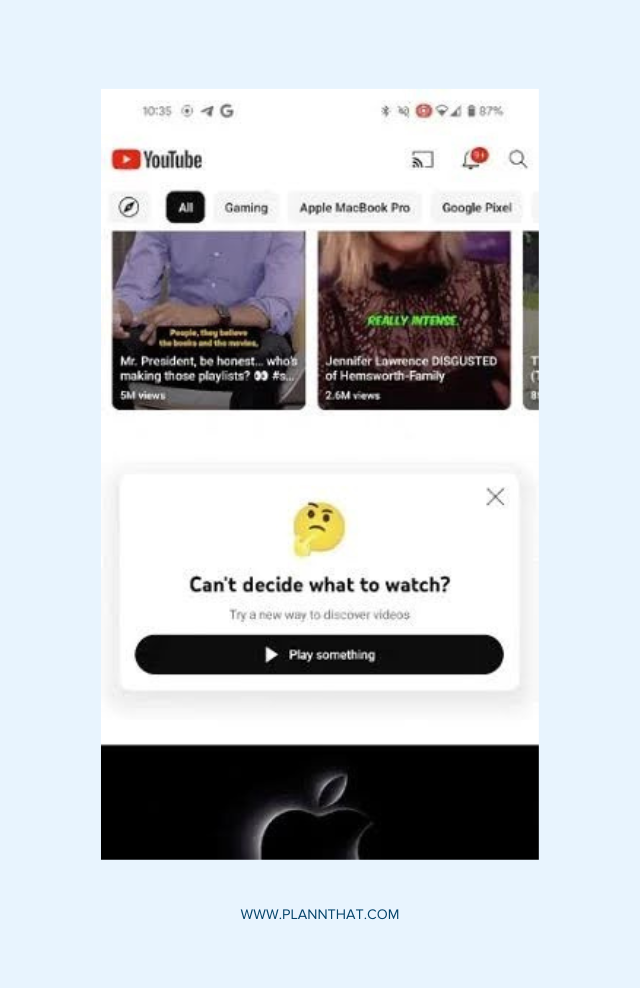 Currently, the platform is testing a random feed prompt that encourages users to dive into Short content. It comes as YouTube Shorts continues to climb in popularity, gaining over 50 billion daily views globally. 
It's an interesting departure from YouTube's usual strategy and takes strong inspiration from TikTok's For You feed by serving users a curated selection of Shorts based on their watch history, the videos they've liked and even the channels they're subscribed to. 
With more and more users turning to Shorts, it makes sense that YouTube is testing and experimenting with new discoverability tools to help creators expand their reach and grow their audience through short-form video content. 
Thinking about getting started with YouTube Shorts? We've rounded up 10 YouTube Shorts ideas to boost your reach along with the top YouTube Shorts editing tools you need to know about. 
YouTube launched new GenAI elements, including an In-Stream Chatbot
YouTube has also been busy rolling out new generative AI tools, allowing viewers to easily engage with creator's content in new ways. 
The first is a test of topic summaries for comments. With the goal of driving conversations and boosting engagement, YouTube will automatically generate sub-discussions within comment streams (driven by AI) to help creators see what conversations are happening in response to their videos.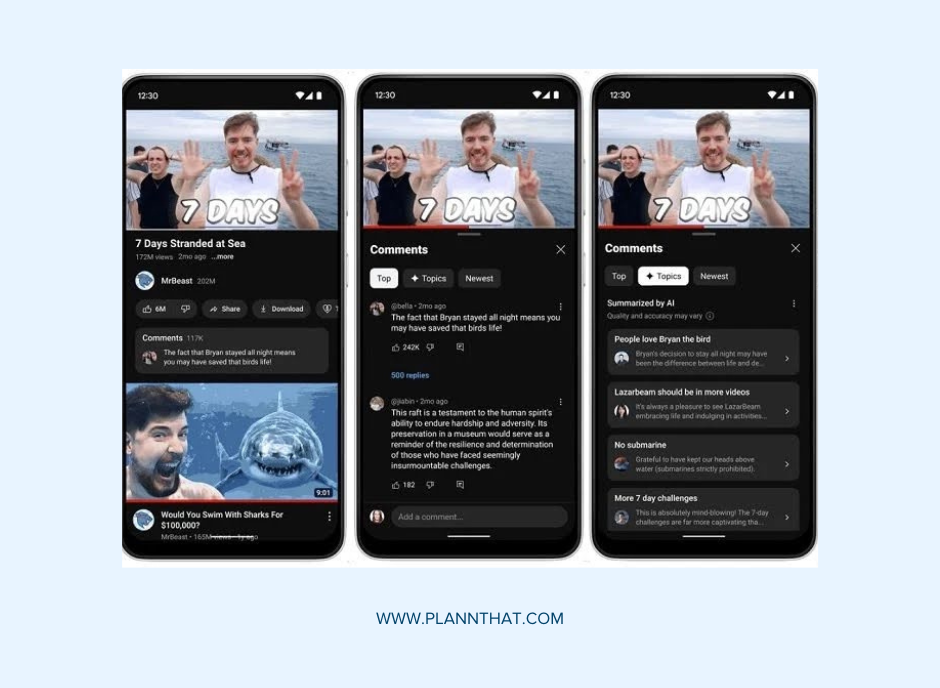 Within the comments section, users and creators can see a topics tab that allows them to quickly understand what conversations are happening between viewers. This is a helpful new feature that will allow you to quickly gather audience sentiment and ensure your future content is centred around topics your viewers are interested in. 
Currently, this feature is being trialled with a small number of English-speaking creators with a large comments section.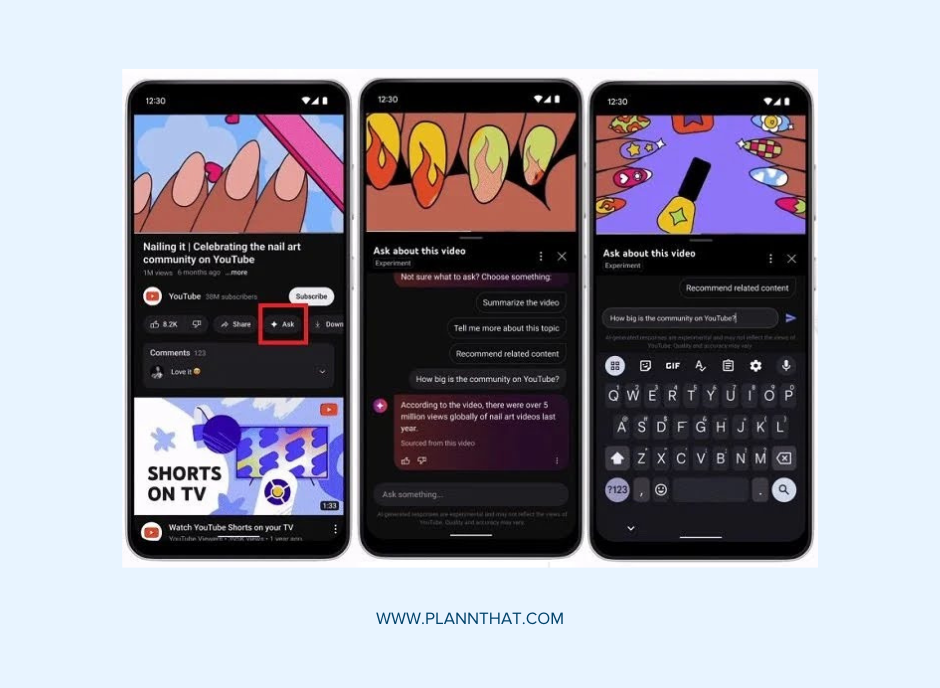 Plus, YouTube is rolling out a new 'Ask' tool, allowing viewers to ask questions in response to videos. This feature will use conversational AI tools to recommend related content based on the questions users are asking and the topics they want to dive deeper into. 
This feature is designed to prompt content discovery and exploration within the YouTube platform, serving as a timely reminder to ensure your YouTube SEO is up-to-date across both your channel and each video you upload, too. 
LinkedIn celebrates 1B users with new OpenAI-powered tools 
Finally, the team at LinkedIn are marking a major usage milestone: the platform has now hit 1 billion users. 
To celebrate, the platform has announced a string of OpenAI-powered features to help creators produce content with ease. The catch? Currently, these features will only be available to Premium users. 
There are three key AI-driven features you need to know about on LinkedIn: 
• Tools to spruce up your feed (ensuring the content you see is personalized to your experience and interests) 
• Tools to digest any linked articles (and craft a compelling caption to help you showcase your expertise when resharing to your own network)
• Tools to help you land a new job (including a new AI chatbot to help coach job seekers find open roles that are best suited to them)
These tools are all geared towards boosting engagement on the platform, making it easier for users to create and share posts and spend more time on the site. Plus, LinkedIn is doubling down on AI tools to ensure the platform remains relevant with the moves being made by other social media networks (all of whom are openly embracing AI in their software). 
Master your social media marketing with Plann
Looking for an all-in-one content creation suite that simplifies managing your social media channels? Inside Plann, you'll discover everything you need to effortlessly map out your strategy, repurpose your content, and take your social content to new heights.
Go on, and redeem your 7-day free trial of Plann Plus. If you don't like it, keep using Plann for free!