With so many types of social media platforms out there, it can be tempting to join them all—or bury your head in the sand. But not all social media platforms are created equal, and if you want to be successful on social, you need to prioritize.
Which platforms are worth your time and energy, and which ones will yield diminishing returns?
To help you make sense of the social landscape, we've grouped a wide variety of platforms into seven general categories. We break down specific use cases and what businesses can accomplish by using them. If you're ready to find the right fit for your business, read on!
1. Traditional social networking sites
Examples: Facebook, LinkedIn, X (formerly Twitter), Threads
Used for: Connecting directly with customers in specific areas, communities, or interest groups.
How your business can use them: Traditional social networking sites are a great way to amplify your voice and connect with your audience. These flexible platforms are designed to help you share both text and visual content with whomever you like. They share features like networking, event organizing, and advertising.
Traditional social platforms also gather lots of information about their users. This allows you to run specific targeted ads and connect with the right audience to share useful information, promote upcoming local events or appearances, or run contests.
Extra time has been added! 🎉 ⚽ Every #FIFAWWC goal is your chance to win $1,000 cash per match.

Tweet GOAL + @Lays + #LaysGOALdenGiveaway + #Sweepstakes. The more goals, the more chances to win!

Rules: https://t.co/GRFuF46cmB

— LAY'S (@LAYS) August 10, 2023
You can also use these platforms to connect directly with customers using direct messaging tools. These can be valuable for customers who are looking for quick answers to simple questions. Here's an example of a Facebook Messenger business chat:
At the top of the chat box, Facebook highlights other friends who have liked the page. This community-focused feature adds social proof and helps build trust for potential customers.
2. Image-based social media
Examples: Instagram, Pinterest, Snapchat, TikTok (photo mode)
Used for: Visual storytelling, brand-building, and social commerce.
How your business can use them: Almost all image-based social media platforms are great for social commerce. They offer various ways to shop in-app and eliminate the need to drive traffic to an external site. You can sell directly to your customers by building a robust in-app shopping presence.
Instagram Shopping allows businesses to create a storefront. You can tag specific products in your images and videos and mention products in your profile bio.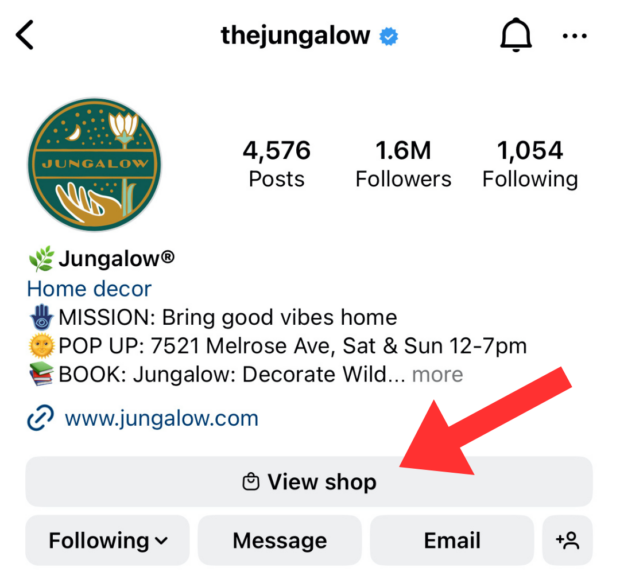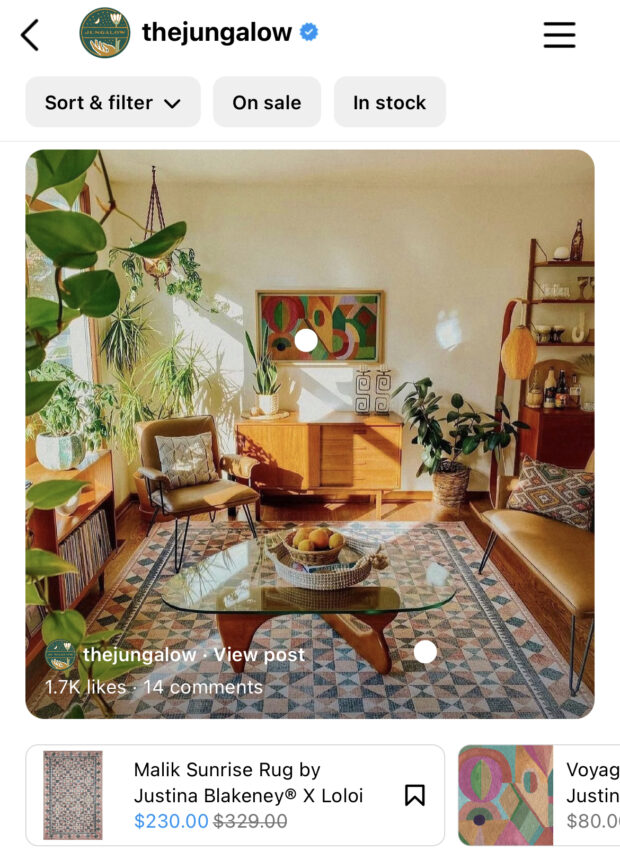 Pinterest Shopping allows you to connect your store catalog and add shoppable links to search results. You'll also get a Verified Merchant badge on your profile, which creates a sense of security for customers.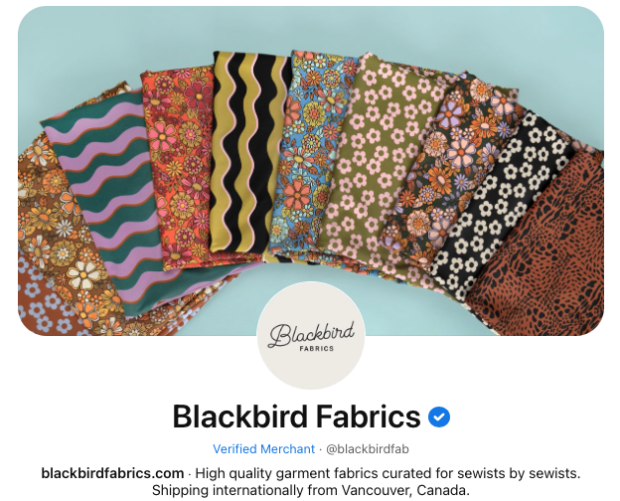 With the Snapchat Store feature (currently in beta), brands with verified Snapchat Business profiles can upload a catalog and include a Shop tab on their profile.
If your business caters to a younger demographic, Snapchat is a must. The platform reaches 90% of the 13-24-year-old population and 75% of the 13-34-year-old population in 20+ countries.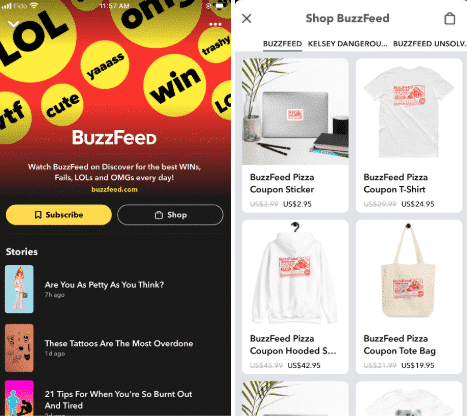 TikTok Photo Mode is an image-based format similar to Instagram's carousels. Users can add music to soundtrack their images, and viewers can either swipe through each photo or let them scroll automatically.
Your business can use this format to showcase product collections, announce a sale or giveaway, or tell longer stories.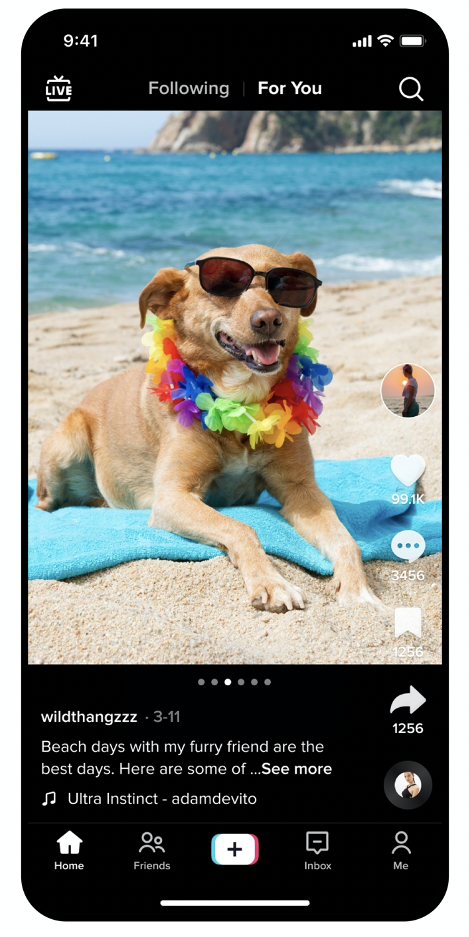 3. Short-form video social media
Examples: Instagram Reels, TikTok, YouTube Shorts
Used for: Sharing short-form video content (usually between five seconds and ninety seconds long)
How your business can use them: Short-form videos are great for driving brand awareness and bringing products to life.
This type of content is quick to film and edit, making it perfect for businesses with a lean social media team. Short on inspiration? The constant stream of trends on each platform means that inspiration for your next short-form video is at your fingertips.
Just note that any video content you publish should entertain, educate, and/or inspire your audience. Videos that feel sales-y aren't going to engage viewers.
4. Livestream social media
Examples: Facebook Live, Instagram Live, TikTok Live, Twitch, YouTube
Used for: Broadcasting live video to many viewers at once
How your business can use them: Livestreaming's popularity exploded during the pandemic. By late 2022, nearly 30% of internet users aged 16-64 were watching livestreams every week.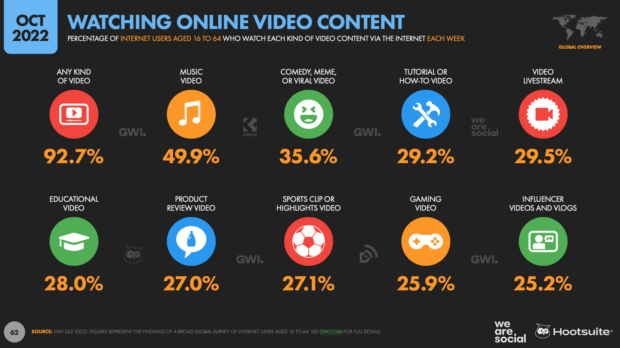 Source: Digital 2022 October Global Statshot Report
You can use livestreams to launch new products, interview well-known guests, or hosting AMA sessions.
Livestreams often include features like live chats and polls. They also allow users to interact live with the hosts, so it's vital to monitor and engage with comments during the stream. Read more tips in our guide to social media live streaming.
5. Discussion forums
Examples: Reddit, Quora
Used for: Asking and answering questions, networking, and forming communities around niche- and interest-based topics
How your business can use them: It can be challenging for brands to crack discussion forums. Users can be naturally wary of businesses inserting PR-speak into a community-oriented space.
The key to mastering discussion forums is to add value for your customers. Lend your subject matter expertise and answer questions related to your industry. Listen to their issues and offer useful solutions.
You get bonus points if you can share information about your brand and products in your answers. But that shouldn't be your primary goal of participating in discussion forums.
One thing to note: Redditors (as Reddit users are called) dislike answers that include self-promotion. They're likely to downvote this type of post to bury it deep in the feed.
If you're posting as a business, make sure to answer the original question. Only add links to your products if they're genuinely helpful. Before posting in a subreddit, check the rules to verify if including links to your own business is allowed.
While Microsoft didn't create the /r/XboxOne subreddit, once they saw how popular it was, they started engaging with Redditors by hosting AMA sessions with game developers to offer tech support.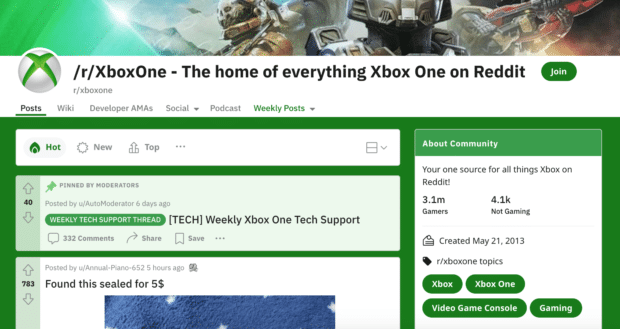 Source: Reddit
6. Private community platforms
Examples: Discord, Facebook Groups, Patreon, Slack
Used for: Creating communities, with the possibility of requiring registration or other screening measures for new members.
How your business can use them: Private groups bring your community members together. They can bond over shared challenges and help answer each other's questions without the distraction of unrelated conversations.
You can use your private community to engage with customers, solicit user-generated content, and run contests and promotions that add value for members. You can also use the group welcome screen to ask members questions and learn more about your audience.
The Sorry Girls recently launched a paid online course that includes access to a private Discord server. This type of private community allows you to connect directly with your biggest fans.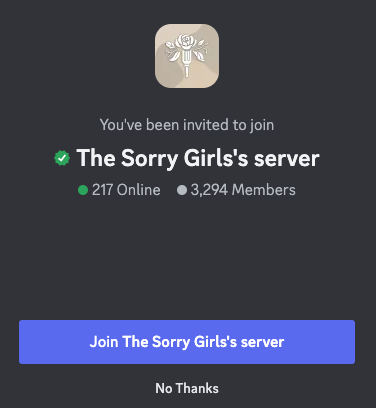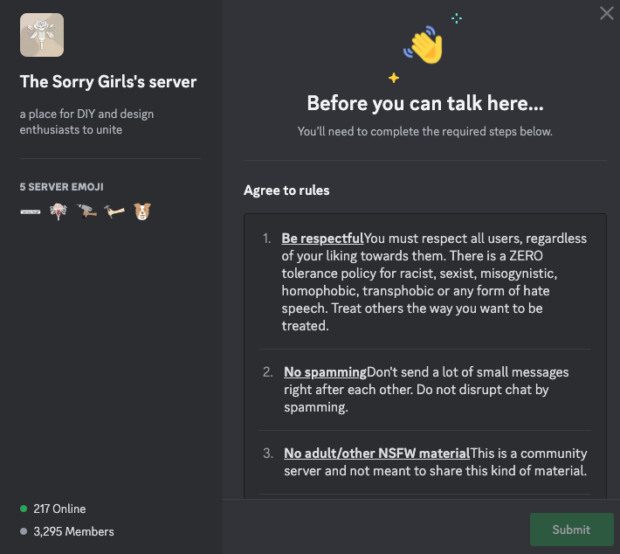 Source: Sorry Girls Discord
The Instant Pot Facebook Group (started by the brand in 2015) has grown to over 3 million members who love sharing recipes and product tips.
When users submit a request to join this group, they must answer a few questions, including:
Which Instant Pot Model do you own?
How long have you been an Instant Pot user?
What is your ability level with the Instant Pot?
Do you agree not to post self-promotion, discussion of brands other than Instant Pot (including images), or use inappropriate language or bullying?
These questions operate like low-lift market research. They allow the Instant Pot marketing team to learn more about their users and create content that targets their pain points.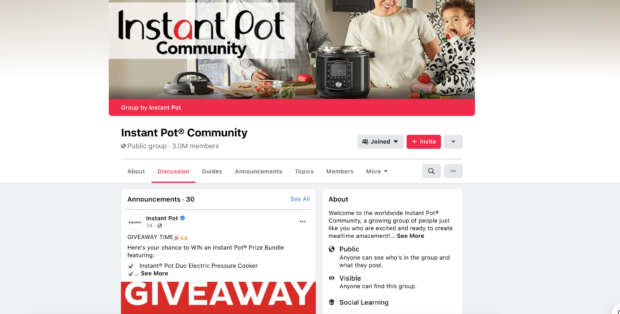 Source: Instant Pot Community on Facebook
7. Decentralized social networks
Examples: Bluesky, Mastodon
Used for: Building brand awareness, engaging with your community, and monitoring ongoing conversations.
How your business can use them: Connecting with users to do community outreach and run UGC campaigns. Conducting market research using social listening.
Decentralized social networks such as Mastodon pride themselves on being "radically different" than traditional social media platforms. But what does this mean exactly?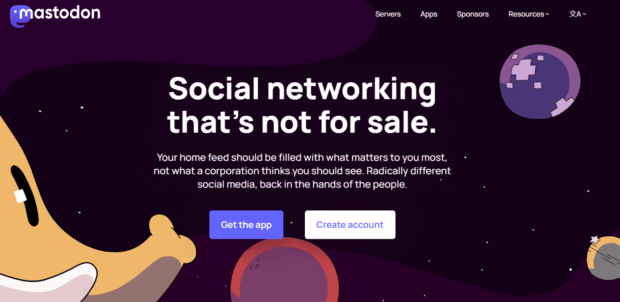 Well, most of the social media platforms we've mentioned so far operate on centralized servers. One company calls the shots for everything on its servers.
But unlike traditional social networks, decentralized platforms distribute information across many servers. That means your data isn't confined to a single server, and no one entity controls it. Users can find communities and interact across servers without worrying about data collection or censorship.
But how can your business use a decentralized social network like Mastodon or Bluesky?
Well, Mastodon is a non-profit organization, and they're unlikely to ever allow advertising. Bluesky remains invite-only and ad-free. Still, plenty of businesses are operating on both platforms. They're just using them to create community, conduct market research, and build their brands.
Know your audience
Before joining a new social media platform, ask yourself: Where is your audience?
If you don't have a lot of time and money to burn, it makes more sense to go where your audience is already hanging out. Otherwise, you risk joining a new platform and then having to attract your audience to it.
Only join the networks that support the goals of your social media marketing strategy.
Align to your key business goals
Next, ask yourself: Which platforms match my business goals best?
For example, suppose one of your goals is to increase awareness about a new product or service that could benefit from video tutorials. In that case, you should focus on video platforms (like YouTube and TikTok) or video formats available on the sites where you're already active (like Instagram Stories and Reels, Facebook Live, etc.).
Create content tailored to the platform
Once you've picked the best platform for your audience, figure out how they're using that platform. Before you start creating content, ask yourself a few questions:
What type of content is your audience engaging with?
Which types of accounts do they follow?
Are they passive consumers or content creators?
You can use this information to design effective content that will catch your audience's attention and help you reach your goals.
Keep up to date with social media statistics
New social media platforms are exciting, we know. But before you go all-in, do your due diligence. It's important to determine whether a new network is a shiny new object or a platform with the potential to stick.
One way to estimate if a platform has staying power is to compare its statistics to established social media platforms. If you're not sure where to find recent stats, we've got you covered:
Save time managing your social media presence with Hootsuite. Publish and schedule posts, find relevant conversions, engage your audience, measure results, and more — all from one simple dashboard. Try it free today.
With files from Laura Wong.
Do it better with Hootsuite, the all-in-one social media tool. Stay on top of things, grow, and beat the competition.