The holiday period is a peak sales time for eCommerce brands, and Black Friday is one of the biggest sales dates to capitalize on.
In fact, according to reports by Adobe Analytics, US consumers spent a staggering $9.2 billion on Black Friday sales in 2022, which shows an increase of 2.3% year over year. 
With countless brands offering discounts and promotions, cutting through the noise can be challenging. 
However, with effective social media marketing campaigns, it is possible to inspire meaningful action from your target audience to boost your sales. The key? Curate your campaigns to align with your audience's needs and aspirations and harness social media to make the Black Friday shopping experience playful, fun and engaging. From running an online contest on your social media channels to offering a free gift with purchase, there's no shortage of ways to turn a good marketing campaign into a great one. 
Looking to get in on the action and crush your upcoming campaign goals? We've rounded up five key strategies to help prepare your next Black Friday social media marketing campaign (examples included). 
What is a Black Friday social media marketing campaign?
As you likely know, Black Friday is an annual sales frenzy held on the first Friday after Thanksgiving every year. This milestone marks the official start of the festive shopping season, characterized by flash sales, exclusive discounts and even bonus freebies. 
Both in-store and online, shoppers can score massive discounts on everything from tech gear to skincare products. For brands, the goal of Black Friday is simple: inspire shoppers to make a sale and get their festive gifting sorted early. 
A Black Friday social media marketing campaign is how you amplify your promotions and offers to your target customers on social media. Through a series of curated posts, your Black Friday marketing campaign needs to reach your ideal target market, quickly articulate what promotions you're running, and inspire them to take action (usually with time-sensitive messaging). 
With the right tactics in place, you can use social media to reach new audiences, engage your existing audience and inspire sales at scale to support your Black Friday campaign goals. 
Want to see a Black Friday campaign in action? Consider Fenty Beauty's campaign, which offers a playful take on 'beauty influencer culture' to grab viewers' attention on TikTok and harness humor to inspire them to take advantage of their Black Friday sale code. 
What makes a great Black Friday social media marketing campaign? 
But what exactly makes for a great Black Friday social media marketing campaign? With so many brands and businesses fighting for attention at the same time, being creative and curating your content to align with your target audience is what will help you stand out and cut through.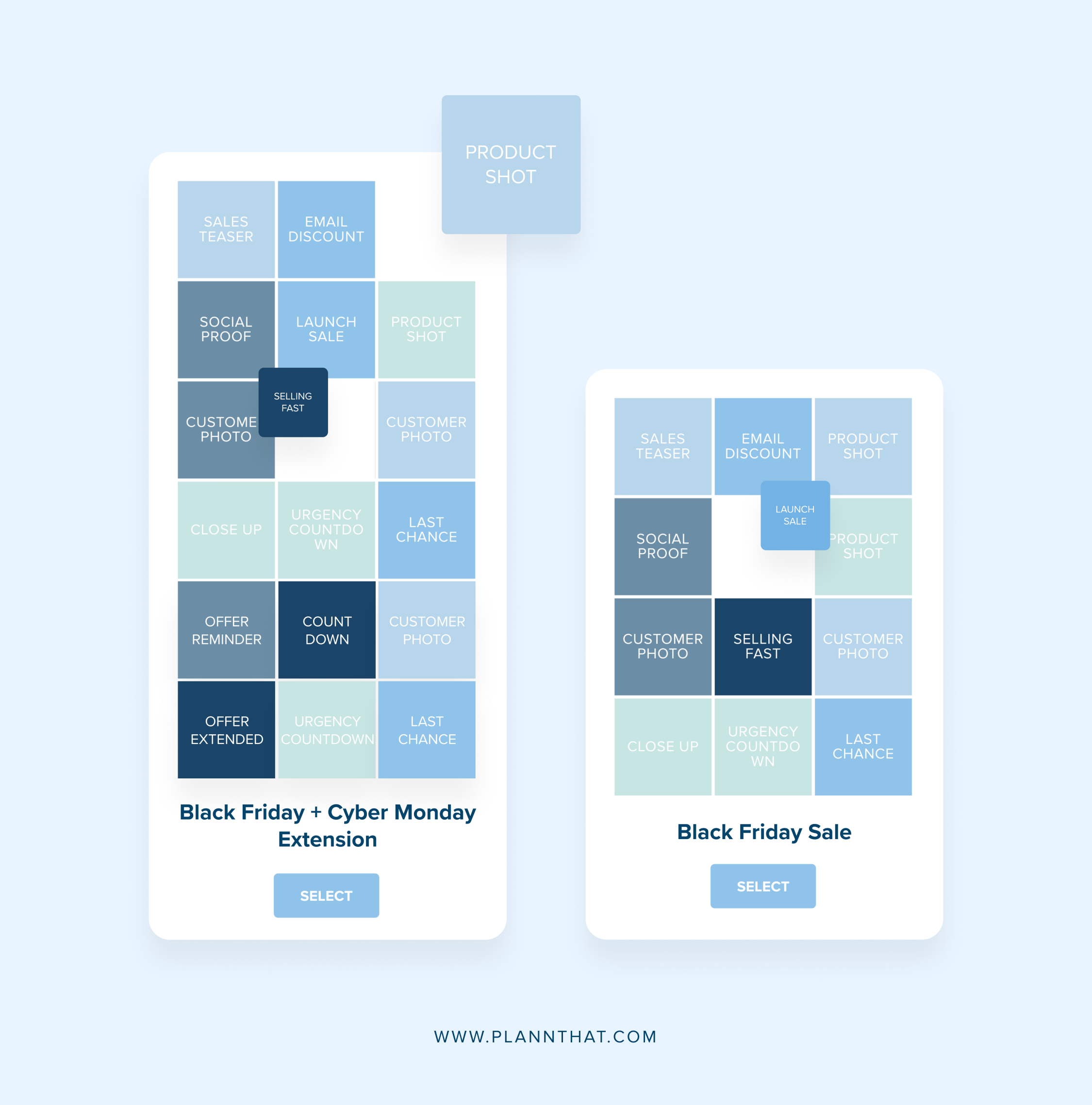 Specifically, the best Black Friday social media campaigns: 
• Avoid sales-only messaging: Simply offering a discount code isn't enough to capture and convert shoppers. Ensure your campaign creative adds value, solves problems and even entertains your audience – this is what will inspire meaningful engagement.
• Create a sense of urgency: Harness interactive Countdown stickers or 'last-chance' messaging to ensure your audience knows they need to get in quick and take action – NOW!
• Reach beyond your existing audience: Whether you team up with influencers or join forces with content creators, ensure your campaign message reaches new communities by aligning with like-minded creators. 
Take this example from Kulakinis, who created a carousel post for Black Friday using photos of customers who had already posted about their products. Then, each tagged customer was able to share this post with their own community, organically boosting the reach of this campaign with highly relevant users. 
If you're looking to increase sales, raise brand awareness, and boost engagement on your social media platforms, you need to start preparing your Black Friday marketing campaign now. Wondering where to start? These strategies will show you how to plan and implement a successful campaign across social media. 
1. Curate a gift guide for a more seamless shopping experience
No one wants the hassle of trawling through numerous online pages searching for products that make for a good gift. That's why curating a gift guide as part of your Black Friday social media campaign makes for a seamless shopping experience. 
By compiling a carousel of products suited to an audience's needs (and harnessing clickable product tags), a gift guide delivers shoppable content that converts on social media. 
When it comes to compiling the perfect gift guide, make sure they are divided into manageable sections. This can be done by age, interest or another metric that makes sense for your audience. For instance, Goop compiled a gift guide based on specific interests, ranging from wellness to cooking and travelling. 
2. Hold a Black Friday contest exclusively on social media
Running a social media contest helps to increase engagement and followers, making it the perfect tactic to use during your Black Friday social media campaign.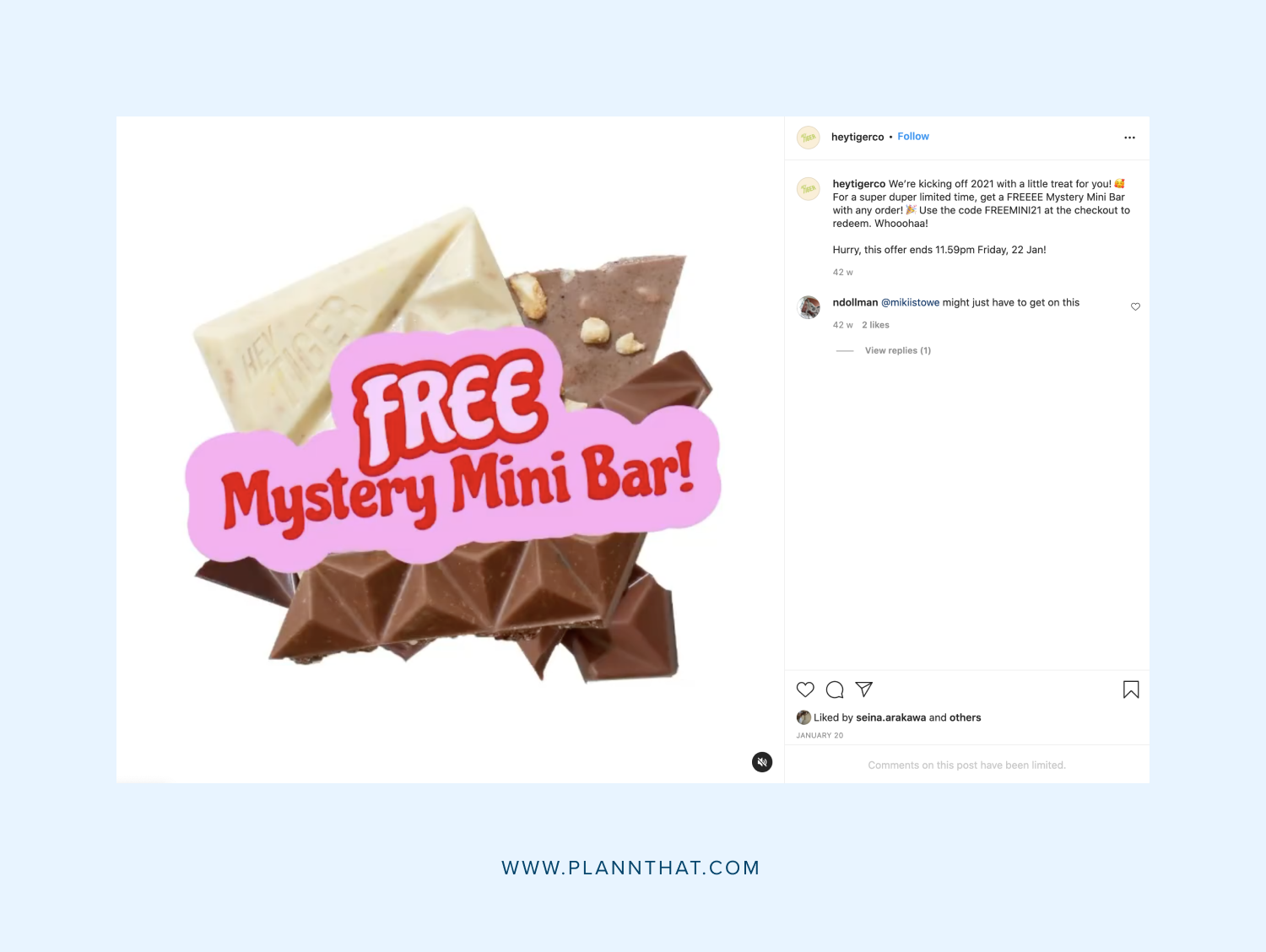 Typically, these campaigns run on social media and prompt followers to enter, encouraging them to follow, like, comment, or share the post. In return, entrants have the chance to win a prize. 
The key to creating a contest that appeals to audiences is to keep it fun and creative. It doesn't have to involve merely sharing the original post. 
Instead, audiences can be asked to engage with the brand or business in unique ways, like sharing their favorite photo of your product or writing about what a specific service did for them. In this way, it also helps foster brand loyalty. 
Check out this recent social media contest from Ultra Violette, using a dynamic Reel and the brand's iconic, playful tone of voice to inspire customers to enter to win their entire holiday collection. The results speak for themselves: this one post has received over 27k views and 3k entries (and counting). 
When it comes to Black Friday, you can consider running a contest over the Black Friday to Cyber Monday weekend. To increase the reach of your contest, why not collaborate with an influencer in your niche? For instance, if you're a pet company, you might team up with a dog trainer with a big following of engaged pet lovers.
3. Offer a free gift with purchase
If you've ever hit 'add to cart' simply to qualify for a free gift with purchase, you're not alone. 
The strategy of a gift-with-purchase promotion is to incentivize customers to make a purchase so they can attain the free gift. It works because it taps into psychological factors that drive consumer behavior, like our desire for rewards, exclusivity, perceived value, and reciprocity. Basically, customers want that VIP feeling and limited-edition gifts create that.
The key to implementing an effective gift-with-purchase campaign is to set limits around it. Ensure that there is a duration for which the promotion will run or that you have a set quantity to hit before the gifts run out. 
An example of an effective free gift with purchase during Black Friday comes from Murad, who harnessed their bold brand colors and curated on-brand imagery to promote their offer. 
Hot tip: For this strategy to be successful, you want to ensure the gift is tailored to the consumer. It must be relevant and apply to the shopper's needs and preferences. For example, a haircare brand might offer a serum or hair oil when customers spend $100 or more on hair products, knowing this complements their existing purchase. 
4. Introduce audiences to your product line with a bundle
If you haven't heard of bundling, the strategy involves selling several products or services together as a single combined unit. When it comes to the holiday period and shopping events like Black Friday, bundling makes for a great promotion and marketing tool. 
Not only are the products typically offered at discounted prices to boost demand, but bundling can also play a major part in helping audiences discover more about your brand. 
For example, Nintendo promoted a limited edition bundle as a Black Friday deal on Twitter. In the selection, the gaming company grouped a number of new and existing products together, allowing them to introduce customers to more of their product line. They then added hashtags to the post to make it more visible online and shared an unboxing video across their social channels. 
Whether you bundle a selection of products together or a range of services, offering an exclusive bundle during the Black Friday period is a useful strategy for generating sales. It might help your customers discover their next favorite product, helping to boost sales for months to come after Black Friday too!
5. Reward loyal customers with early-bird deals and exclusive offers
Early bird specials are a great strategy to use when wanting to drive sales and stimulate customer engagement. This strategy offers discounted prices or exclusive deals to customers who make a purchase ahead of time. In the case of Black Friday, that means getting in on the shopping frenzy before the holiday itself has begun.
Any successful Black Friday social media marketing campaign requires careful and considered planning. With early bird specials and deals, you can implement an effective campaign before other brands come to oversaturate the online space. As well as increasing sales and audience engagement, this strategy is one that increases customer loyalty. By rewarding customers with special offers, you also encourage repeat purchases. 
Consider Steve Madden's Black Friday campaign, which gave its loyal customers a chance to get in on Black Friday deals early. With posts published on the brand's Twitter platform, it directed its followers to sign up for the email list, which then gave subscribers access to exclusive deals. 
To implement an effective early bird special, define a specific timeframe ahead of Black Friday for which it will be available in order to create a sense of urgency and exclusivity. Then create compelling offers to roll out across social media that entice customers to take advantage of the special offer. 
Ready to maximize your Black Friday social media marketing campaign? 
A well-planned social media strategy is essential in driving Black Friday success. 
Thanks to Plann, you have the tools needed to increase revenue and brand visibility. With everything you need to effortlessly repurpose content, map out a clearly defined and measurable strategy, and increase brand awareness, Plann is here to enhance your campaign this Black Friday. 
Plann's AI caption generator is here to speed up your content creation, producing high-performing caption that engages audiences with a compelling call to action. More importantly, it will ensure you have all the necessary hashtags for the Black Friday sales period. Our visual content planner is also incredibly useful, providing a bird's eye view of your calendar so you can map out your entire campaign across social media and easily drag and drop content around. 
Similarly, EasyLink by Plann is great for any social media marketing campaign over Black Friday as it makes for a seamless shopping experience. With visual bio links and even time-sensitive links, you can drive conversions on autopilot through your social media channels. 
Go on, and redeem your 7-day free trial of Plann Plus. If you don't like it, keep using Plann for free!