TikTokers spend an average of 95 minutes every day on the app. This means that creators like you have plenty of opportunities to build an engaged and passionate audience, as long as you deploy the right content creation strategies.
If you're a budding TikTok creator, you might be feeling overwhelmed or unsure about how to stand out and gain traction on the platform. What kind of content should you create if you want to capture your audience's attention and grow a following on TikTok? The good news is that we at Plann are here to help.
Here are ten simple but effective TikTok video ideas that will help you beat creative block, stand out on the For You Page and reach new, relevant audiences. Let's get started!
1. Teach Your Audience Something New
Research tells us that customers are 131% more likely to buy from a brand that shares educational content.
One of the best ways to educate your audience on TikTok is this: teach them something new! The TikTok platform offers a unique opportunity for bite-sized educational content. Educational videos can help you engage people with practical tips and insights while enhancing your credibility within your industry or niche.
@plannthatHey Plann'rs! Here's how to add photos to your stories!
Whether you're sharing life hack videos, makeup tutorials, or learning materials that relate specifically to another area of expertise, your TikTok content can help others learn and grow.
The key to crafting winning educational content on TikTok is to make it simple, digestible and easy to follow, using a blend of on-screen text, voiceovers and visual cues.
2. Make Your Viewers Laugh
Some of the best TikTok video ideas are those designed to make people laugh! Funny videos can entertain viewers in just a few seconds, making a big impact from the moment they appear in the TikTok feed. By sharing funny clips on TikTok, you can hook audience interest and even encourage users to check out your other content.
In fact, TikTok itself recommends that creators harness humor when designing best-practice video content. Dubbed as the platforms "one true universal language", Global Brand Strategist Alex Grignon explains, "Static and image-only jokes and memes still have their place on the internet, but TikTok has become the epicenter of more engaging and inclusive humor that uniquely delights our users."
And the stats back it up: 77% of TikTok users say they like it when brands come up with new challenges, trends or memesfor others to join in with.
Break out your best funny stories, or put a unique spin on an old running joke. If you're good at being funny, even super simple, short videos could be enough to take your content to the TikTok discover page for extra reach and engagement.
3. Take People Behind the Scenes
Behind the scenes videos are a great example of how good TikTok content can be simple! By giving your TikTok audience a glimpse at a day in your life, you can humanize your brand and foster relationships built on trust.
Post videos that show what life is like beyond the glitz and glamor, and use the TikTok platform to highlight your authenticity. This could mean filming a great ready with me (GRWM) video or sharing real-life videos that showcase your daily routine. This can help you build a real connection with your audience and even boost your follower count.
4. Get Musical With Your Content
Who doesn't love music? There are so many fun and exciting ways to interpret this TikTok video idea, from filming lip-syncing videos to creating dance videos to making your own music videos.
The key to effective TikTok video content is a strong hook. Make your lip sync videos stand out with fun video features (like Stitching or Duetting another creator's video), or create a dance video that includes unique choreography (make sure to switch on the ability for other creators to repurpose your content!).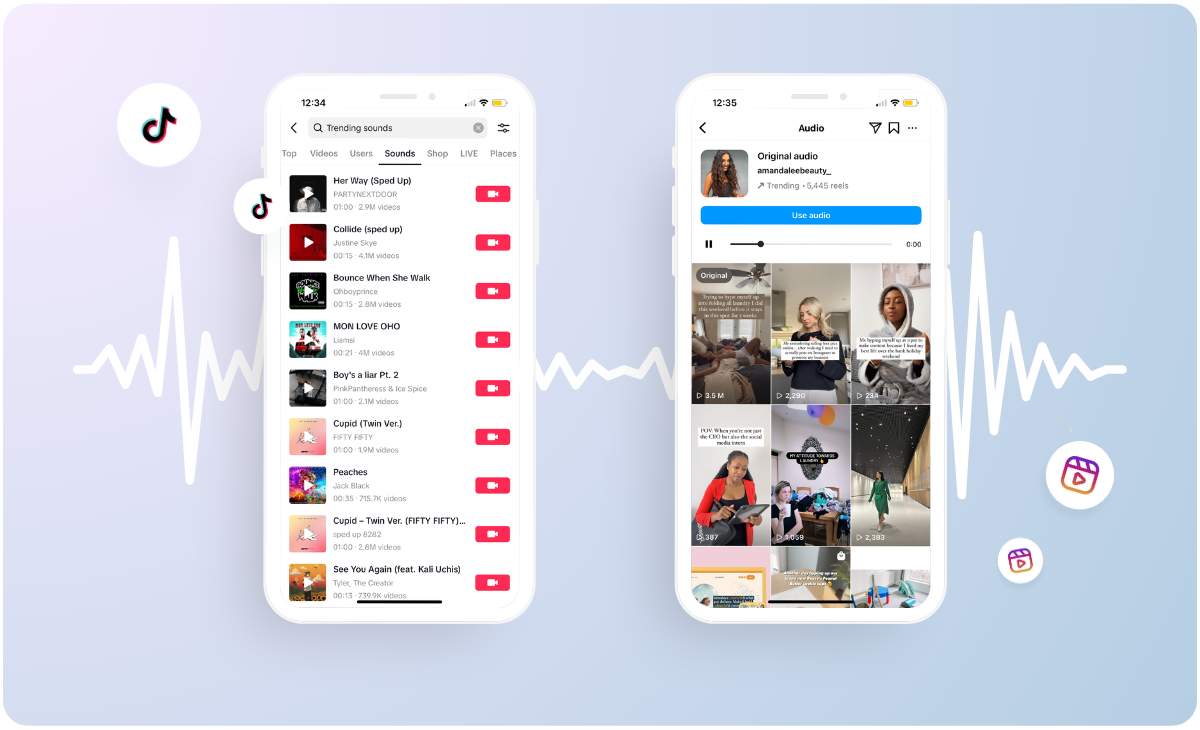 Hot tip: Make sure to use trending audio tracks in your TikTok content to grow your audience through music. On the Plann blog, we curate your weekly guide to the best trending tracks to use, handpicked by our in-house marketing experts.
5. Show Off Your Creativity
The wonderful world of social media is rich with opportunities to express your creativity, and TikTok is no exception. Art videos can be a lot of fun! Alternatively, you can use TikTok as an outlet for cooking videos or sharing other creative ideas.
Get inspired by CoCreateStudio's who have shared this epic guide to painting for beginners, gaining over 950k views and nearly 70k likes along the way.
Whatever your creative process looks like, let your audience in on how it works, especially if your creativity is at the heart of your brand. Create videos that highlight innovation. You can even provide helpful tips that help your viewers join the fun!
6. Highlight a Brand or Product
Videos featuring a specific brand or product can be valuable for both creators and audiences. You can share the items you love or promote your own business while recommending products that align with your audience's interests and needs.
Using TikTok to highlight brands or products could even be the first step in a digital marketing career. Brand deals and sponsorships can be lucrative, providing you with the chance to turn your success across your social media platforms into real cash.
7. Get Your Pets Involved
Everyone loves cute animal videos, so don't be afraid to recruit your pets! Share videos on TikTok account featuring the entertaining and oftentimes hilarious escapades of your dog, cat, horse, or bunny. You can even invite your followers to duet videos with clips of their own pets.
Encourage other creators to Duet your video and share their pets to inspire meaningful conversations with your audience.
Just like humorous content, pet-related content is a winning strategy on TikTok as its relatable, adorable and relevant to a wide pool of potential followers.
8. Build on an Existing Niche
What works on TikTok works for good reason, so consider building an existing niche or community group within the platform. For example, creating workout videos might be a great way to use a trending sound clip and serve TikTok's wellness and fitness community.
By producing TikTok videos with an existing audience in mind, you can capitalize on existing communities on the social media platform. This may help you grow your account faster and reach more of the right people. It can also drive extra engagement on the videos you share!
Our tip? Do your research and find what trending songs, hook formats and hashtags creators in this niche are already using. This will allow you to boost your organic reach and ensure your content appears in the search results for this niche.
9. Create Content With Friends
You're not an island, and you don't have to master the art of producing TikTok videos on your own. Sometimes, creating content in collaboration with your friends can be the key to reaching more viewers and growing as a team.
Hot tip: make sure to tag the other creator in your videos and encourage them to repost this content to their TikTok page. This will instantly double the reach of your videos and help you organically grow your audience too.
10. Join a TikTok Trend
Finally, get ready to create a viral video! Follow along with TikTok influencers, and be aware of what content other TikTok users are making. Check out popular songs and social media challenges, and don't be afraid to get involved with a booming TikTok video trend
The key to getting this strategy right is to ensure your TikTok video clips are tailored to your brand, niche or audience. Rather than copying other creators or producing generic trend-based videos, make sure to add a unique spin to your videos.
By making the most of what's hot on socials, you can align your video ideas with what people want to see. This can help get users talking about your original video content. Say hello to more followers and better engagement!
Plann For TikTok Success
Ready to strive for TikTok success? Get started with the best social scheduling suite on the market. Sign up for a FREE 7-day trial of Plann!