Spooky season is upon us, which means social media managers are practicing a time-honored Halloween tradition: asking themselves once a day, "How many Hocus Pocus memes are too many Hocus Pocus memes?"
The pressure to create and provide on-theme content in October is high for many content creators and brands. Take inspiration from these IRL Halloween social media posts and consider using the Hootsuite dashboard to schedule them all right now to get your followers in that spooky-kooky spirit.
That'll free up time for you to spend October for its most noble purpose: scouring the web for the most hilarious (but still sexy, obviously) topical costume to wear to this year's Halloween party.
49 Halloween social media posts for inspiration
Tapatio Hot Sauce
Give your logo a makeover.
Discovery
Share your expertise! However tangentially your Fun Facts are related to Halloween, tap into the conversation. The Discovery Network took advantage of vampire season to chime in about what they know best: bats.
Drip
If you've launched some seasonal products, now's the time to show 'em off!
Jack in the Box
…and if you have products that aren't Halloween-themed, this is your chance to get those goods in the spirit. A tiny witch hat can transform a Frappuccino into a Haunt-a-cino in seconds.
RUNAWAY
You could repost a joke you saw on Twitter, or you could rebrand a classic Halloween gag with your own colors, fonts, and watermark. Your grid will stay looking slick, and maybe you'll even get a few shares in the process.
Beagle Freedom Project
Make some Halloween e-cards! Sure, this might not be a digital product that all generations will use, but those who do will be delighted to send something to the grandkids.
Virginia DMV
Show off that you're a good samaritan by sharing Halloween safety tips. Design it beautifully (maybe using these graphic design tips?) and brand it clearly. It's the sort of useful info that people love to reshare — it may as well come from you!
Brooklinen
Here's a quick Halloween content hack: just use some ghost emojis and BOOM, it's a Halloween post!
@tatoo_paine
For bold brands: team up with a local artist for some custom, Halloween-ified tattoo designs!
Dior
An erudite conversation between Pietro Ruffo and Maria Grazia Chiuri gives rise to the bewitching 'Constellation' collection https://t.co/npUUv17ui1 best complemented by brooding ceramic pumpkins by Jean Roger for an enchanting #DiorMaison Halloween Table.

— Dior (@Dior) October 25, 2021
Dior proves there's nothing that can't be Halloween-ified with the right props. Throw a few pumpkins and candles into your photo shoot, and you're good to go.
Boom Pro Wrestling
Pick a trending, spooky song to accompany your Halloween post.
Glad You're Here Co
Work with an illustrator to create a typographic holiday greeting (and maybe even offer a downloadable phone or desktop wallpaper to go with it).
Playlists by Campbell
Got some ghoulishly good music recommendations? Share a Halloween playlist (but legally, the Ghostbusters' theme needs to be on it).
Solid Starts
It's costume contest season! Get your followers into the spirit by prompting a competition of your own… and as the entries come rolling in, you'll be all set with user-generated content to repost all month long. (A reward sweeter than candy.)
99.1 KGGI
Get the conversation (or fierce debate) going with a prompt sure to divide a nation: what candy is the best?
See's Candies
Or better yet, make the candy showdown into a bracket. October Madness is here!
Book Fever
Share your October reading list (the scarier the better, obviously).
Printfresh
Everyone loves to feel seen. A personality rubric or "Tag Yourself!" prompt will inspire plenty of "it me" feelings.
Domino's
okay fiinneee. tell me what ur gonna be for Halloween and maybe I'll treat you in ur DMs with some free pizza.

— Domino's Pizza (@dominos) October 28, 2022
Bait your followers into interacting with you with the vague promise of a prize.
Wendys
Need a set of eyes on those costumes before Halloween? Reply to this tweet with a pic and we'll let you know what we think.

— Wendy's (@Wendys) October 29, 2020
Or better yet… ROAST THEM.
Disney
Run a Halloween-themed quiz using an Instagram carousel!
Moonlight and Mindfulness
Create your own version of a Halloween bucket list.
Spooky Shake Studios
Host a drawing challenge, a la Inktober, with prompts for every day of the month. Share the best user submissions to keep that content flowing for weeks and weeks.
Indigo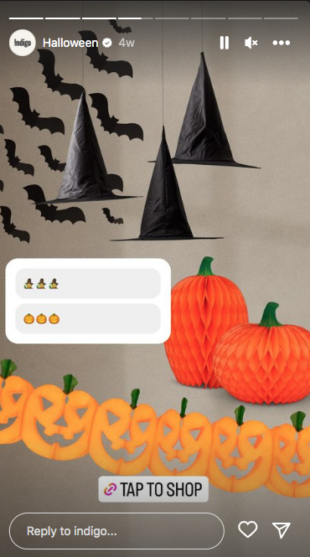 Take a poll!
Walmart
Team up with a creator for a festive livestream.
Douglas Tait/The Creature Man
Put a creepy costume in a mundane setting, and you've got instant comedy gold. Shoot a quick Reel of a slasher happily shopping in your store to promote your boutique. Run a therapy service? Maybe Frankenstein is now going for a happy walk in the park thanks to your treatments. We're laughing already.
Unscripted App
A pumpkin head photo shoot is totally appropriate for any type of brand. You're a mechanic? Pumpkin head photo shoot in a car. You run social for a public library? Get those pumpkin heads into the stacks.
@Goodboyrocky1
Pets in costumes are a winning social idea year 'round, but the options at Halloween are limitless. You could even make a whole seasonal series out of your furry mascot's quest for the perfect look ("Help Hank the Dog Win the Office Halloween Contest!"), with followers voting on their fave costume.
@lorena.pyp
Okay, this is basically the pumpkin-head idea but with ghost sheets, but we stand by it. Go scare up a little trouble in your neighborhood and document all the action on a TikTok or Reel.
@booplethesnoot
Make your own Spirit Halloween costume.
Angie Schramm
Reshare a favorite (on brand!) Tweet.
Casper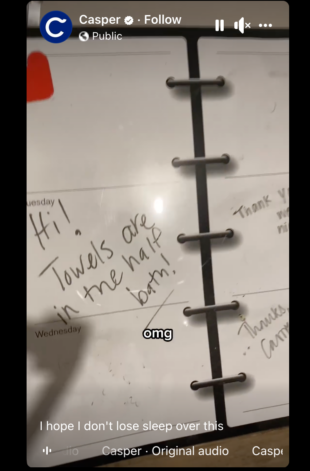 Go ghost-hunting.
Emma Farrell MUA
Whether you run a makeup brand or just have access to some eyeliner, a dramatic, spooky-season makeup look will stop your followers mid-scroll.
AccuWeather
Celebrate your neighborhood with a post documenting great decor and terrifying front lawns of homes or businesses in your area.
Hyperreal Film Club
Anyone can post a Best Halloween Movies list, but can you post a super-specific selection of recommendations? This TikTok user suggested the Best Witch Movies, but maybe you can put a brand-related spin on things… The Best Halloween Movies For New Parents? The Scariest Movies Featuring Dentists?
@halloweenhorrorguy
Nostalgia is big. Dig into the depths of pop culture and share vintage Halloween commercials.
J. J. McCullough
Explain a local or personal Halloween tradition — it can be educational and interesting to people who share the experience or who have never heard of it alike.
Ryan D. Anderson
What if your feed was just all ghost content all month? Just spitballin' here.
@madison.heinzen207
Reenact a scene from a beloved Halloween movie in your office, store or workshop.
@moonlyhoroscopes
The internet loves a zodiac moment.
Winners
Go on a Halloween-themed shopping spree… whether in your own shop, or at a quirky thrift store, and wow your followers with the spookiest haul of them all.
Bosley's Pet Store
Will your pet be cute, spooky, or silly? No matter what their unique personality is, we have the perfect costume for them. Try the new Bailey & Bella Celebrates line today!

Read pet costume trends & tips: https://t.co/2TzH9TedkS pic.twitter.com/FiUUcvHyLO

— Bosley's by Pet Valu (@bosleyspetstore) October 4, 2023
Throw to a blog post or article that goes deeper into an important topic… like pet costume trends. It's Halloween Thought Leadership and it's time for you to be a Halloween Thought Leader.
Sephora
Share your Halloween-ie to-do list.
Aiesha Beasley
What are your city's best pumpkin patches, haunted houses or spookiest photo ops? Share your top picks with your audience to prove your dominance as the Halloween Expert.
@susangorz
Costume tutorials are a dime a dozen on social this time of year, but you can always put a branded spin on things with a hyper-specific guide to a costume related to your business. For instance, show your followers how to dress up like your company mascot, or one of your products or your company founder. (If Facebook released a Reel about a DIY Mark Zuckerberg costume, we're telling you: that would go viral in a heartbeat.)
Fitwaffle
Show your followers how to make your fave Halloween treats with a video post.
Problem Solved
Pumpkin carving hacks will make gourd-gouging season a breeze.
Emily Rogs
Besides what they should be buying, what can you followers be doing this time of year? Inspire a little activity by sharing something fun from your own repertoire.
Grandin Road
Got some decor and craft expertise? Whip up a little tutorial to show 'em how it's done.
Save time managing your social media presence with Hootsuite. From a single dashboard you can publish and schedule posts, find relevant conversions, engage the audience, measure results, and more. Try it free today.
Do it better with Hootsuite, the all-in-one social media tool. Stay on top of things, grow, and beat the competition.