You're here looking for info about using Facebook Page templates. We're here to help (it's what we do!)… but we're also here to say: enjoy those templates while you can.
(Dun dun dunnnn.)
Ominous? Perhaps. But we respect you too much (and love dramaaaa too much) not to tell you the truth—Facebook Page templates are currently only available to Facebook Pages that are still in "classic" Page mode.
Since early 2021, Meta has been gradually transitioning all existing Pages over to its "New Pages" experience. That's not necessarily bad; it's just how the internet works. (The only constant in this world is change, y'know?) But it does mean that information on Facebook Page templates will soon be obsolete.
So, if you're still one of the lucky few with access to Facebook Page templates… hold them close. And follow our guide below to easily apply them to your brand's Facebook Page.
What is a Facebook Page template?
Facebook Page templates are pre-set layouts to help you tailor your Facebook Page to suit your unique business needs.
The 10 Facebook Page templates available each have a slightly different mix of tabs, each designed to suit the needs of a specific type of business or brand.
A city councilor, for example, will need different features for their Facebook Page than a fashion boutique. Ditto for a live music venue versus a dog-adoption agency. Different Facebook strokes for different Facebook folks, as they say.
For example, the "Business" template has an "Offers" tab. Meanwhile, the "Non-profit" template allows users to add a fundraiser button.
You don't have to use every single tab in a template, of course. Once you've picked your template, you can customize which sections on your Facebook Page to include or ditch.
But here's one really important note: Facebook Page templates are not currently available for every Facebook Page admin.
Though Facebook is in the process of transitioning all Facebook Pages over to "the New Pages experience," anyone who still has the "classic" Page experience can select from several different templates for their page.
How do you know if you have a "New Page experience" versus a "classic Page" experience? If you've been moved to the New Page experience, your Page will look like this, with far fewer options in the left sidebar.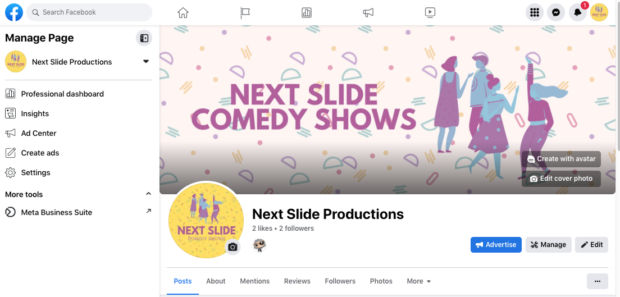 If you've got a classic Page experience (which means you can still implement Facebook Page templates), it'll look like this: a bigger menu of options on the side.
When you click on Settings in classic Page mode, you'll see the option to customize your template (by clicking Templates and Tabs on the left).
You won't see this choice on the menu if you're in "new experience" mode.
Maybe that's a bummer, but that's the internet, baby: always movin' and shakin'. Luckily, there are still plenty of things you can do to customize your Facebook Page for maximum engagement. We've got a complete guide to making the most of Facebook Pages for your business right here.
Every type of Facebook page template
If you still have access to the classic Facebook Page interface in 2023, you'll be able to select one of 10 different templates from the Facebook Page template menu.
Standard
The Standard Facebook Page template is also the most basic. It's what you'll be stuck with if you don't select something more specific.
If you're not in one of the other nine categories listed below, this is probably totally fine to stick with.
Remember, you can still remove tabs you don't use from your Facebook Page layout. The template is just a starting point for making your Facebook Page your own.
Who it's for: All page types
Tabs included: Home, events, reviews, videos, photos, about, community
Business
A big brand, mid-sized organization or corporation can benefit from the business template for Facebook Pages.
This template is designed to help manage a business's social media presence, with specific options for posting jobs and special offers.
Who it's for: Brands and businesses of all sizes
Tabs included: Home, events, reviews, videos, photos, about, community, offers
Venues
Whether you run a live music venue, a theater, or a big stadium, the venues template helps highlight upcoming events.
It also provides easy ways to share information like operating hours and reviews from past guests.
Who it's for: Event venues, concert halls, studios, theaters
Tabs included: Home, events, reviews, about, videos, photos, offers, community
Non-profit
Non-profit organizations have slightly different needs than for-profit businesses. That's why Facebook offers a specific non-profit option for Facebook Pages.
This template offers the option to add a donate button and has specific features designed to encourage followers to donate.
Who it's for: Nonprofit organizations of all kinds—animal rescues, arts groups, and charities
Tabs include: Home, about, events, photos, videos, community, reviews, offers
Politicians
Maybe you're running for office. Maybe you've already won. Either way, the politician Facebook page template can help you reach supporters and share your platform.
Who it's for: The obvious answer here is anyone running for or holding public office, but folks holding leadership positions in private sectors might want to give this one a go (like the president of a community garden?)
Tabs include: Home, about, videos, events, photos, community
Services
The business template might cover everything you need if you operate a service-focused company. Still, this service-oriented template will be even more helpful, thanks to a dedicated 'services' tab.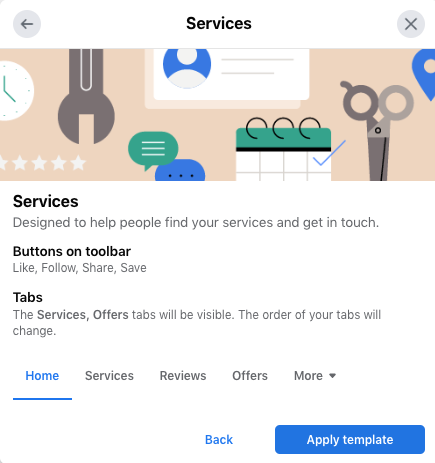 Who it's for: Accountants, hairdressers, proofreaders, doggy daycare operators, you name it. If you run a business that sells a service, this is a great Facebook Page template for you.
Tabs include: Home, services, reviews, offers, photos, videos, events, about, community
Public figures
Beyoncé, YouTube stars, your city mascot: these public figures will primarily use their Facebook Pages to share news with fans. If you're a person of public interest, this is the right page template to choose.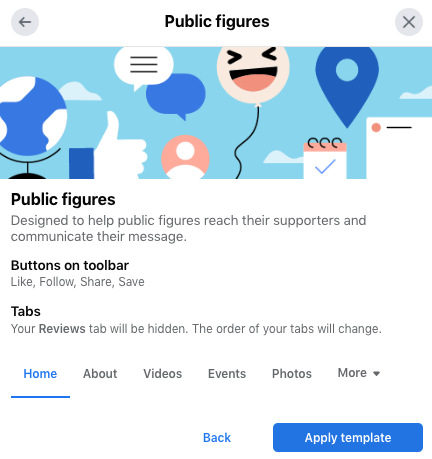 Who it's for: Stars and other persons of interest! From A-list to D-list—and everywhere in between.
Tabs include: Home, about, videos, events, photos, community
Restaurants and cafes
This one's pretty self-explanatory. The restaurants and cafes Facebook Page template is designed for the needs of food- and drink-based businesses.
Who it's for: Food-and-beverage operators.
Tabs include: Home, offers, reviews, photos, videos, events, about, community
Shopping
The shopping Facebook Page template is handy for any business selling physical products, whether they have an ecommerce shop or a brick-and-mortar store.
The tabs include a mix of useful shopper-focused features, like reviews and special offers.
Who it's for: Fashion brands, home decor product wholesalers, online retailers… anyone who wants to showcase a product.
Tabs include: Home, events, reviews, photos, offers, community, videos, about
Video Page
Are you a content creator? The video page may be more helpful to you than the public figure template.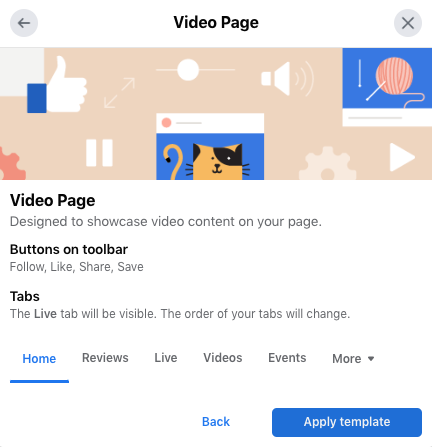 This template is specifically designed to help showcase video content, putting new vids front and center for visitors to enjoy and explore.
Who it's for: Brands or creators with video-centric offerings—if you're making reaction videos, video reviews, or comedy content, this could be a good fit.
Tabs include: Home, reviews, live, videos, events, about, community, photos
How to change your Facebook page template
Remember, Facebook Page templates are only available if your Facebook Page has not yet been transitioned over to Facebook's "new Page experience."
But if you are still in classic mode, here's how to pick and apply a template for your brand's Facebook Page.
(Feel free to experiment: you can change your template as often as you'd like.)
1. Log in to Facebook and click the Pages icon (that little flag) on the left-hand side of the page.
2. Select the Page you'd like to apply a template to.
3. Click Settings on the left-hand menu.
4. Click Templates and Tabs in the left-hand menu.
5. Select a style of template from the menu.
6. Review what the changes will be. Sound good? Click Apply Template.
7. To customize your template, go back to the Templates and Tabs menu and move or toggle the tabs to your liking.
How to create a Facebook page template
You can't create a Facebook Page template for other people to use. Still, you can customize the existing Facebook Page templates to suit your personal style.
To customize your Facebook Page template, go to your Page Settings and tap Templates and Tabs.
In the Tabs section of the page, move or toggle the tabs to your liking.
You may also be able to tweak the call-to-action button of your Facebook Page from the Page itself. Tap on the button with three dots at the top-right of the screen for your options.
Action button options include "Start Order," "View Shop," "Call Now," and more.
You can also adjust the sections by clicking More in the menu bar and selecting Manage Sections. Just toggle the sections you'd like to show or hide.
Whether you're still living in the beautiful past of Facebook Pages with classic mode or have been shuffled along against your will into the new Pages experience, there is so much you can do with your Facebook Page to increase engagement and build a passionate audience. Here's how to get your followers commenting, liking, and sharing up a storm.
Manage your Facebook presence (and all your other social media channels) using Hootsuite. Schedule posts, share video, engage your audience, and measure the impact of your efforts — all from one simple dashboard. Try it free today.
Grow your Facebook presence faster with Hootsuite. Schedule all your social posts and track their performance in one dashboard.