Every month, more than 2.3 billion users watch videos on YouTube! YouTube Shorts offer an all-new opportunity for extra discoverability and excellent reach.
Using YouTube Shorts, you can develop a short-form video strategy that looks beyond tried and tested platforms, like Instagram and TikTok. Sharing bite-sized clips on YouTube can give you access to a larger audience and give you new chances to grow your brand on social media.
Feeling a little unsure of how to navigate YouTube analytics? You're not alone! That's why we've put together this comprehensive guide to guide you through the process. Let's get started!
What are YouTube Shorts?
YouTube Shorts are another place for short-form video to thrive!
Like TikTok videos and Instagram Reels, Shorts are vertically framed video clips that deliver impact fast for viewers who love to scroll.
Built into both the YouTube site and the mobile YouTube app, Shorts are an alternative to standard YouTube videos, which often run for an extended period of time. With YouTube Shorts, you can communicate select details in a compact environment designed to retain audience focus and interest.
Currently, YouTube Shorts videos should use a 9:16 aspect ratio with a video resolution of 1920 by 1080 pixels. The ideal duration for your Shorts clip is between 15 and 60 seconds.
Why You Should Be Creating Shorts?
Research shows that as much as 60% of online traffic now revolves around video content. By developing your video marketing strategy, you can get involved with the trend.
YouTube Shorts allow you to share your message and market your brand in a fast-paced digital world. You can rely on algorithm features to reach more of your target audience, including users who don't already follow you. This could be key to scaling your brand!
If you're already producing bite-sized vertical videos for Instagram Reels and TikTok, repurposing and reposting this content to YouTube Shorts is a no-brainer. It allows you to extend the value of this content and maximize the impact of every video you produce.
The YouTube Shorts offering also helps with engagement. A short-form content structure allows you to prioritize audience retention, communicating everything you need to before you risk losing your audience's attention.
In a world where video content is only set to keep growing, getting on board with YouTube's latest offering is a smart move. You can use your existing subscribers as a foundation for growing your audience, all while exploring new and innovative ways to share your big ideas.
YouTube Shorts Analytics: The Basics
Understanding YouTube Shorts analytics tools can give you the knowledge you need to manage your account more effectively and strive toward your next content goals.
You can access YouTube analytics tools easily with a YouTube channel. All you need to do is login to your YouTube channel and launch the YouTube Studio analytics dashboard.
Here are some of the most important YouTube metrics and what they mean for your channel.
Video Views
Your video views stats relate to the number of times your YouTube Shorts have been watched by other users. This number is a cumulative representation of the views your content has earned, including viewers who might have watched your video more than once.
Average View Duration
On YouTube Shorts, your average view duration rate can help you determine how well your content maintains audience attention by representing watch time. This metric shows the average duration of each individual view of your video, including whether users stayed to the end or scrolled past before the video was finished.
Shown in Feed
The shown in feed metric is designed to help you understand the reach your video content achieves. This number represents the number of times your video has appeared in the Shorts feed, regardless of watch time or other details. You can compare this figure to other YouTube analytics to gain a clearer sense of your Shorts performance over time.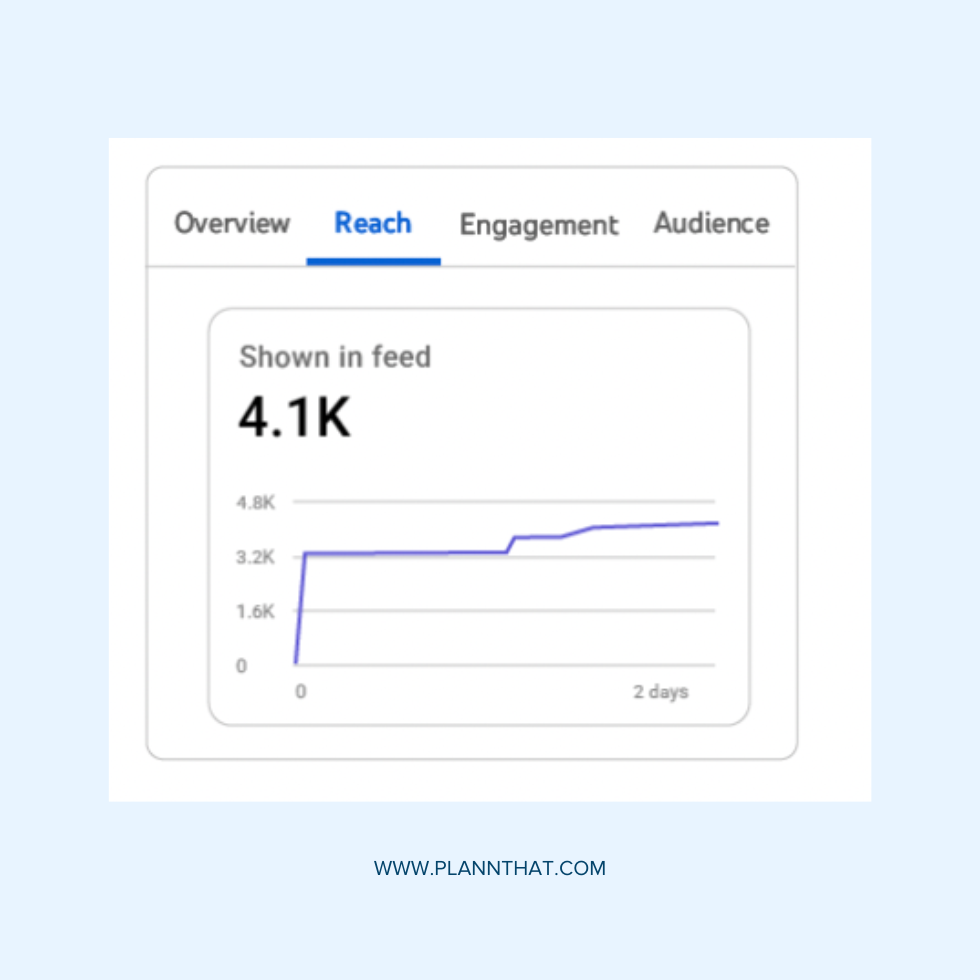 Top Shorts
When you've created a few YouTube Shorts, you can compare results directly! The top Shorts metric sorts your content based on the total number of views each video has received. Looking at your content in this way can help you identify which topics and formats are most successful for your YouTube channel.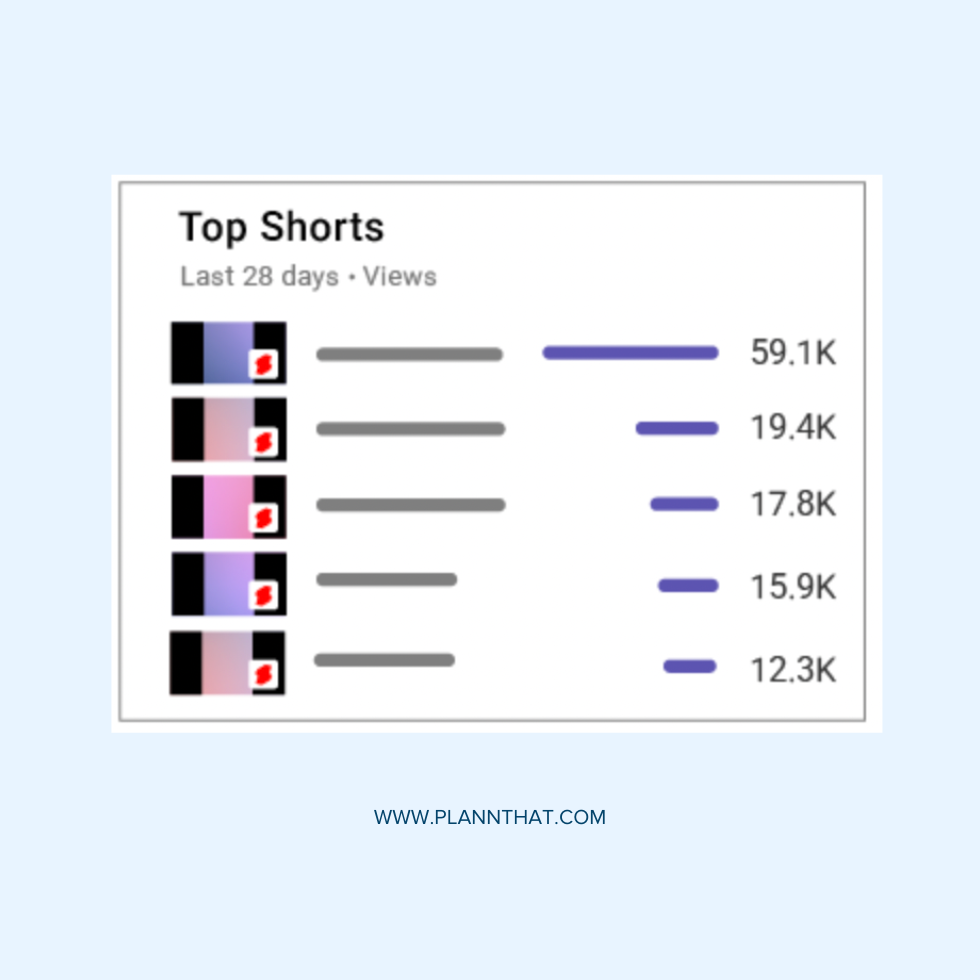 How Viewers Find Your Shorts
Looking at how viewers find your Shorts can help you understand what influences your discoverability. This metric shows you whether audiences find your videos via the Shorts content tab or whether your traffic comes from YouTube searches, YouTube recommendations, off-platform links, or somewhere else.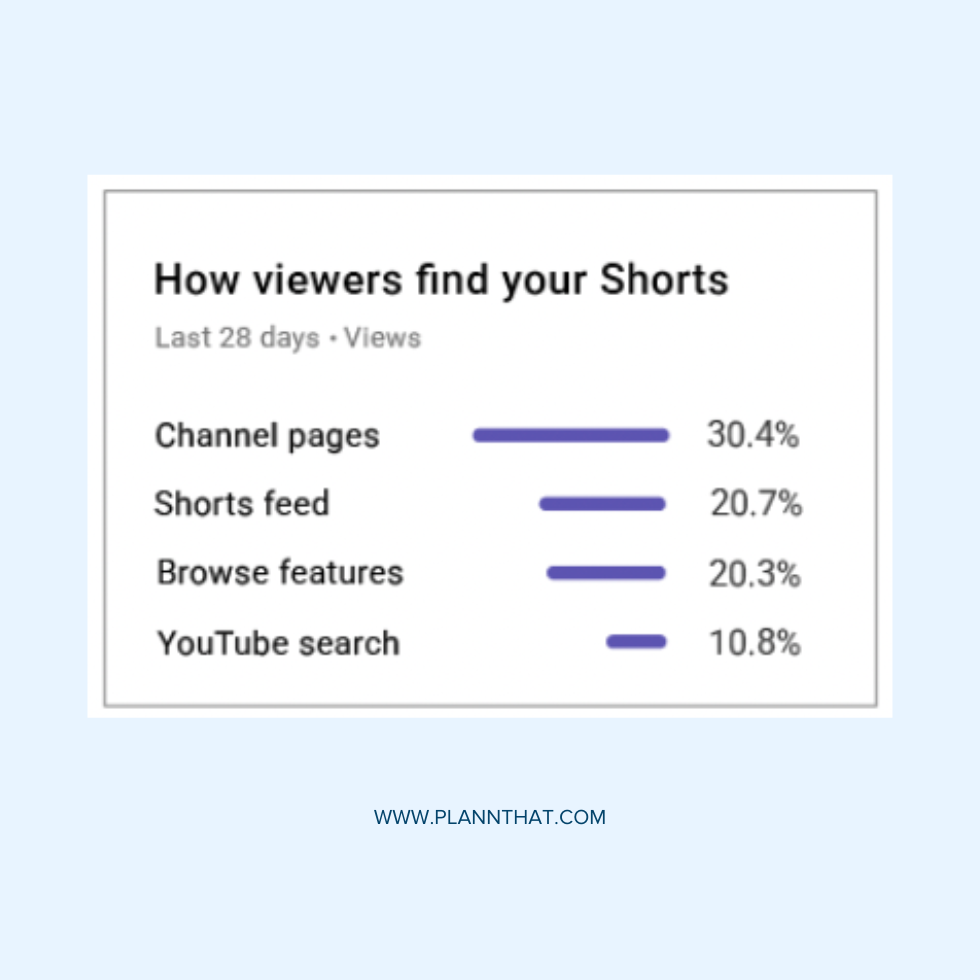 Other Insights
When you access YouTube Shorts analytics, you'll also be able to see stats representing the likes, comments, shares, and even new subscribers earned from each Short you share. These metrics can be critical in helping you learn more about your channel's engagement and more effectively target your audience going forward.
How to Use Metrics to Boost Shorts Performance
The good news is that there are many things you can do to improve the performance of your YouTube Shorts, and your channel at large. Knowing your metrics can help you make more informed choices.
Start by focusing on audience retention. Review your existing Shorts videos, and consider watch time statistics. How long do viewers stay with your videos on average? Which videos seem to hold audience focus most effectively, and how can you use this information to optimise watch time overall?
Next, think about your content engagement. Do many users stop to like, share, or comment on your YouTube Shorts? Notice which videos drive the best engagement results, and use this to make more videos like these. Don't forget to add a quick, simple call to action and the end of every content piece!
Finally, understand how your viewers find your videos, and look for opportunities to grow. Where do most of your audience find your content? Work to maximise discoverability in these locations while also exploring new marketing channels for reaching audiences who might not otherwise find your brand.
Keen to Keep Learning?
When it comes to YouTube analytics, the more you know, the more you can improve. Soon enough, you could be on your way to greater content success and maybe even a viral YouTube Shorts video!
Are you interested in continuing your learning and discovering more about what it takes to boost your account for the best marketing outcomes? Check out the latest tips, tricks, and insights now on the Plann blog!