Picture it: you're on an expedition to find and photograph the rare mountain gorilla when suddenly, a band of them appear. Do you run straight for them, yelling with excitement? Maybe you try tossing them their favorite snacks. Or maybe you should try ignoring them entirely. This dilemma is basically what social media marketers face when trying to court the cautious creature that is social media engagement.
That's because social media engagement, like gorillas, can be extremely powerful. But, depending on its environment, engagement can also be an elusive beast, with marketers everywhere trying different baits to lure it out.
If marketing is a jungle and engagement is an endangered species, consider us your guide to the wild (British accent optional).
Today, we'll show you the tactics successful marketers have used to feed, fatten, and grow social media engagement in its natural habitat.
Social media engagement is a measure of all interactions with your social media content. Popular types of engagement include likes, comments, and shares of your content.
But those aren't the only engagement metrics. Social media engagement can include:
Shares or retweets
Comments
Likes
Followers and audience growth
Click-throughs
Mentions (either tagged or untagged)
Using branded hashtags
To understand all facets of the social media engagement definition, take a deep dive into social media engagement metrics.
Why does engagement matter?
Why is social media engagement important? Well, for one, you want your audience to clap for the show you're putting on. If you're hearing crickets (which naturally migrate away from a habitat once social media engagement appears), you've got a problem. But high engagement means more than an ego boost.
When your engagement rates are high, you know you're dialed in with your audience. This means people are spending time on your content, which is good for you and the social media platforms.
Platforms like TikTok want people to spend as much time as possible on their apps. Higher engagement metrics tell the TikTok algorithm you're making quality content, so they boost your reach accordingly. You get more eyes on your content and the networks get more people spending time on their app. Think of it as a symbiotic relationship between you and the algorithm — everybody wins.
Of course, the inverse is also true. If your content flops, it's tempting to blame the algorithm, but it's more likely that the post just didn't grab your audience (sorry). Learn from it and move forward!
When you understand what your social media engagement metrics actually mean, you can refine your marketing strategy to better match your target audience's tastes, interests, and expectations.
The Hootsuite post below, for example, has over 200 comments and counting. We tapped into social media managers' concerns about the launch of the Threads app — a conversation our audience is pretty passionate about.
Taking social media engagement metrics into account when planning content is a great way to grow your account.
Once your comments and shares are flyin', it's time to crunch some numbers to see exactly how many critters came to the party. But not everyone's a mathematician, and knowing how to measure social media engagement can be a bit of a head-scratcher. Luckily, Hootsuite's got your back.
You can use our engagement rate calculator below to find out your engagement rate by post. Or, skip to the next section to see how Hootsuite Analytics can give you the nitty-gritty details.
Note: If you're calculating your social media account's total engagement, include information about all your posts (e.g., total number of posts published, total number of likes, and so on). If you're calculating the engagement rate of a specific campaign, only include the details of the posts that were part of the campaign.
If you're looking for more detailed data or you want to calculate different kinds of engagement (like engagement rate by reach or engagement rate by impressions), download our free spreadsheet calculator that will do the math for you.
Hootsuite Analytics for engagement metrics
Engagement metrics can be tricky. If you're calculating by follower count, remember that not all of your followers will have seen your post. Plus, people who don't follow you may have also interacted with your post.
And, for larger followings or marketers with multiple social accounts, calculating everything manually or using spreadsheets can get a little swampy. Luckily, Hootsuite Analytics can help.
Hootsuite Analytics lets you easily track the performance of all your social channels in one place (so you can replicate what works and get more engagement). The software collects your stats from Facebook, Instagram, Twitter, LinkedIn, and TikTok.
With Hootsuite Analytics, you can also:
Find out when your audience is online
Get personalized recommendations for the best times to post for each of your accounts
Easily view industry benchmarks and see how you compare to competitors
Now that you know the lay of the land, it's time to learn the captivating dance that will attract higher social media engagement rates.
Join me as we unlock eight secrets to fostering deeper connections in the virtual savannah of social media.
1. Analyze your engagement
It's hard to measure your growth if you don't know where you're starting from.
Put on your data scientist hat (looks great on you, by the way) and take a look at your Hootsuite Analytics dashboard or calculate your engagement rates using the methods above.
Now, see which posts or campaigns land at the top and the bottom of your analytics. Identify any patterns you notice. Maybe talking head posts are nearing engagement extinction, while the numbers for top 5 roundup posts have boomed.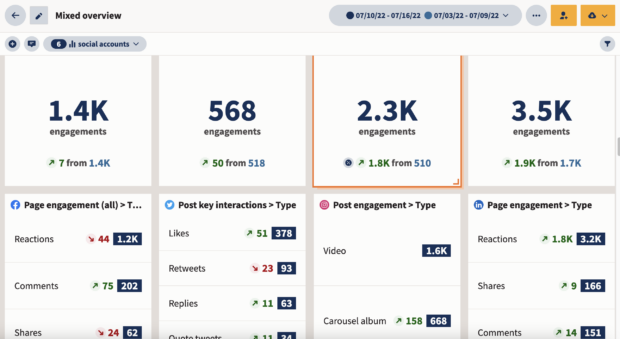 Track messages, comments, and mentions, too. These will give you insight into what your audience wants more or dislikes. Is everyone messaging you the same 5 questions about how to use a product? It might be time to make a post answering those questions.
Use your data to identify brand advocates. Are there stand-out online fans who always like or comment on your posts? Maybe it's time to ask them for a collaboration.
These tools for social media analytics can help you save time getting started.
2. Create a specific engagement strategy
Develop an engagement social media strategy to support your engagement-specific goals. You don't have to create an entirely new social media strategy, but rather, work in a branch dedicated to engagement.
First, determine your engagement goals. These may be:
Changing public perception of your brand
Developing new customer leads
Collecting feedback about new products
Educating your audience with resources and advice
Pro tip: Be sure you're setting SMART social media goals.
Once you have identified where you want to go, brainstorm some content designed to deliver on your goals. Then, work this content into your overall social media calendar.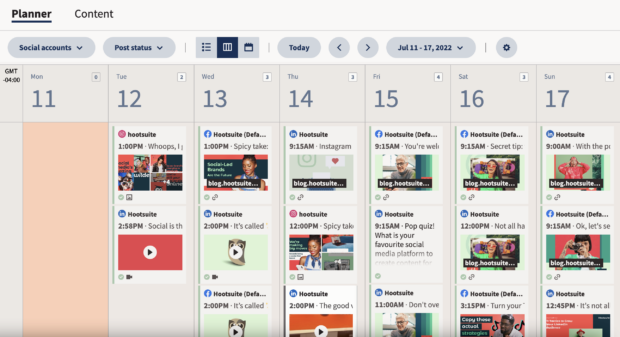 3. Know your audience
It's hard to get people engaged if you don't actually know who you're talking to.
The sort of language, tone, and resources that resonate are likely going to be different for a Satanic hot sauce company…
versus a gardening supply shop.
(Save for any spicy devil-worshiping grannies out there.)
Check out our guide to conducting audience research to learn everything you need to know about your target market.
Knowing your audience will also help you determine:
What social media sites to be on,
When to publish,
What content types to create, and
Your brand voice.
4. Create and share valuable content
Content that's helpful to the audience, and addresses their needs and pain points, is critical. Think "conversation," not "broadcast." Content that gives your audience what they want before they ask for it is the bait that will reel in social media engagement.
People don't care how great your brand is. They care about what your brand can do for them.
Are you having a sale they can't miss out on? Does your software solve a problem for marketers? Does your product make people age in reverse, a la Benjamin Button? Is your content so strangely entertaining as to be impossible not to share, letting whoever shares it seem cool by association?
To take this one step further, don't just guess what you think your audience wants to hear about. Do research into what they actually want to hear about.
Use social listening software like Hootsuite Insights, powered by Brandwatch, to track your audiences' conversation topics, see where your brand pops up in the social commentary, and for insight into what your competitors are doing.
This allows you to stay topical by commenting on current events and trends in a way that ties in with your brand.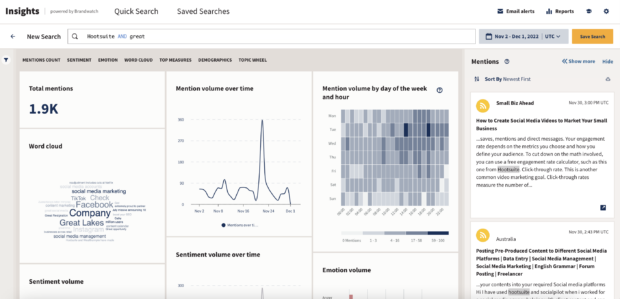 You can also test content to see what's working and what's not. Watch and learn from your past publishing. Experiment, observe the reaction, tweak, and repeat.
Hootsuite Insights can tell you a lot about your audience — and how they feel about you. It's only available to enterprise users, but if you're serious about social listening, Insights is the only tool you'll need.
If you're not sure where to start, steal these engagement post ideas for any platform, Facebook-specific engagement post ideas, or these Instagram engagement post ideas.
5. Keep the conversation flowing, even when it's spelled wrong
Practice both reactive engagement and proactive engagement to keep your audience interested.
When you're reactive, you're answering direct messages, incoming mentions, or comments.
When you're proactive, you're the one sparking conversation with people who may be talking about you but haven't necessarily sent messages to you directly.
To track those indirect mentions, just set up search streams on your Hootsuite dashboard so you don't miss a chance to keep the conversation going.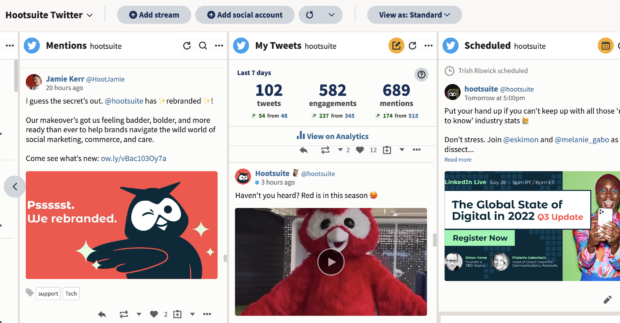 6. Show your human side
It's way more tempting to engage with a brand when you think there's a real person on the other end.
And there is! (Right?) So don't hide it.
There are lots of ways to get personal:
Go beyond retweeting and liking; start commenting to start a conversation
Acknowledge and answer questions
Respond to comments with humor or warmth
Show the people behind the brand in photos or videos
7. Keep response times speedy
With Hootsuite's Saved Replies function, you can pre-compose responses to common queries. When an FAQ comes your way, you'll be ready with a thoughtful, informative response.
A speedy response can lead to increased customer satisfaction and save your team time, so they can provide even more support (and human touch) elsewhere. You can also personalize the saved response so you don't seem like you're sending out canned replies to your audience.
You don't even have to write them yourself if you don't want to. Answer enough questions of a similar type, and Hootsuite will suggest replies based on your previous responses. Since they are based on your previous answers, you can rest assured that they'll still sound human and on-brand.
Hootsuite Inbox can help you manage all your comments and DMs in one place. See it in action here:
8. Schedule smarter
Posting frequently is important to keep your content fresh and active in social streams. Posting at the right time each day is important, too, so your content doesn't miss its chance for maximum audience exposure. In nature and digital marketing, being in the right place at the right time is key.
You can't be at your computer 24/7 (believe us, we've tried), but you can take advantage of social media marketing tools like Hootsuite. Hootsuite's mobile app helps you review, plan and prep your posts in advance — without even opening a laptop.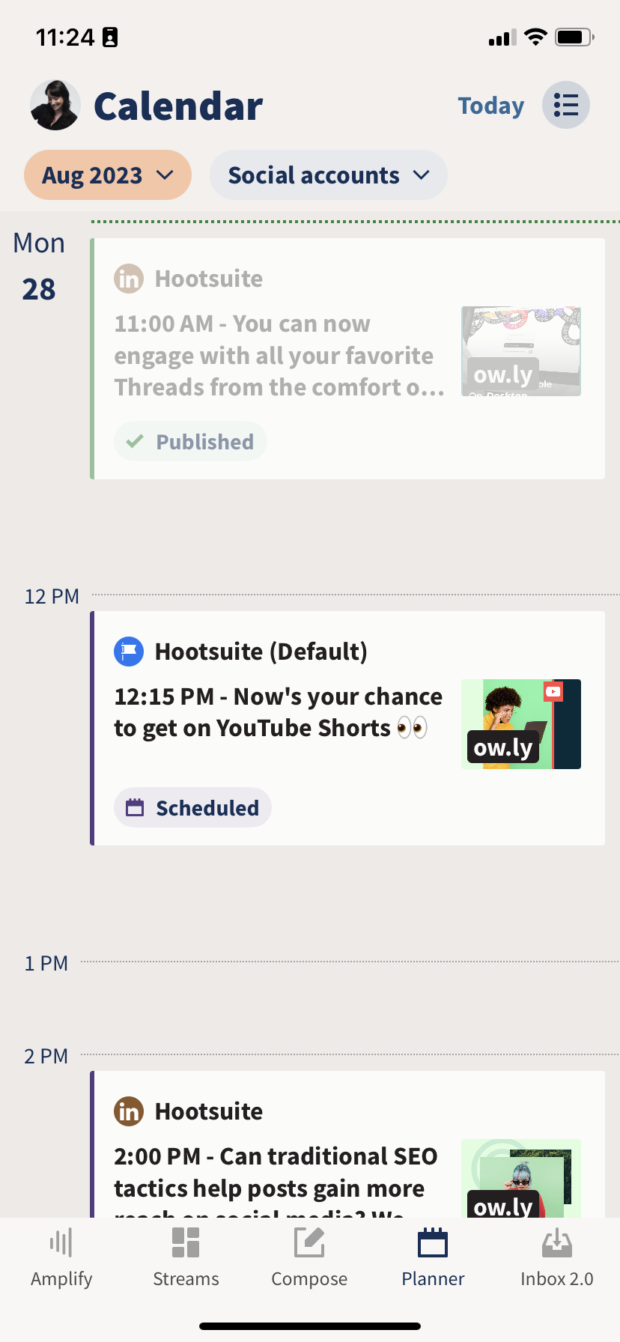 A few other Hootsuite dashboard features can also help boost your productivity and ensure you stay on top of engagement:
Monitoring and listening streams: Use streams in your dashboard to see all engagement from each social media network in one place instead of checking each social network separately.
Automated tagging and assignments: Automatically route messages to the right department or team to optimize workflows and track positive or negative engagements with tags
Custom inbox reports: Get inbox analytics specific to the metrics you're tracking and easily share and export your report to clients or stakeholders.
We hope this blog has answered how to increase your social media engagement. But, for those lingering questions, here's our FAQ.
What is social media engagement and why is it important?
Social media engagement is the measure of how your audience interacts with your content, reflecting their level of involvement and interest. It's important as it boosts brand visibility, builds a loyal community, and enhances the effectiveness of your online efforts.
What is the key to social media engagement?
Authenticity, consistency, and value are key. Publish meaningful, relatable content often and on a schedule, and actively respond to audience comments. This will foster genuine connections, driving higher engagement.
How do you build engagement on social media?
Foster interaction through compelling content informed by your analytics, timely responses, and strategic scheduling. Encourage discussions, ask questions, and run interactive campaigns to involve and captivate your audience. For specific ideas, try these 23 simple ways to increase your Facebook engagement.
Save time managing your social media presence with Hootsuite. From a single dashboard you can publish and schedule posts, find relevant conversions, engage the audience, measure results, and more. Try it free today.
With files from Stacey McLachlan.
Do it better with Hootsuite, the all-in-one social media tool. Stay on top of things, grow, and beat the competition.