AI has taken over social media and the world – and it's here to stay. As a brand or business owner, it can be challenging to constantly reinvent the wheel and come up with engaging content and captions for your social media posts. 
That's where AI comes in. AI tools are game-changing when it comes to improving your workflows and leveling up your social content. But, you also have to know how to use it right to deliver the most meaningful, on-brand, and engaging content. 
So, if you're looking to harness the power of AI for your social media content, then we're rounding up our top tips and best practices to help you understand how to get the most out of your AI tool. Ready to learn how to craft AI prompts like a pro? Let's go!
Understanding AI prompts
You may be thinking that AI holds all the answers to your questions. While that may be true (to an extent), you also have to ask your AI tools the right questions in order to deliver the best results. 
AI prompts are the statements or questions provided by you which instruct the AI learning model about what to do or how to respond. 
To create the best content and get the most out of AI tools, you have to provide the right context in your questions, brief your AI tool correctly and be as specific as possible, leaving ambiguity out the door. 
Need some help getting started with AI? Here are three practical ways to structure your AI prompts:
• Define your objective: Take a moment to consider your specific objectives for the prompt. Are you seeking a captivating Instagram caption, or an engaging blog post, or do you require ideas for your monthly social media content? 
• Be clear and specific: Ambiguous and vague prompts will produce irrelevant or inaccurate content. That's why you need to specify what you're looking for in a clear and concise way. Provide all details you might find relevant to your prompt to generate the most meaningful responses, such a briefing about your brand voice, the platform you're creating content for and even background details about your target audience, too.
• Use examples: If you're ever struggling to come up with effective prompts then give your AI tool examples of work you want them to emulate. This could be previous blog posts or captions you've written or even input your tone of voice guidelines to guide your AI model. 
What to avoid: Bad AI Prompts
First up, let's talk about bad AI prompts. A bad AI prompt is one that's poorly crafted and fails to effectively convey your intentions. This will lead to inaccurate or irrelevant responses. 
Bad AI prompts lack specific details about your request and don't include enough detail and context to illustrate your point. Plus, if you're not using the right keywords or using overly complex language, it can confuse your AI model and produce the wrong responses. 
Let's get even more specific about what badly crafted AI prompts look like: 
• "Write a catchy caption for my Instagram content" – This prompt is lacking details about your request like the target audience, type of content, and the nature of your topic. 
• "Create three ideas for social media content" – This prompt doesn't provide enough context about the kind of social media content you want to create. It needs more platform and topic-specific information to produce a truly tailored and impactful result. 
• "I need an engaging post for my brand" – This prompt lacks details about the brand's niche and tone of voice. Plus, it doesn't include the platform the post is intended for or specific engagement goals.
How to craft good AI prompts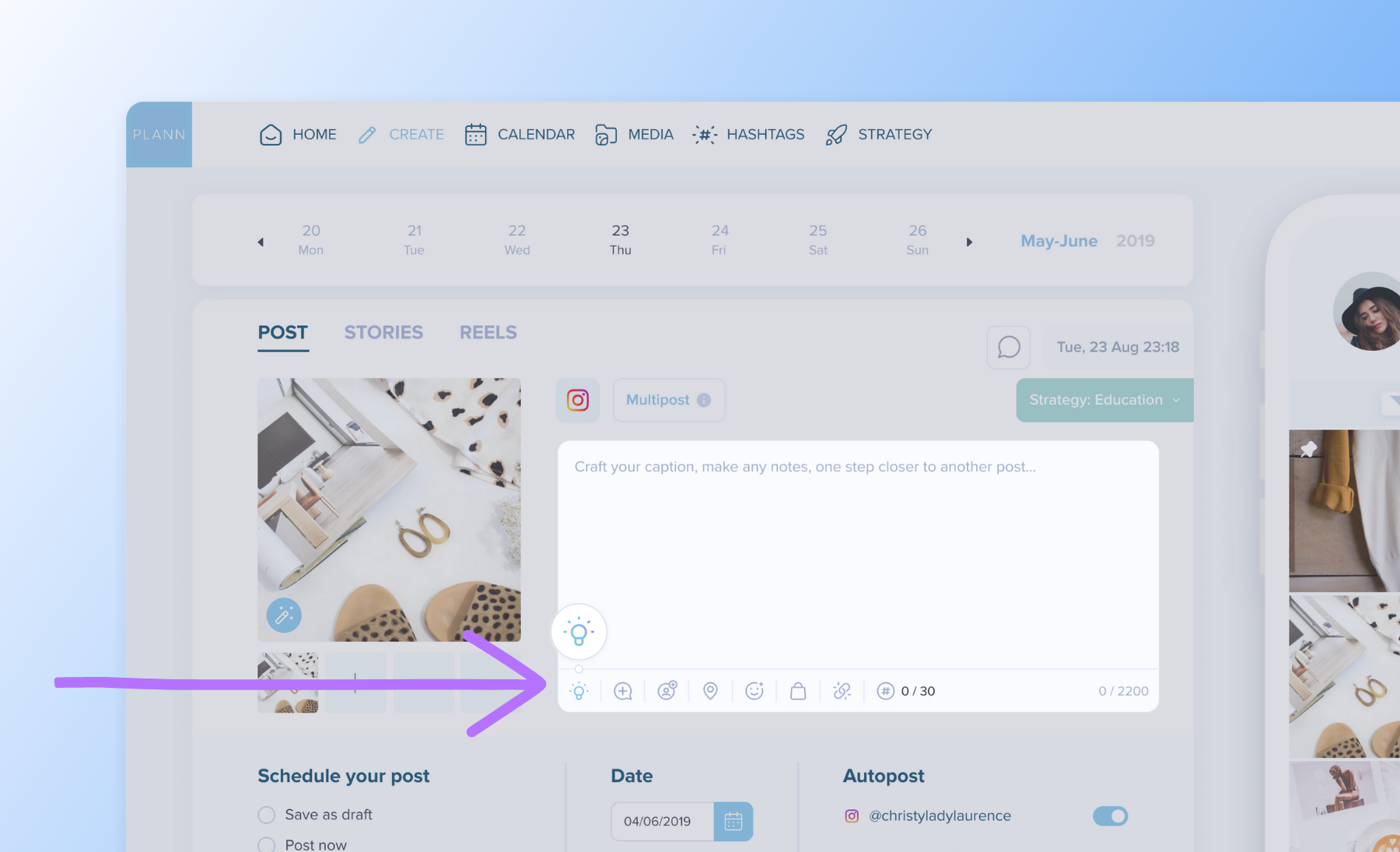 Now that we've covered the bad AI prompts, it's time to focus on some great prompts that will level up your social media posts and improve your content creation workflows. 
A good AI prompt includes the right context, like the subject matter, theme, or message you want to convey, and specifies the tone and length of your desired response. Plus, it includes platform-specific details like the social media platform and type of post you're looking to create. 
Looking to craft AI prompts that supercharge your content creation processes? Here are three templates to personalize and try:
• "Craft a concise and engaging Instagram caption showcasing [name a specific product/service you offer]. The target audience for this post is [get really specific about who you want to reach, including demographic information as well as your audience's needs, challenges and aspirations]. Please include five high-performing hashtags related to [topic of your service or product]. Before you get started, please review this landing page with important background details about this offering: [landing page link]." 
Why it works: In this prompt, we're being super specific about the length and brand voice of your caption, and providing enough context for the AI model. Plus, we're briefing the AI tool with background reading so it can truly understand your offering and what you're trying to promote. 
• "Compose a thought-provoking LinkedIn caption about the future of remote work. Please write in the first person, highlight the advantages of remote collaboration, mention industry trends, and write for young managers working in the tech sector. Please review my past LinkedIn posts before you get started to understand my ideal tone of voice: https://www.plannthat.com/good-vs-bad-ai-prompts/." 
Why it works: Again, we're providing the right context and information such as the topic of interest, and the ideal audience of this post while also giving the AI model the specific details we want to be included in the LinkedIn post. 
• "Create an easily digestible caption for an Instagram carousel post featuring our top five best-selling products. Include brief descriptions of each product, share a few customer reviews, and include links to each product's page, which you can find saved here https://www.plannthat.com/good-vs-bad-ai-prompts/." 
Why it works: In this example, we're giving our AI tool specific instructions and giving it a clear objective of what we want to see included in the caption. Plus, we're mentioning the exact social media platform and type of post we want to create. 
Looking to level up your caption game? Say hello to Plann's brand-new AI-powered social media caption generator!
Our caption generator can help you save time, supercharge your creativity, and boost the reach and engagement of your social media posts, with attention-grabbing captions across your favorite social media platforms like Instagram, Facebook, LinkedIn, TikTok, and Pinterest. 
Ready to learn how to use our brand-new AI caption generator? Dive into our ultimate guide to getting started within your Plann workspace. 
Ready to supercharge your success on social media?
Looking for an all-in-one content creation suite that allows you to manage your social media channels effortlessly? From mapping out your strategy, writing engaging and speedy captions, and designing your graphics to repurposing your content, you'll find everything you need inside Plann. 
Go on, and redeem your 7-day free trial of Plann Plus. If you don't like it, keep using Plann for free!