If your business uses social media to interact with your customers (and at this point, it's pretty much non-negotiable), you need a plan for handling social media interactions.
These days, social platforms play a role in customer service, brand management, sales, and more. Social media marketers aren't just posting great content — they're engaging with followers, routing incoming requests, responding to tags, and so much more. Whoever handles your social must be prepared to interact with people in a range of ways. That's where a social media interaction strategy comes in.
Below, we'll go over social media interaction, the different types of engagement, and how to interact with customers on social media to maintain a positive perception of your brand.
A social media interaction is any form of communication between a brand and users on social media.
Interactions can include likes, comments, direct messages, tags, and even follows. We'll cover each of these in more detail below.
Social media interactions can be markers of success for businesses on social media. Every interaction or engagement is an opportunity to connect with your audience.
As an aside: While every channel has its own engagement metrics, Instagram is where most of the action occurs. In 2020, Instagram accounted for 67% of the 290 billion social media interactions — including reactions, comments, shares, retweets, and likes — on brand-owned content.
In addition to helping measure engagement, social media interactions can also be used to manage your brand's reputation and communicate with customers.
With social commerce on the rise, more people are turning to social media to discover brands, learn more about their products, and even make purchases directly on the platform.
Square's Future of Commerce Report found that interacting with brands plays a key role in the early stages of selling. For instance, 32% of consumers surveyed like or follow businesses on social and 24% prefer to comment on pages and posts. When it comes to communication, 46% of consumers want to hear from a business through their social media profile or direct message.
Positive interactions, especially when it comes to customer service inquiries, can drive positive results for your business. One survey found that customers spend 20-40% more with companies that respond to customer service requests on social media.
Tl;dr: Your social channels are the face of your brand. Having a plan for how to interact with your followers and engage customers on social media is a must.
Wondering how to boost customer engagement on social media? Start by understanding the types of social media interactions you'll need to have with your audience and how to improve them.
Here are the most common types of social media interactions and the best practices to follow when responding to them.
1. Likes
Likes are the most common form of social media interaction. According to a survey by Statista, 45% of consumers say they engaged with a company on social by liking the brand's posts, which was more than any other type of engagement.
Likes continue to be an important success metric across all channels. The more likes you get, the more the algorithms will reward your post by amplifying it to a larger audience.
Since likes are the type of interaction users are the most generous with, it can be easy to lose track of how many likes each post gets as they start rolling in.
If you want to stay on top of your brand's likes, you can monitor your notifications in real time or use an engagement tool like Hootsuite to get an overview of each post's performance.
2. Follows
Another essential social media metric and type of interaction is a follow. Follows happen when a user chooses to follow your brand's account or page in order to see your content in their feed. This type of interaction lets you know that you're reaching the right people and growing your audience.
On the flip side, you could also receive unfollows. An unfollow is when a user decides not to follow your brand account anymore. These interactions are also important to keep an eye on. The occasional unfollow is to be expected, but if followers are leaving en masse, something is wrong.
If you notice a sudden number of unfollows or even a steady decrease in new followers, review your content and interactions to see if something isn't resonating with your followers anymore.
Maybe you switched up your social strategy. Perhaps your overall brand is heading in a new direction, and your current followers are no longer interested. Take note of what's changed and how you can adjust your approach to generate positive interactions again.
3. Comments
A comment is a form of engagement where a user leaves a reply on your content. Comments can be in text, an emoji, or even a mention of another user or account.
As a brand, you want to encourage conversation, and getting comments on your posts shows that followers are engaged in your content. But make sure that you keep an eye on the comments you receive.
45% of consumers believe it's important for brands to respond to comments on social media. Replying to your followers helps spark a two-way conversation so that users feel acknowledged, heard, and involved.
Keep your comment section active by responding quickly, especially if you want to get in your followers' good graces.
Whether your followers are asking questions, mentioning other users, dropping emojis, or showing their excitement, it's essential to be responsive if you want to keep them engaged. The more engaged your followers are, the more comments you may get.
It can be easy to lose track of every comment if you're a solopreneur or on a small social team. Having a central place to monitor and respond to your followers — without opening multiple apps — is key to staying on top of your followers' feedback.
A social inbox tool like Hootsuite Inbox allows you to manage all of your social media interactions in one place. This includes everything from comments to DMs (more on that below).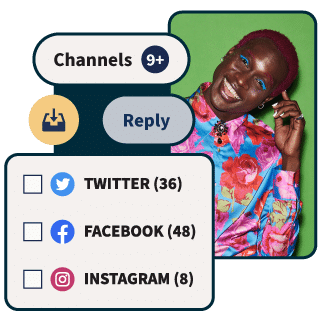 Reduce response time (and your workload)
Manage all your messages stress-free with easy routing, saved replies, and friendly chatbots. Try Hootsuite's Inbox today.
4. Direct messages
A DM, or direct message, is when a user sends a message to your brand's account. Followers often send a DM to a brand when they have an inquiry. In fact, Square's Future of Commerce Report found that 24% of consumers prefer to DM a business over any other communication method.
Social channels are at the front lines of customer service, which means your brand's inbox is likely a hot spot for customer inquiries or questions. It's important to stay on top of your direct messages to ensure that a message doesn't fall through the cracks and to protect your brand's reputation.
One study found that 40% of consumers expect brands to respond to inquiries or complaints within the first hour, and 79% expect a response in the first 24 hours. Not responding in a timely manner risks harming your follower's perception of your service and can impact the rest of your brand's reputation.
To better manage your DMs, set up a social inbox like Hootsuite Inbox to help manage social media interactions across platforms.
With Hootsuite Inbox, you can manage all of your messages (and other interactions like comments and mentions) in one place. It also allows you to create and save auto-replies that answer common inquiries and help improve response time. That way, you and your team don't have to worry about missing any outreach or leaving a customer on read.
You can learn more about how to set up auto-reply messages (specifically on Instagram) in the video below:
5. Reviews
Reviews are everywhere. Like online reviews written directly on your website or a search engine like Google, customers can also write reviews on your social media pages.
On Facebook, people can write Page Recommendations (which you can choose to make public or not). If you have an Instagram Shop, users can rate and review products.
Leaving reviews is becoming a more common practice on social media. According to Square's Future of Commerce report, 22% of consumers wrote a review on a brand's social media profile in the last 12 months.
Positive reviews help boost your brand's social proof. When a potential customer reads about another person's feedback or experience with your brand, they'll be more likely to imagine themselves making the same purchase.
Negative reviews can have the opposite effect. It's important to stay on top of negative and positive reviews to protect your brand's reputation and respond quickly when necessary.
Monitor your social reviews and have a few responses prepared for different positive and negative scenarios. Also, remember that customer reviews and your responses to them are public. The way you handle feedback reflects on your brand image, so always remain professional.
6. Tags
A tag is when a user mentions your brand on social media. They can tag you in a post, a caption, or on their stories — no matter where they're tagging you, you'll receive a notification letting you know someone tagged you.
The best way to react to a tag is to comment on the post you were tagged in. Bonus points if you share the content and publish it to your own feed — this is what's known as user-generated content (UGC).
It's important to review your tagged posts on a regular basis so you can source UGC and make sure your content calendar has a mix of organic content and branded content.
7. Shares
A share is when a social media user shares your account or your content on their page or by sending it to another user.
Shares are important because they show that your post resonated with your followers enough for them to want to amplify your content for you.
To respond to a share, show that you appreciate the interaction. For instance, if a follower shares your post to their story, you can reply to the story with a quick response or emoji reaction to let them know you saw the share. You can also reshare their story to take the interaction even further.
What are social media interactions?
Social media interactions are the different forms of communication between brands and users. Types of interactions include likes, comments, follows, direct messages, reviews, shares, and tags.
What is an example of a social media interaction?
An example of a social media interaction is when a follower leaves a comment on a brand's post. Another example could be a brand and a customer exchanging direct messages on a social media channel like Instagram or Facebook.
Save time managing your social media presence with Hootsuite. Publish and schedule posts, find relevant conversions, engage your audience, measure results, and more — all from a single dashboard. Try it free today.
Do it better with Hootsuite, the all-in-one social media tool. Stay on top of things, grow, and beat the competition.