Are you an aspiring social media manager or creator looking to showcase your work? Or maybe you're on the hunt for a dream job in the industry, aiming to collaborate with top brands and make a name for yourself.
Whatever the case, creating a stand-out social media portfolio is a must—it's your ticket to success, recognition, and networking. In this step-by-step guide, we'll discuss how you can create an effective and jaw-dropping portfolio that will get you noticed by your dream collaborators.
As a bonus, we'll include a social media portfolio template to help you get started.
Bonus: Download a free, fully customizable social media portfolio template to make your work shine — and land more clients.
A social media portfolio is a collection of your past and present social media campaigns, content, and projects. It showcases your experience with various platforms and creative strategies to demonstrate that you're an expert in the field.
Think of it like an informal resume, or part of your pitch process to a brand or client. It's also a chance to get visual, creative, and stylistic, and make an impactful statement about who you are and what you can do.
Creating a social media portfolio is a great way to show what sets you apart from other professionals. You want to stand out among the competition and give potential employers insight into your work ethic and skill set.
It's also a great way to showcase your capabilities with various social media platforms. Social media portfolios should include examples of campaigns you've managed, along with real-world metrics that show the success of these efforts. This helps demonstrate your ability to dream up creative strategies and ideas for your clients.
Social media portfolios are essential for anyone looking to get hired or acquire new clients as a social media professional. Make sure yours is full of your best work, most impressive accomplishments, and clear reporting that shows the impact of your campaigns.
Here's what you should include in your social media marketing portfolio.
1. Introduce yourself and your experience
Your social media manager portfolio should provide a brief overview of your education and experience in the field. It's also important to showcase any certifications or training you may have received that are relevant to social media management.
Source: Jav Diaz
How you style this section is up to you. Some people prefer a more stylistic approach and include images or videos to introduce themselves. Others prefer a more traditional resume-style format listing their education, work experience, skills, and specialties.
Source: Mariana Piña
Get as creative or professional as you want in this section, just be sure to paint a positive picture of yourself, and find a way to engage the reader.
2. Showcase your best content
In the second section of your social media manager portfolio, it's time to showcase your skills and experiences. Social media managers need a variety of skills, such as copywriting, digital marketing, content strategy, analytics, research, and customer service. Show how you've used each skill in the past through case studies or stories about accounts you've handled.
Source: Loreto von Chrismar
Be sure to include as many details about the project as possible in this section. Talk about any challenges you faced, how you addressed them, what strategies you implemented and why, and any successes or lessons learned from the process.
Source: Heidi Schneider
3. Create engaging visuals
Any good social media portfolio should include visuals to prove your claims. Include infographics, images, videos, screenshots of posts or campaigns you've run–anything that can show potential employers that you have the experience and know-how to deliver results on social media.
Source: Suzany Regina
Add screenshots of your results (with permission from past employers) and include links to campaigns you've worked on. Using high-resolution visuals of the campaign can help break up the text and make your portfolio visually attractive.
4. Back up your projects with data
Include analytics that show your performance and effectiveness on social media. These can include:
Follower growth
Engagement metrics (likes, comments, shares)
Reach/impressions
CTR or other conversion metrics
Share of voiceCPC/CPV or other cost-related metrics (depending on budgeting activities)
PR coverage and media spots (if applicable)
Website traffic
The more you prove your campaigns made a difference, the more your portfolio will stand out.
5. Outline your process
Now that your potential customers know what you can do, it's time to give them a peek into how you work, and what they can expect.
Sketch out your creative process and how you plan, launch and measure each campaign. Social media campaigns require a solid strategy to be effective–so show them yours!
Some examples of processes to outline include:
Social listening & analysis
Content planning/scheduling
Engagement with followers
Budgeting activities
Analytics & optimization
Feel free to get creative with how you design this section. You can use visuals, infographics, or write out step-by-step instructions.
6. List services you offer
Social media management is a diverse field, and every social media manager has different areas of expertise. Here, you want to show potential clients what services you can provide.
Some examples of social media services could include:
Social media auditing
Strategy development & implementation
Managing social media channels
Content creation
Influencer marketing
Ads management (Facebook Ads, Google Ads, etc.)
Social listening & analysis
Reporting and optimization
If you have any pricing packages, you could also list them here.
7. Include client testimonials
Include testimonials or positive feedback from employers in your portfolio. Reviews act as social proof, demonstrating to your potential employers that you've provided value for past clients or companies.
Source: Jessica Shirra
If you don't have any client testimonials or feedback yet, start asking your employers or previous clients if they'd be willing to provide one for you. You can collect reviews manually, or ask clients to leave reviews on third-party sites like a Google My Business page for more public visibility.
Pro tip: If you're worried your clients are too busy to leave a review, try sending them a template of the review and ask them to edit or approve the review before it is posted. This way, they don't have to spend too much time thinking of what to write.
8. Make it easy for clients to contact you
Finally, be sure to include your contact information in your social media portfolio. Your contact information should be prominent and easy for potential clients to find. You want them to know that you're available to help them with their social media needs, so make it as simple as possible for them to reach out to you.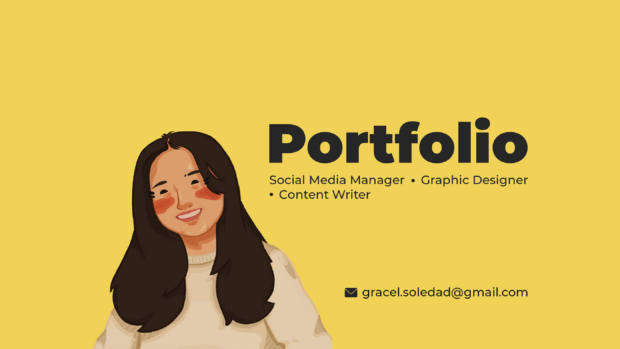 Source: Gracel Anne Soledad
Your social media portfolio can take many forms, from a simple slide deck to a custom-built website. Here are a few social media marketing portfolio formats to choose from.
1. Simple slide deck
Creating a slide deck is a great way to showcase your social media management portfolio because it's easy to read, download, and share. Plus, there are plenty of options for customizing and editing slides for different opportunities.
The downside is slide decks aren't available publically, which means a customer would need to contact you directly in order to see examples of your work. If you're just starting out, you might not have enough inbound leads to support this format. You can avoid this issue by hosting your deck live through Google Slides, Canva, or other hosting platforms.
If you do decide to create a slide deck, keep these tips in mind:
Use a simple design that's easy to scroll through.
Be careful not to overload your slides with too much information.
Keep multiple copies of your deck (a live link, PDF, and Powerpoint is a good start).
If hosting the deck live, make sure to choose a reliable hosting platform.
Use links in the deck to direct readers to relevant social media profiles and websites.
Include your contact information at the end of the deck.
2. Social media portfolio website
A website is a great way to create a public-facing, and searchable, portfolio of your social media work. It's also the most versatile option, as you can customize it to look exactly how you want, and include a range of pages, media, and easy-to-use contact forms.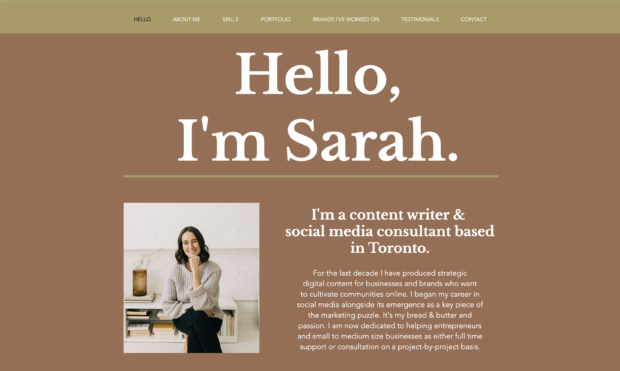 Source: Sarah McCain
The downside of a portfolio site is that they are more complex to create. Luckily, there are many user-friendly website builders to get you started, such as Wix and Squarespace.
Here are a few website portfolio tips:
Choose an eye-catching template that matches the tone of your work.
Include images and screenshots of your best campaigns.
Optimize the website for mobile devices.
Follow SEO best practices.
Create an easy-to-use contact form.
Prioritize accessibility and inclusive design practices.
Include client testimonials.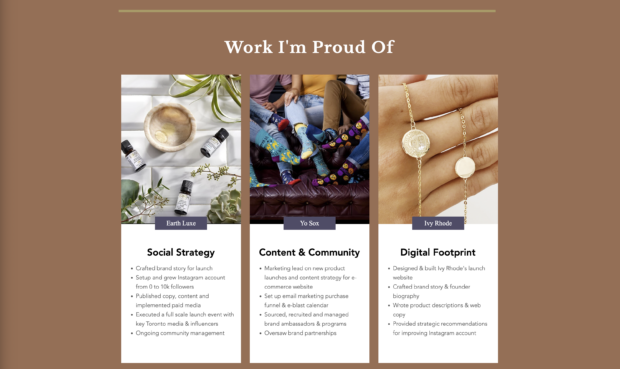 Source: Sarah McCain
3. Document or PDF
A document or PDF portfolio is an ideal choice for those seeking an easier way to showcase their work. PDFs have the benefit of being easy to read and share. Plus, you can attach them to emails or text messages for maximum convenience.
Source: Lacey J. Heels
The downside of a document or PDF is that, depending on how your clients view your document, there may be a loss of resolution when incorporating images and videos.
Additionally, some PDF readers may not support videos or interactive elements. The key is to keep the design consistent so that viewers can access your entire portfolio with ease.
Here are a few tips to keep in mind when creating a document or PDF portfolio:
Include a "Table of Contents" page with page numbers for easier navigation.
Incorporate links to landing pages or other relevant web pages if applicable.
Only use images and videos that won't lose resolution.
Proofread your content for accuracy and clarity before submitting it.
Save and back up a copy of your social media portfolio.
Source: Lacey J. Heels
4. Social media profile
Social media platforms such as LinkedIn, Twitter, and Instagram allow you to create rich and interactive profiles that give potential employers an overview of your experience and skill set. Not to mention, it's the most literal example of what you can do!
Using a social media profile as your portfolio allows potential clients to see exactly how you lay out a page, post consistently, curate and create content, and even interact with your audience.
The downside is that not every client is on every social media channel. So, you either need to be active everywhere or be sure to choose the most appropriate platform for your target audience.
Here are some tips to keep in mind when creating a social media profile portfolio:
Use a unique visual style on every platform.
Be consistent with your branding.
Post consistently, but prioritize quality over quantity.
Don't let any channels go stagnant.
Regularly interact with your audience.
Tag brands or influencers you've worked with as references.
Provide links to your website to promote any additional work samples.
Social media portfolio examples
Ready to start building your next portfolio? Get inspired by these amazing social media portfolio examples.
1. BNL Media Consulting

BNL Media Consulting is a social media agency based in Vancouver, BC. Run by long-time social media expert, Megan Shallow, BNL Media's portfolio website showcases the agency's expertise in creating content and running campaigns on social media.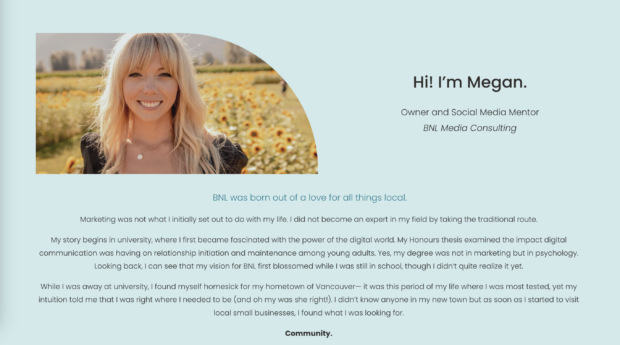 From services offered, to successful projects, and even a blog and podcast, this social media marketing portfolio offers everything any potential client needs to assess the agency's capabilities.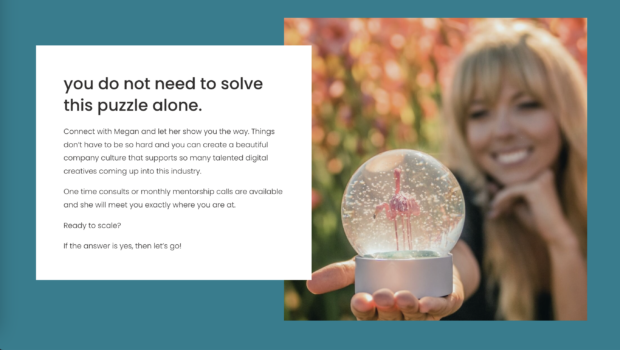 2. Sunny Social Collective
Sunny Social Collective's Instagram portfolio puts visual content at the forefront. This portfolio website offers an eye-catching scrollable feed of images and videos for potential clients to get a sense of their work.
Plus, each post includes relevant information about the company's services and contact details for further inquiries.
This profile portfolio also uses a range of content types, from Reels to static posts, carousels, and more–showcasing Social Collective's diverse range of social media capabilities.
3. Julia Babicheva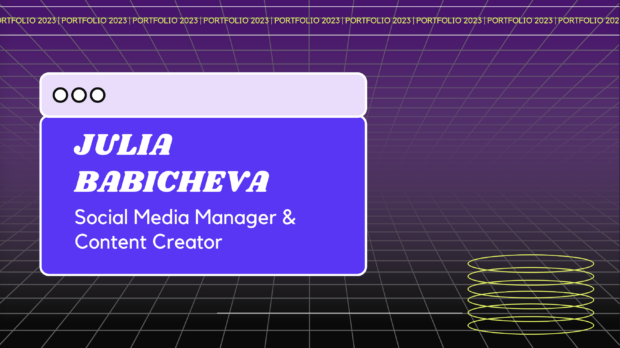 Creative social media manager Julia Babicheva combines the best of both worlds with this custom-built Canva social media portfolio. Julia used Canva to create an online slide deck to showcase her social media manager portfolio, including screenshots of past campaigns and case studies to demonstrate the value of her work.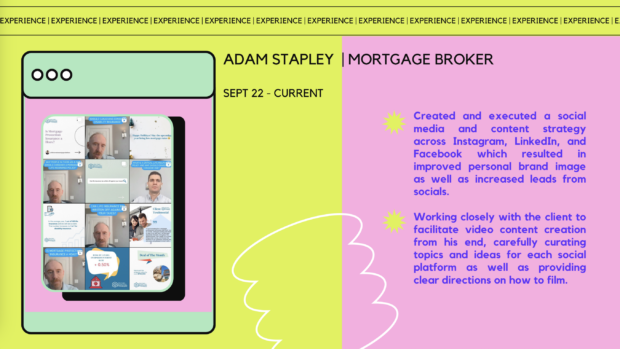 Her portfolio includes beautiful designs, hard-hitting data, and a full snapshot of her skills and capability. Plus, by hosting the deck online, Julia ensures potential employers can access her portfolio from anywhere in the world.
4. Katie Barber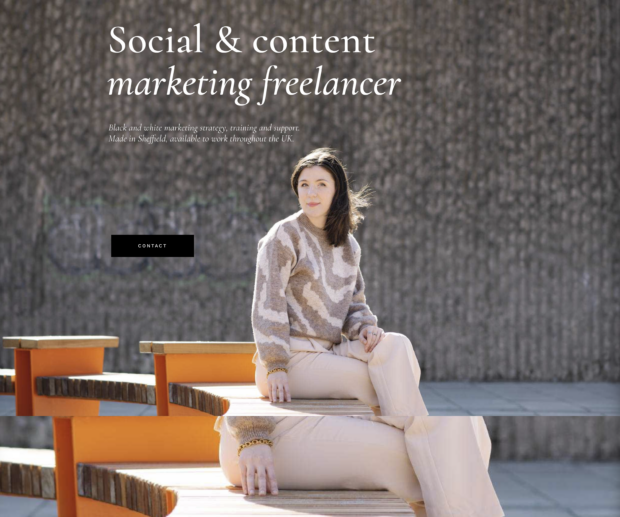 Source: Katie Barber
Freelance social media manager Katie Barber's website is a well-designed, content-rich portfolio that showcases her industry knowledge, creative projects and examples of her work.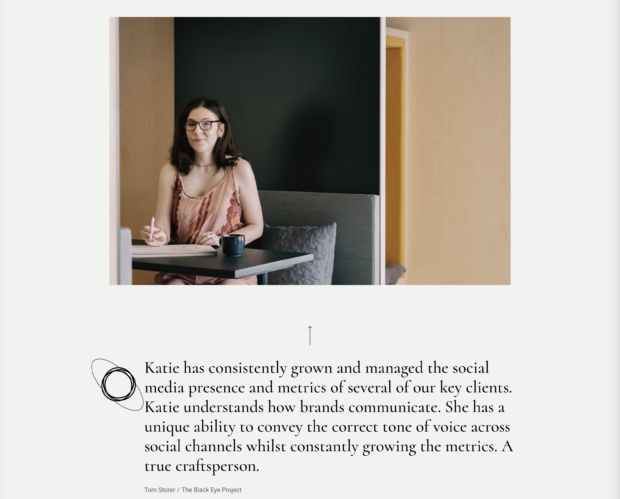 Source: Katie Barber
Social media portfolio examples are integrated as part of her overall website design, allowing employers to quickly navigate to the pages they're interested in.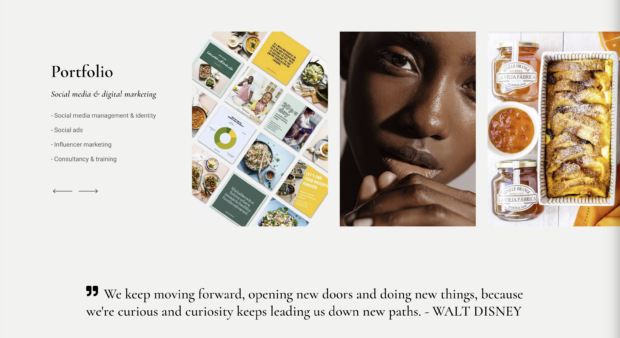 Source: Katie Barber
Katie also runs a blog on her website, which is great for SEO, helping her get discovered by new clients and brands.
5. August Media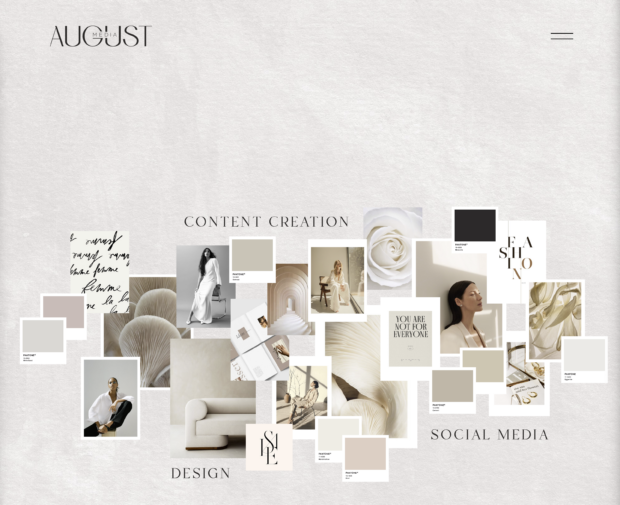 Source: August Media
Design is an important part of any social media manager's job. So, get a social media portfolio that looks as good as the content you post online!
Toronto-based social media firm August Media's website is a great example of putting your best design foot forward. Its website is creative, modern, and intuitive, from the homepage to the contact form.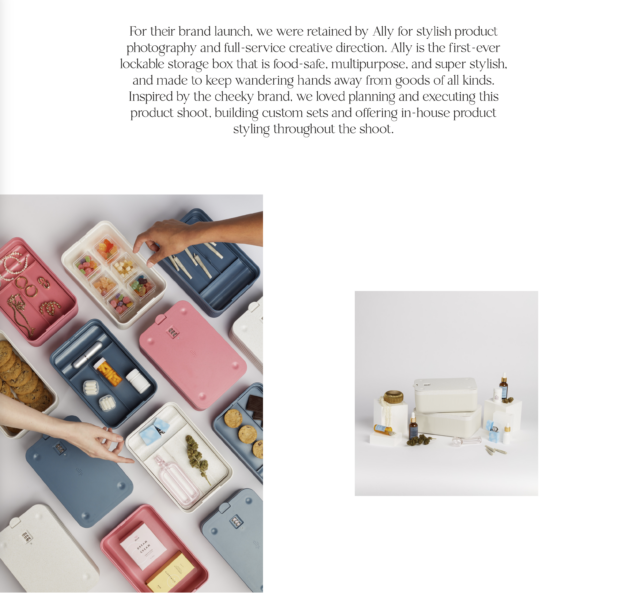 Source: August Media
Portfolio pages are broken up with dynamic images and short, succinct copy, and there's no shortage of ideas to take inspiration from. They also make a point to showcase their clients and projects on the homepage, so potential customers know who they are and what they do right away.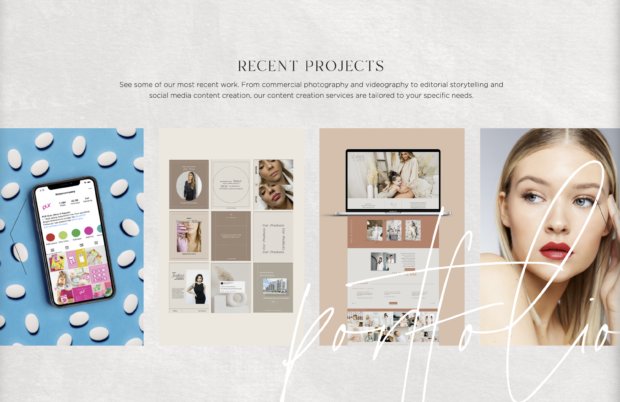 Source: August Media
Create your very own social media marketing portfolio with Hootsuite's social media portfolio template. We've built this template in a Google Slides document, but you can easily copy this template into Canva, PowerPoint, or even a PDF.
This template includes all the elements you need to create a comprehensive social media portfolio, including a skills section, campaign portfolio, customer testimonials, service page, and more. All you need to do is tap into your design skills and customize the template with your own content and images.
Try out our social media portfolio template for yourself!
​​Once you've built your portfolio, it's time to put it to use. Start by promoting your social media portfolio on the platforms you know best. Social media is a great way to showcase your expertise and attract potential employers or clients.
Be sure to link to your portfolio in any online profiles you create, such as LinkedIn and Twitter. And don't forget to update it regularly. Social media is ever-evolving, and your portfolio should reflect that.
If you're looking to land your first social media management client, here are a few tips:
Reach out to brands you already follow and admire on social media. Ask if they're looking for help managing their social media accounts, and make sure to include a link to your portfolio so they can see your work.
Network with friends, family, and other professionals. They may know of opportunities that would be a good fit for you. Social media is all about relationships, which is a great way to build yours.
Participate in social media-related events, such as webinars, seminars, or conferences. This will not only help you stay up-to-date on industry trends but also provide an opportunity to make new connections—which could potentially lead to clients!
Be active in online forums and groups related to your niche. Facebook is a great place to start, as there are countless social media-related groups.
What should be included in a social media portfolio?
A social media portfolio should include examples of your social media work, such as post samples or campaigns you've worked on. It should also include case studies outlining the challenges your clients had and how you helped them achieve their goals. Additionally, it should contain any certifications, skills, and awards that showcase your abilities as a social media manager.
Do you need a social media portfolio?
Yes, having a social media portfolio is essential if you want to get hired as a social media manager. Social media professionals are often judged on the quality of their portfolios, so it's important to make sure yours catches the attention of potential employers.
How do I create a social media marketer portfolio?
You can create a social media marketer portfolio in many different ways. A website is a great way to showcase your work and provide potential employers with an easy-to-navigate portfolio. You can also use a social media platform like Instagram or LinkedIn to display your experience and accomplishments in the social media industry. Slide decks, PDF's, and digitally hosted documents are also excellent options for showing your portfolio.
Hootsuite makes your life as a social media manager easier. Manage your social channels, collect real-time data, and engage with your audience all in one place — so you stay organized, prepared, and inspired.
Do it better with Hootsuite, the all-in-one social media tool. Stay on top of things, grow, and beat the competition.