Research shows that consumers retain 80% of what they see and only 20% of what they read. This means that visual marketing is critical to your success! A great product photo could make all the difference.
The good news? You don't need a professional photographer or invest in professional photography to score a great product photo. By improving your product photography skills, you can easily take your own product photos and show off the value your brand can offer, all while saving money you can invest back into your marketing strategy!
Great product photos can help you attract more people to your Instagram account and more buyers to your business. This can mean great things for growth and success as you work to build your brand's impact.
Wondering how to transform your Instagram feed with incredible product images? Keep our top 10 tips in mind!
1. Photograph in batches
Efficiency is the key to marketing success, and product photography is no exception. Taking photos in batches can help you make the most of inspiration when it strikes and give you a great backlog of images to rely on when you're running low on time.
Don't stop at one or two images when you set out to take new product photographs. Set up and style your space just once, and take the time to snap a great collection of photos you can keep on hand for later use.
2. Use natural light
Natural lighting can make a big difference to the overall professionalism of your product photography. This is also an easier way to photograph, as using natural light means you'll need less time and effort to set up.
Don't rely on artificial lighting unless you can access professional-standard photo studio lighting. Instead, wait for the sun, and make the most of light, bright spaces that utilize natural light while avoiding direct sunlight glare.
3. Choose a backdrop
A good backdrop can be powerful in steering the focus to center your product. Plain backgrounds make your product a focal point and can help you avoid unwanted distractions that detract from what you're trying to sell.
Say goodbye to busy backgrounds, and plan to keep things simple and streamlined. You can purchase a plain white background from an art shop and make sure your product image has visual appeal that prioritizes the product itself.
4. Style your shots
It's not enough to simply throw your product onto a set and start snapping pictures! Styled photos can help you demonstrate what your product can do or how it can be used to improve life for consumers.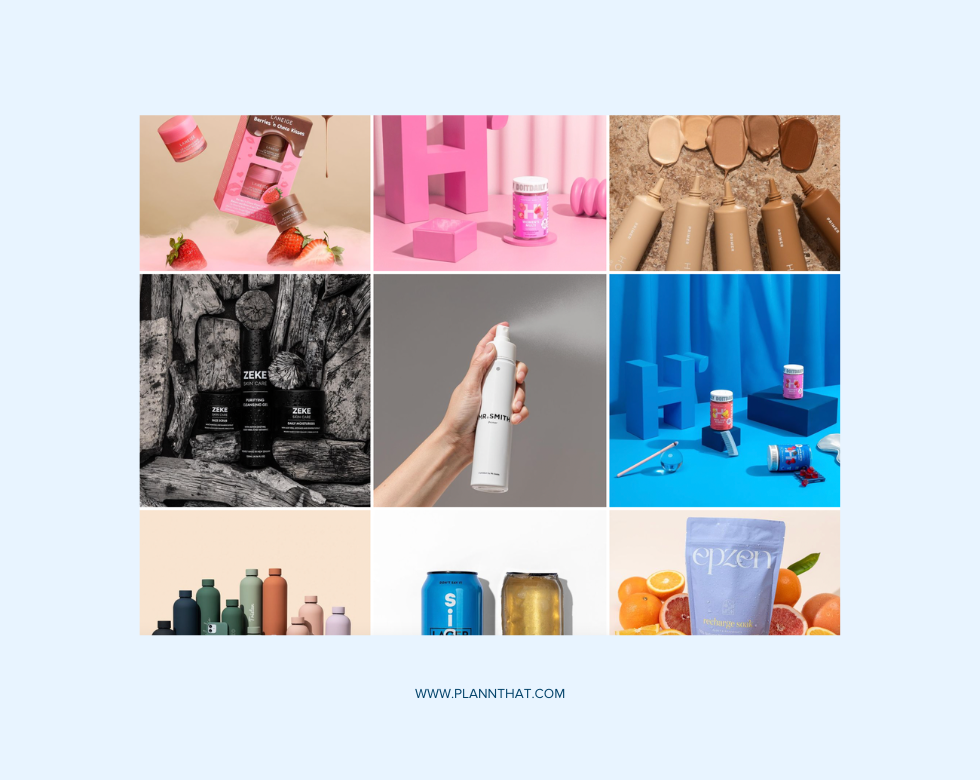 Try a mix of flat lays and lifestyle photos that highlight the best features of the products you sell. Create styled images that appeal to potential buyers by showing off a quality product in an aesthetically pleasing way.
5. Aim for variety
Variety is everything when it comes to DIY product photography! A mix of different angles can help you illustrate a range of different features and elements in your product shots while also mixing up the overall look of your Instagram feed.
Try some close-up shots and others that show your product in full. Take some product photos with a real-life vibe, and let other images focus directly on special features and quality indicators that speak to your key selling points.
6. Incorporate branding
Branding is critical in helping you build your business, so it should also be a consideration for product photography. Incorporating your brand colors and logo can help customers recognize your products when they see them.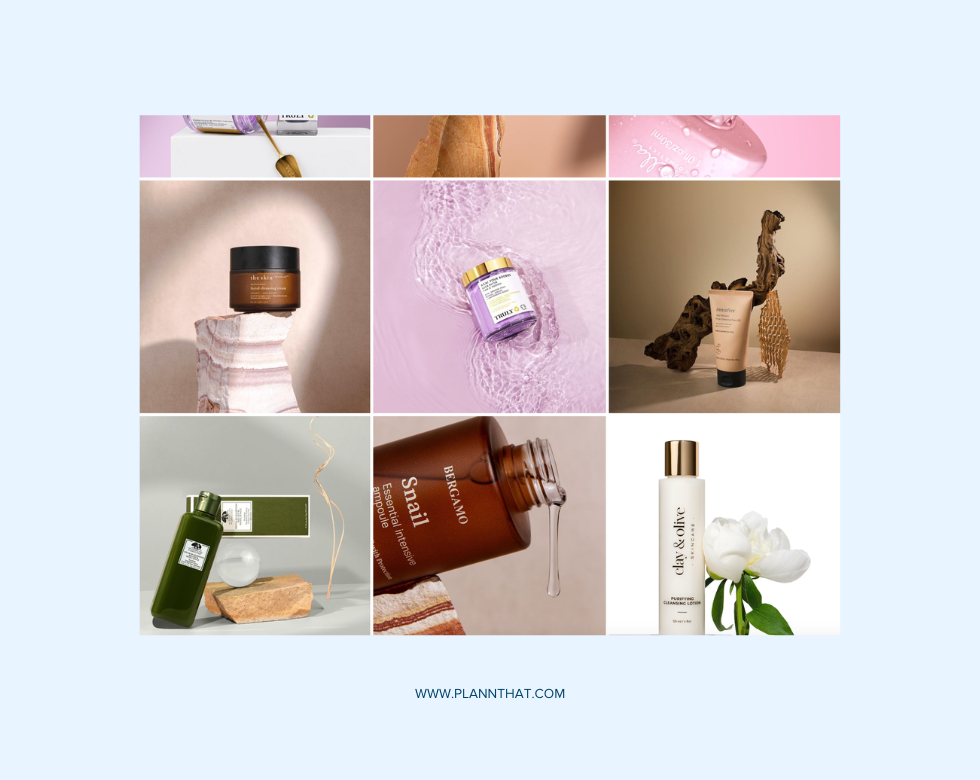 Try to include elements in your photo shoot to represent your brand in meaningful ways. The best product photos that align with who you are and what you can offer. This is an important part of preparing to make an impact on social media.
7. Curate your equipment
Professional photographers use professional equipment! A good camera can go a long way towards helping you capture high-quality product photos and create visual content that converts when you list your products online.
The good news? Most iPhones come with amazing camera quality that you can use to take high-quality product images. It's also a good idea to invest in some quality backgrounds and props. If you're serious about continuing to take your own photos, you might even purchase a light box!
8. Edit your photos
Sometimes, editing is where the real magic happens! Effective image editing can help you retouch any blemishes and highlight the best image elements to drive more sales and generate more interest and engagement.
With photo editing and image retouching, you can adjust things like your lighting and color balance to show off your product in the best way. You can also alter crop and zoom features to take your photos to the next level.
Make sure to use consistent editing across all of your photos so your feed looks cohesive and on-brand!
9. Practice your skills
Practice, practice, practice! No one becomes a skilled photographer overnight, but when you commit to honing your skills, you can improve your ability to meet your product photography goals.
Never give up on learning more about commercial photography. Try a range of different shots and photography techniques, and don't be afraid to ask for tips and advice from other business owners you know are great at taking photos.
10. Plann for success
On social media, a successful outcome always starts with a good plan. Planning ahead can help you identify new photography opportunities and innovative ideas that could help your products stand out from the crowd.
When it's time to start taking photos and editing them, set a clear plan to help you understand what you're trying to achieve. Then try a range of approaches to meet your goals and capture high-quality photos of your products.
What next?
Product photography is great for social media use, but you don't have to stop there! You can also use images for your ecommerce store and other marketing channels.
Ready to share your product photos with the world? Work smarter, not harder with Plann!
Sign up for a 7-day free trial of Plann Pro and effortlessly curate and schedule your content ahead of time.