Imagine effortlessly showing up consistently on Instagram Stories without the hassle of manual planning and posting. Now you can! With Plann's powerful Instagram Stories Auto Posting tool, you can free up time, save energy, and take your Instagram Stories workflow to the next level.
Ready to supercharge your Instagram Stories workflow? Harness the power of Plann's latest Auto Posting tool, streamline your workflow and keep your brand top-of-mind on Instagram Stories. 
The challenges of manually posting Instagram Stories 
Manual posting on Instagram Stories can feel overwhelming, especially when you're juggling a million things as a busy business owner or social media manager. 
It's time-consuming, and let's face it, forgetting to post can happen to the best of us. Plus, trying to stay creative day after day can be a real challenge when you have other important tasks demanding your attention. 
We understand how frustrating it can be when you're trying to engage your audience and reach your goals, but the manual posting process keeps getting in the way. 
Unlocking the Power of Auto Posting and Instagram Stories
Plann's Instagram Stories Auto Posting feature is a game-changer that ensures you never miss a beat on Instagram Stories again. By automating the process, you can curate a visually stunning grid, interact with your audience in real-time, and effortlessly keep your brand top of mind. 
Say goodbye to inconsistent schedules and hello to a streamlined, efficient way of sharing your Stories.
Why Auto Posting and Instagram Stories are a match made in heaven
Gone are the days of posting on the fly and rushing to capture the perfect moment. Auto posting eliminates the need for last-minute content creation, allowing you to plan and schedule your Stories in advance.
With auto posting Instagram Stories, you can tap into a stack of powerful benefits including:
• Maintain an active Instagram presence: by batch-creating your Stories and scheduling them ahead of time, you can ensure your brand is visible to your followers at all times on Instagram.
• Give your audience a chance to engage with your brand: Stories are an interactive content format that gives your audience the chance to react and even DM your brand. Make sure to add a call-to-action to your Stories slides to boost your engagement rate!
• Deliver high-quality content consistently: the best content is always created in advance, leveraging your brand fonts, colors and logos. By prepping and scheduling your Stories slides ahead of time, you can ensure every post and slide you share is polished and professional.
• Streamline your path to Instagram success: With less time spent uploading and manually posting on Stories, you can spend more time engaging your audience, building a thriving online community and even strategically promoting your products and services. 
Five Tips to Streamline Your Instagram Stories Workflow
1. Plan Ahead
Take advantage of Plann's intuitive content calendar to plan your Instagram Stories in advance. Map out your themes, ideas, and promotions, ensuring a cohesive and well-organized visual narrative.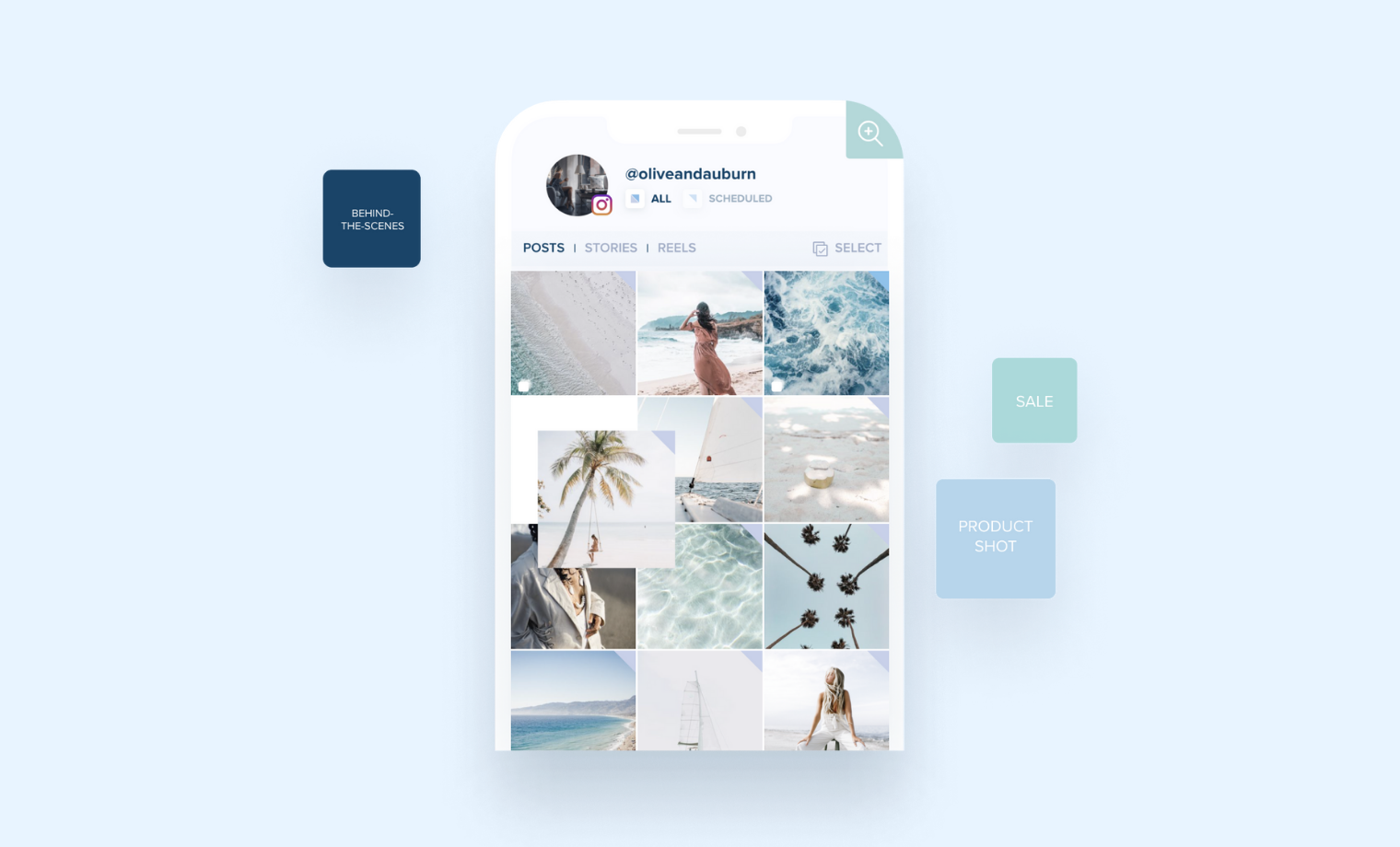 2. Make Use of Templates
Save time and maintain visual consistency by using Instagram Stories templates. Plann offers a variety of pre-designed templates that you can customize to match your brand aesthetic.
3. Engage with Stickers and Polls
Use interactive stickers, polls, and question features to engage your audience and encourage participation. This creates a dynamic and engaging experience, driving higher interaction rates.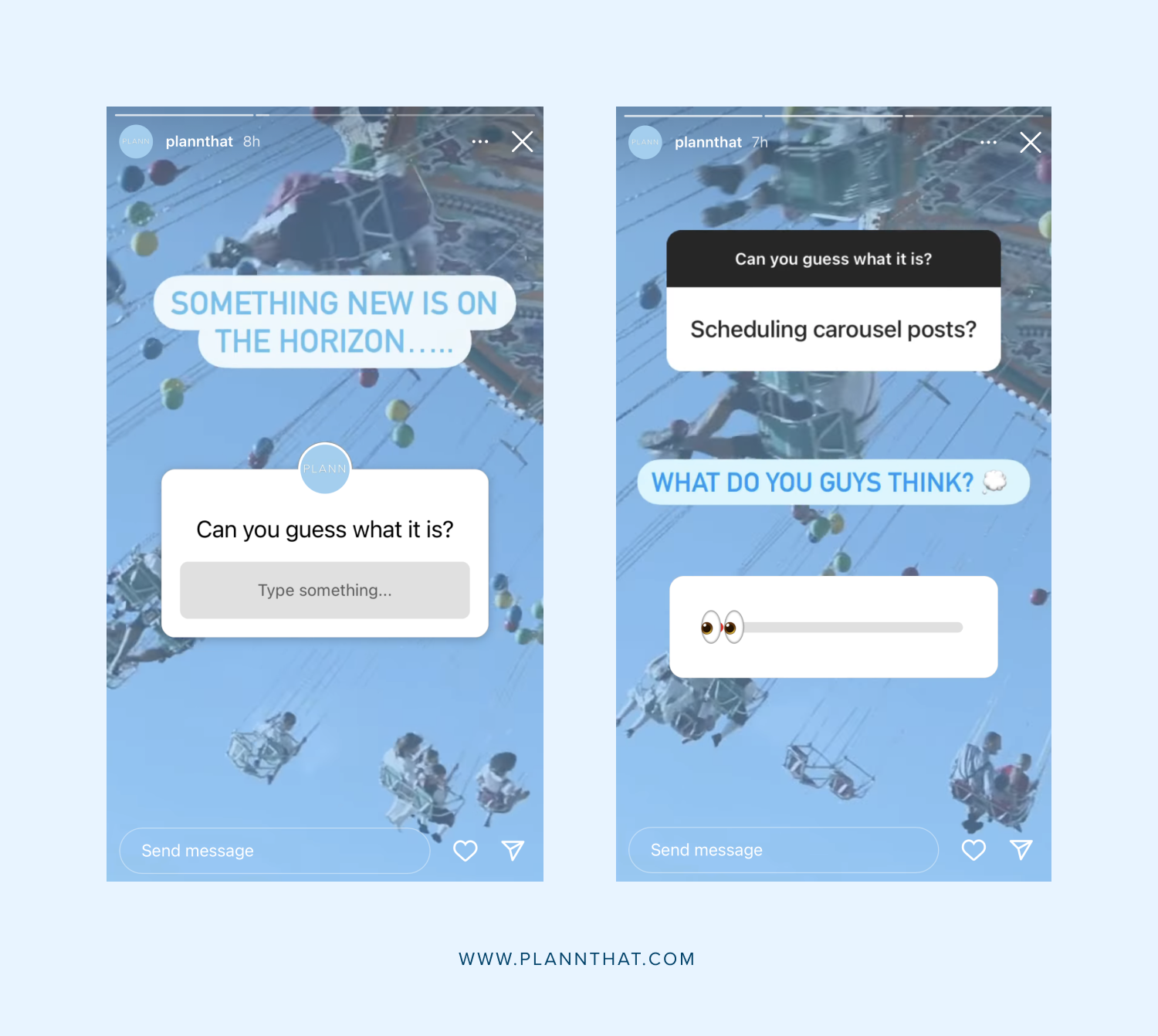 4. Leverage User-Generated Content (UGC)
Incorporate UGC into your Instagram Stories to showcase your community and build trust with your audience. Encourage followers to tag your brand or use a branded hashtag for a chance to be featured.
5. Track Performance
Regularly review your Instagram Stories analytics to gain insights into what content resonates with your audience. Adjust your strategy accordingly to optimize engagement and achieve your goals.
NEW! Auto Post your Instagram Stories with Plann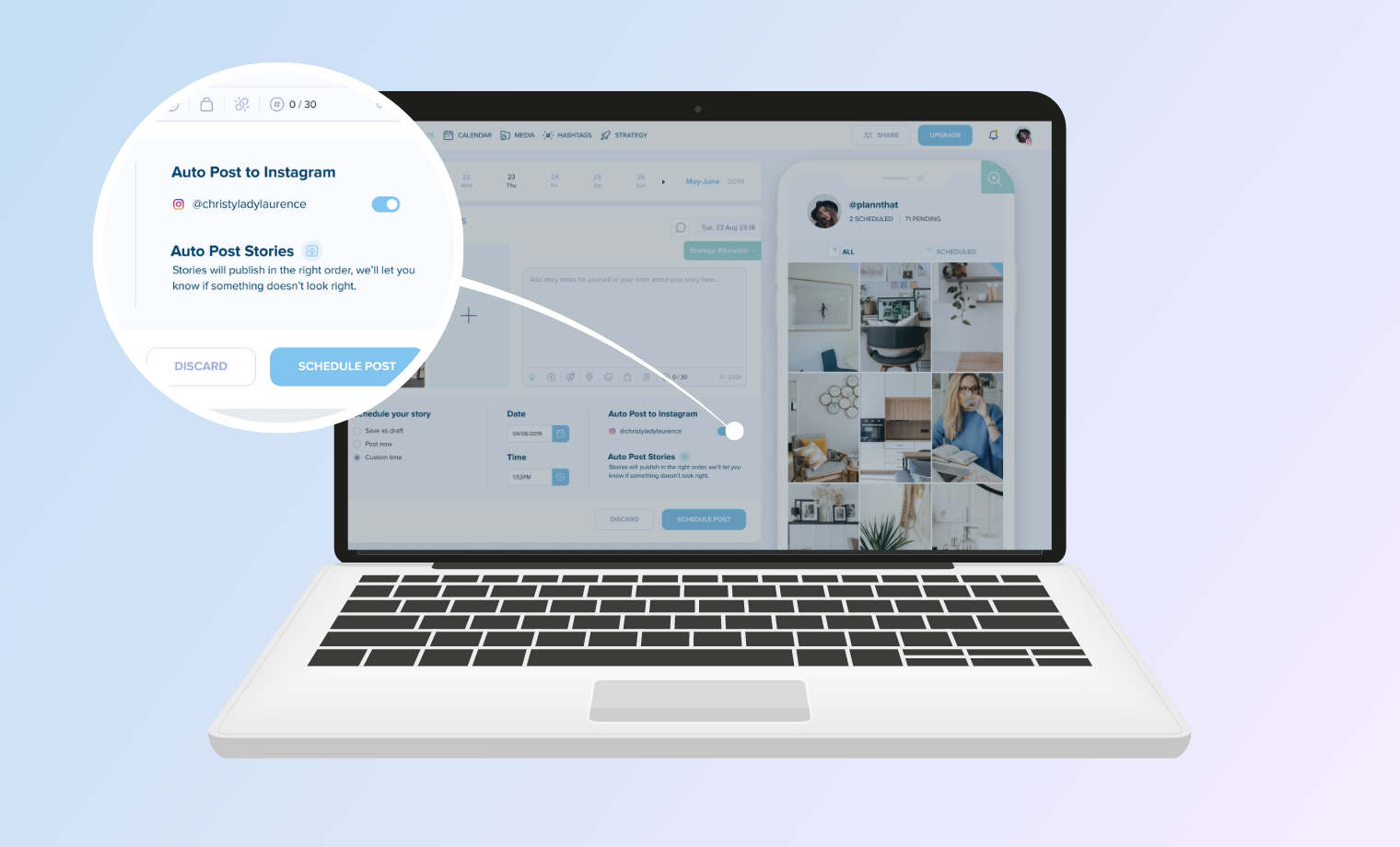 We're so thrilled to introduce our game-changing new feature: Auto Post for Instagram Stories, now available on Plann. 
With this exciting addition, you can take your Instagram strategy to the next level by effortlessly scheduling and publishing your Stories in advance. 
Now available without your Plann workspace, you can effortlessly upload your Stories slides, select your preferred posting date and time and toggle on the auto post option to take the manual work out of posting to Stories.
Enjoy a streamlined workflow, freeing up valuable time to focus on creating exceptional content. Say goodbye to manual posting and embrace the convenience of auto posting. 
How to get started with auto posting on Instagram Stories with Plann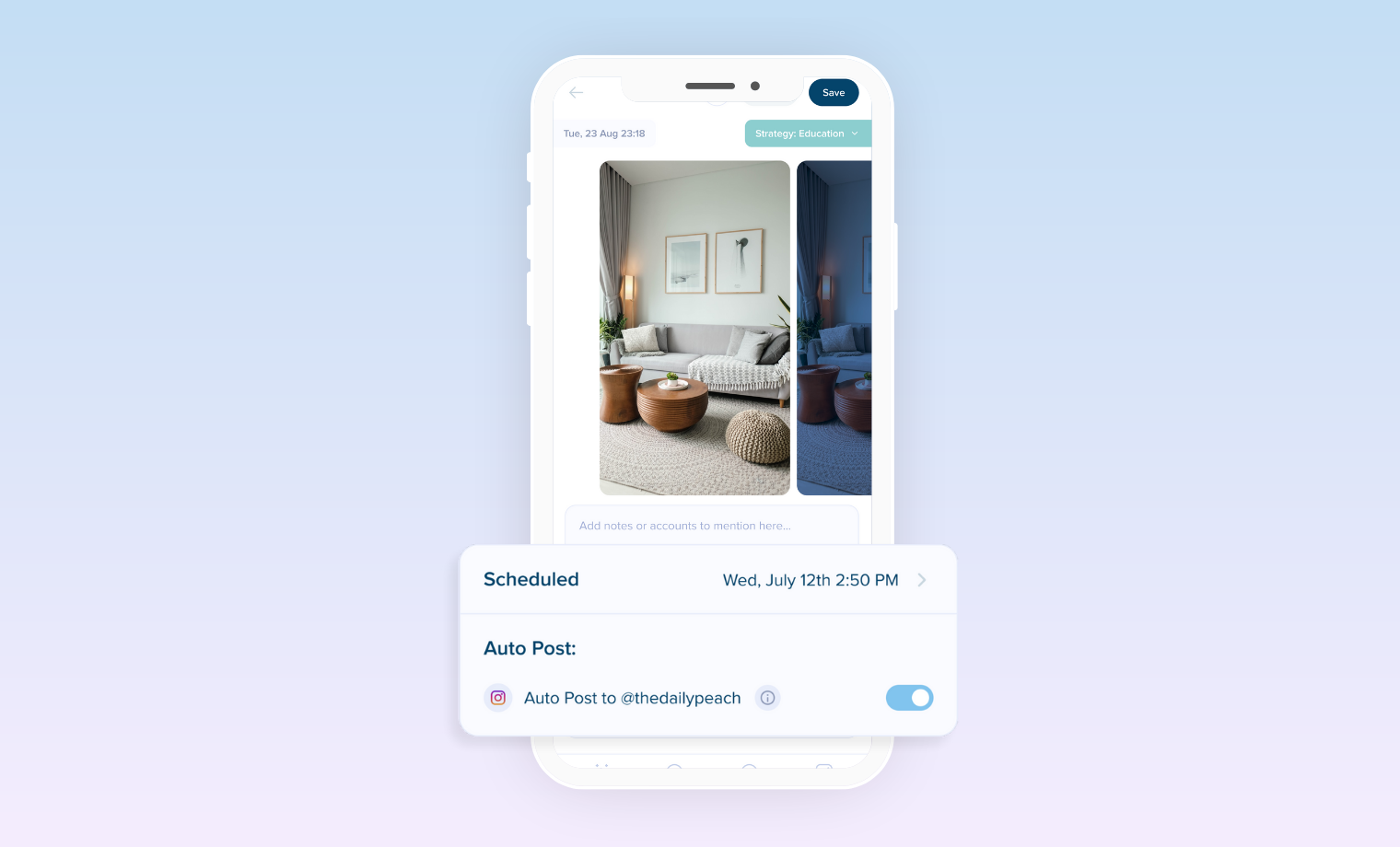 Ready to wave goodbye to the stress of last-minute uploads and embrace a more strategic and deliberate approach to your social media storytelling? Elevate your Instagram presence with Plann's Instagram Stories Auto Post feature and tap into the full potential of Instagram marketing. 
All Plann Plus users  will be able to create, edit and auto-schedule Instagram Stories to their connected Instagram account. Simply create your next story and choose the time you'd like Plann to auto-publish it for you!
With Plann, you can choose to upload and schedule one item at a time, OR, choose to upload and add up to 10 pieces of media as a 'multi-story post' to tell a complete story, and we'll make sure to upload them in the right order!
Ready to revolutionize your Instagram Stories game?
Looking for an all-in-one solution that simplifies your social media management? Plann has got you covered. 
With our groundbreaking Auto Post feature for Instagram Stories, you can effortlessly schedule and publish captivating content, engage with your audience in real time, and keep your brand top of mind. 
Take your Instagram presence to the next level with Plann and unlock the full potential of your Stories.
Go on, and redeem your 7-day free trial of Plann Plus. If you don't like it, keep using Plann for free!