YouTube is one of the most popular social media platforms out there with over 2.68 billion active users. 
But, did you know that YouTube Shorts is an emerging content format that rivals the likes of TikTok and Instagram Reels? 
In case you haven't started using YouTube Shorts, we're offering a deep dive into everything you need to know about creating YouTube Shorts, the opportunities these bite-sized videos present, as well as our best tips and tricks for creating engaging short-form video content. 
What are YouTube Shorts?
When you think of YouTube, you probably think of long-form video content, like daily vlogs, beauty guru reviews and even in-depth product unboxings. But, since short-form video content has taken over the world of social media, YouTube has decided to join in and essentially released its own version of TikTok called YouTube Shorts back in 2020. 
Much like TikTok and Reels, YouTube Shorts are vertical, short-form video content. These videos can be captured and created directly inside the YouTube app or you can upload videos up to 60 seconds long.
YouTube Shorts even offers built-in content creation tools so you can create, edit and add music from your favorite artists with animated texts and edits. 
Why should you try YouTube Shorts? 
Since launching in the US in 2021, YouTube Shorts has garnered 50 billion daily views globally. With huge popularity, it's a great platform to increase visibility and get your content in front of more users with the hopes of converting viewers into subscribers of your YouTube channel. 
Still not convinced? Here are four reasons why you should be tapping into YouTube Shorts: 
• Monetize your social media content: many creators, brands, and businesses from Instagram and TikTok use YouTube as an extra source of revenue because it's one of the only platforms that offers revenue-sharing to users. YouTube Shorts creators can also qualify for the YouTube Partner Program which allows you to earn additional ad revenue from your YouTube content. 
• Promote your regular channel: if you're already creating long-form content on YouTube, Shorts can be a powerful way to promote and direct people to your channel. Shorts provide you with an opportunity to increase the visibility of your content, get it in front of more eyeballs and boost engagement, too. 
• Repurpose your content: you're likely already creating short-form video content for other platforms like Reels and TikTok. So, repurposing and cross-posting content from other channels onto YouTube Shorts gives you an opportunity to reach new audiences (without having to reinvent the wheel). 
• Showcase user-generated content (UGC): by now you know how essential UGC is to the success of your content strategy. If you're a product-based business, Shorts allows you to showcase UGC made by your audience to boost your reach while also driving traffic to your channel and other social platforms. 
4 ways to use YouTube Shorts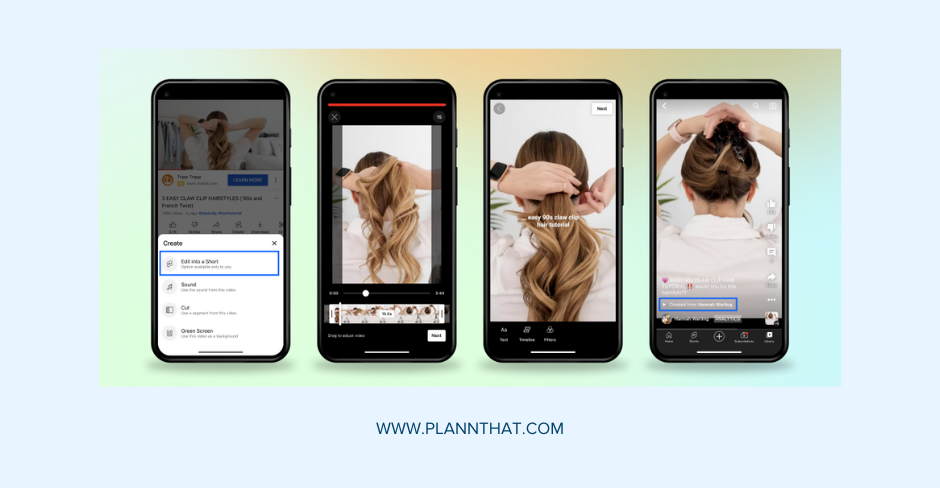 YouTube Shorts is the perfect place to make use of short-form video content and communicate your brand messages in a bite-sized format. Plus, 
Shorts can act as a teaser trailer for what's in store for viewers when they check out your longer-form content. 
Need a dose of inspiration? Here are four out-of-the-box ways to create YouTube Shorts content:
• Give behind-the-scenes insights into your brand: unlike Instagram Reels or your main channel videos, YouTube Shorts follows a similar playbook to TikTok. You can provide your audience with less polished videos that give them a glimpse into what goes on behind the scenes of your brand. Give your audience updates on upcoming product launches, a tour of your office, or short and engaging unboxing videos. 
• Tease your audience: if you're creating long-form content for your main YouTube channel, you can think about using Shorts as a trailer for what they can expect from your main video. You can give your audience a teaser on new product releases with a call-to-action to drive traffic to your main channel where they can see a full breakdown of your product offerings. 
• Niche tips and tricks: for brands and businesses, tips and tricks videos are a great way to harness the power of short-form video content and promote your main channel, too. You can create how-to guides, step-by-step tutorials, or even share insider hacks to help your audience work smarter, not harder. 
• Before-and-after videos: before and after videos are super popular in short-form video content and perform well on platforms like Instagram and TikTok. Why not showcase a client before-and-after or break down a recent case study into a punchy short video.
Best practice tips for creating engaging YouTube Shorts
When it comes to creating killer YouTube Shorts, you've got to make the first impressions count and grab people's attention from the first few seconds. 
If you're looking to create engaging and dynamic bite-sized content, then we've got our best tips and tricks to help you nail your Shorts. 
• Nail your thumbnails: thumbnails are incredibly important on YouTube and can make or break someone clicking on your videos. Unlike Reels and TikToks, which can rely on a freeze frame from your video, Shorts need an attention-grabbing thumbnail with an enticing title or question to drive views and engagement.
• Make a good first impression: YouTube Shorts are called Shorts for a reason. They rely on capturing the viewer's attention from the get-go. Unlike regular YouTube videos you can't rely on building intrigue in the middle or end of the video: you've got to make the first few seconds count with an engaging, intriguing opening statement or hook.
• Keep it entertaining: if you want to increase views you've got to create entertaining and punchy Shorts. Rather than relying on a one-frame shot, try to splice together different clips and experiment with different angles, edits and transitions to make your videos more engaging. 
• Repurpose content: we've already mentioned that repurposing content is game-changing when it comes to making Shorts. And, repurposing content doesn't just have to mean resharing your Reels and TikToks. You can also repurpose your longer-form YouTube videos into bite-sized pieces of content with CTA's that direct viewers to your channel to watch more. 
Need a hand repurposing content like a pro? Plann's Cross-Posting feature makes it super easy to repurpose your Reels and TikToks onto Shorts in just a few easy steps. Without your Plann workspace, you you make edits and tweaks to your captions, hashtags, and posting times for each platform to optimize your content for different channels and audiences. It's a total game changer!
Ready to supercharge your success on social media?
Looking for an all-in-one content creation suite that allows you to manage your social media channels effortlessly? From mapping out your strategy, and designing your graphics to repurposing your content, you'll find everything you need inside Plann. 
Go on, and redeem your 7-day free trial of Plann Plus. If you don't like it, keep using Plann for free!