Instagram stories can be an excellent tool for social media growth!
When you know how to effectively plan and create engaging story content, you can easily take your Instagram account to the next level. Good Instagram stories allow you to connect with your audience in real-time and showcase the raw, relatable side to your brand.
But we get it: showing up on Instagram stories consistently can seem daunting. But we're here to help!
We've spent plenty of time learning what makes an Instagram story great, and we're not afraid to share our insights. Here's everything you need to know about planning and producing Instagram Stories like a pro.
Why You Should Be Using Stories On Instagram
Research shows that 70% of Instagram users watch stories daily, with 25% of Gen Z and Millennial users relying on the feature to find products and services.
Posting stories regularly can provide you with a unique opportunity to communicate directly with your social media audience. With the ability to use interactive stickers (such as Polls, Questions and Quizzes) you can start two-way conversations with your audience at scale.
The more effectively you use Instagram stories to drive engagement, the more interest you can generate around your brand at large. Over time, this can help you build your community and even boost traffic and sales conversions!
Key Steps to Story Success
Feeling stuck when it comes to curating engaging Instagram story ideas? Here are some of the key elements you need to get the best possible results out of your story content.
1. Creating a Plan
On social media, success always starts with good planning!
Before you start to create content for Instagram, you need to think about your goals and your journey.
What are the main outcomes you're trying to achieve via stories, and how can you measure your performance? What journey do you want to facilitate for your audience and what impact will this have for your brand?
Your Instagram stories should be part of a broader digital narrative that helps to sum up who you are and what you offer. Plan wisely, and you can even create story highlights that stay on your account permanently to help new followers navigate with ease.
By harnessing Instagram stories highlights on your profile you can extend the life of every story you share as well.


2. Structure Your Stories Like A Pro
Next, it's time to consider the structural elements of the Instagram story content you want to produce.
On Instagram, you have access to a wide range of story features, including interactive elements, like the link sticker, the countdown sticker, or the question sticker.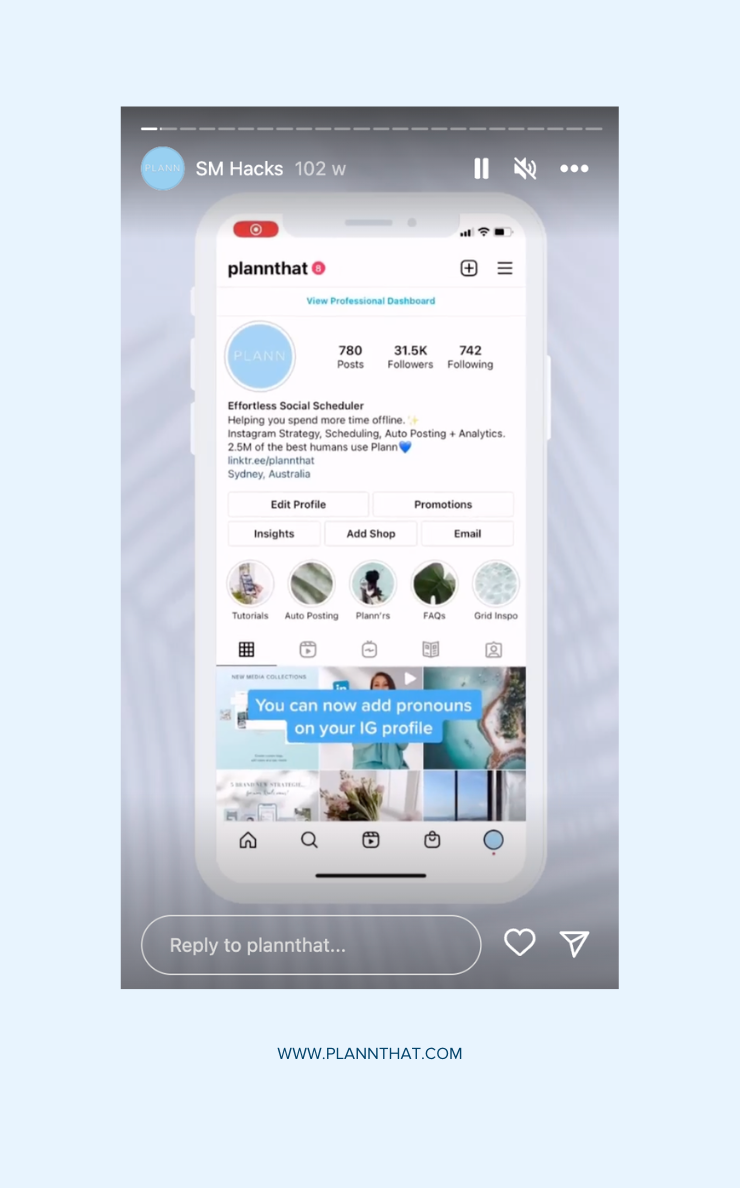 Think about the content you know will resonate with your audience and effectively represent the message you're trying to convey.
That could mean starting your stories with a compelling hook that grabs attention, before using videos or a series of images to share value with your audience. Then, end your story with a tailored call-to-action (whether that's to visit your website, vote in a Poll or purchase a product).
3. Creating Content Like A Social Media Marketer
When you've taken time to choose the right story ideas, you're ready to start creating Instagram story content!
You can produce creative Instagram stories directly in the app or use an external design tool, like Canva, to help you access additional elements and branding features.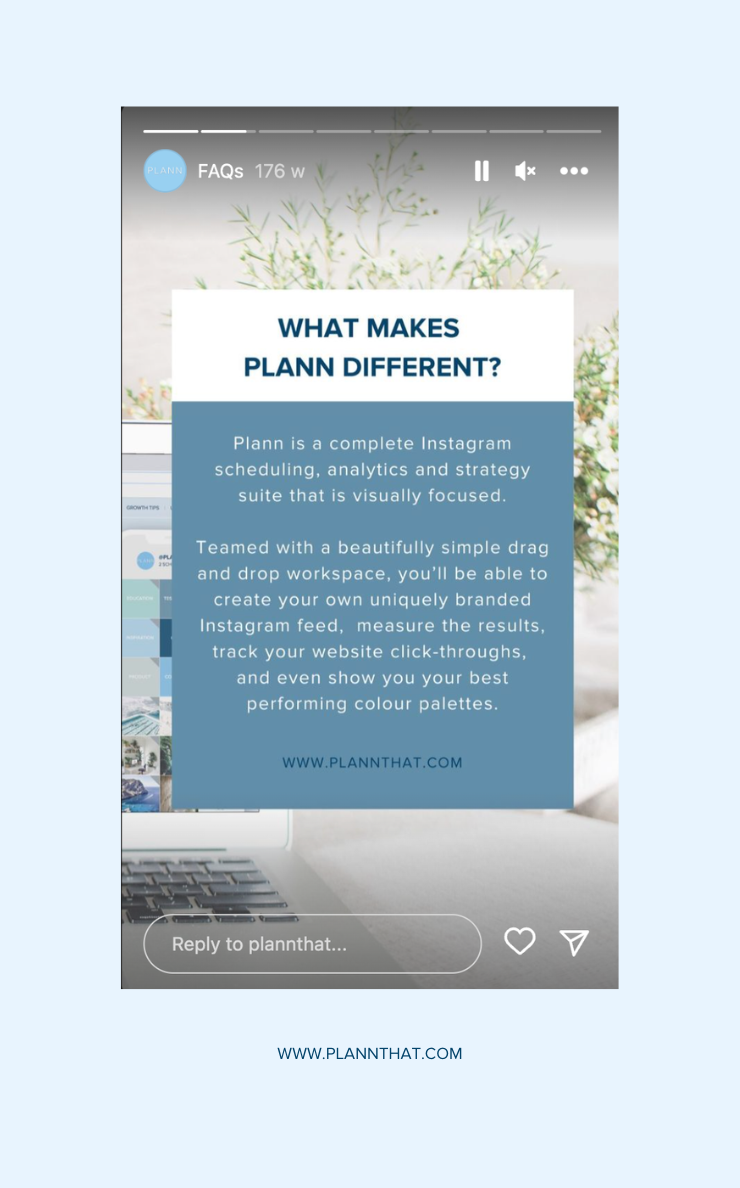 If you're a busy social media manager with a lot on your plate, it may even be a good idea to schedule stories ahead of time. For this, you can rely on a high-quality story-compatible scheduling tool, such as Plann.
4. Driving Engagement
The work doesn't end when your stories go live. You also need to think about ways to boost engagement, now and over the long term.
Fun sticker features can be a great way to get people interacting with the stories you share. You can also use stories as a hub to answer frequently asked questions or curate user-generated content.
Regardless of your total follower count, great story ideas can help you show up for your audience and offer valuable information that your target market cares about.
Cool Instagram Story Ideas
If you're still feeling stuck, here are some of our best creative Instagram story ideas to get you started.
Link to a blog post
Content repurposing can save you a lot of time and stress when you're working to maintain an active presence across various social platforms.
Instead of creating something original for your Instagram stories, consider linking users to an existing blog post or web page relevant to your current offer.
Pull out a few key quotes or compelling stats and share a link sticker to read the blog in full.
Start an Instagram story game
Story games can be a great boost for engagement, as well as provide valuable marketing insights you can use to refine your social strategy.
Use stickers tools and features to get your audience engaged in a poll or quiz game that relates closely to your niche and the problems your brand can solve.
Run a Q&A session
A Q&A session is easy to set up, thanks to the IG questions feature! This can help you chat directly with your followers.
Ask your audience to get in touch with any questions about your brand. You'll be able to produce content easily, all while responding quickly to consumer demands.
Show behind the scenes content
Behind the scenes footage is always a great way to humanize your brand and offer an insight into what life is like as part of your business.
Use the impermanence of Instagram stories as a reason to share a sneak peek of your process and the way you work to support your clients or customers.
Advertise an upcoming sale or offer
Running a sale or hosting an upcoming event? Share information about it on Instagram stories! This is a fantastic chance to promote your business. Use the interactive countdown sticker to build anticipation and even boost attendance too!
Your stories allow you to advertise your business to a market that already cares about your brand. It's an easy, efficient way to keep people up to date with your latest news!
Level Up Your Instagram Presence With Plann
Looking for an all-in-one content creation suite that allows you to manage your social media channels effortlessly? From mapping out your strategy and designing your graphics to saving plug-and-play hashtag sets, you'll find everything you need inside Plann.
Go on, and redeem your 7-day free trial of Plann Plus. If you don't like it, keep using Plann for free!