The world of social media is bustling with brand-new features, tools, and updates that make marketing, selling, and engaging with audiences even better. 
From brand new UGC features on Instagram to some major changes to Facebook and Instagram Shopping and even new updates to TikTok Shop, there's never been a more important time to stay on top of the updates happening on social media. 
Luckily, we're rounding up all the news and updates from your favorite apps and platforms so you're never miss a beat.
Instagram is testing new features that allow brands to source UGC 
We all know that user-generated content (UGC) is taking over social media. Now, Instagram is giving brands and businesses a chance to discover UGC all within the Instagram app to enhance product promotions. 
Yolande Haynes took to LinkedIn to share the new feature, with some Instagram Shop owners being able to 'Add user-generated content' to their product listings. By tapping the prompt, Instagram will display UGC posts brands have been tagged in. From there, brands can use these posts alongside product listings. 
Instagram says the UGC feature allows brands and businesses "to associate content they've been tagged in with specific products, and feature this across shopping surfaces, such as product pages, shops, and shops storefront." 
Here's how the feature will work: 
• Selecting an eligible post: most posts will be eligible for brands to request with a few exceptions (including if a post already has a tagged product, the account is private, the post has multiple brands tagged, or if the user has turned off permission requests). 
• Request permission: once the post has been selected, brands can request permission to use the post from the original content creator. Only the brand tagged in the post will be eligible to request UGC usage. 
• The content creator accepts or declines the request: if the content creator has accepted the request, brands can start using UGC in shoppable content. If the creator declines, brands will receive a notification and the post won't appear in any shoppable content. 
• UGC is shared on shoppable surfaces: UGC can be used on product pages and across shop surfaces featuring photos and videos with the specific brand tagged. 
This is a super exciting feature for brands and businesses to harness the power of UGC while still giving credit to the original creators. With simpler sourcing of UGC, brands can deliver authentic marketing that shows potential customers real people interacting with products. 
Meta is integrating shopping elements within the Facebook and Instagram app
Meta has just announced it's changing the way users shop on Facebook and Instagram by streamlining the in-app shopping experience and improving AI ad targeting options. 
Meta reveals Shops that allow users to make purchases within the Facebook and Instagram platforms deliver better results and action among users. That's why they're removing the option that allows users to make purchases via third-party websites. 
Brands will now have to enable in-app shopping but they plan to support US businesses making the transition up until April 24, 2024. 
Meta says that brands and businesses in other markets will only be able to use product tags and shoppable posts if they've enabled their Facebook or Instagram Shop from August 10, 2023.
Since they plan to improve in-app shopping, Meta says they are coming out with a stack of new features and tools like ratings, reviews, buyer email opt-in, and dynamic product pages to enhance marketing, product promotion, and connection with customers.  
The takeaway? Now is the time to embrace and experiment with in-app shopping on Instagram and Facebook to ensure your brand is ready when Meta makes the switch. 
TikTok is testing TikTok Shop with selected retailers
Since major changes are happening to Instagram and Facebook shopping it looks like TikTok is also making some changes to their in-app shopping options. 
TikTok is expanding its in-profile product display options, with selected retailers being able to test out the feature before it rolls out to all US retailers. Selected retailers on TikTok received this notification in late April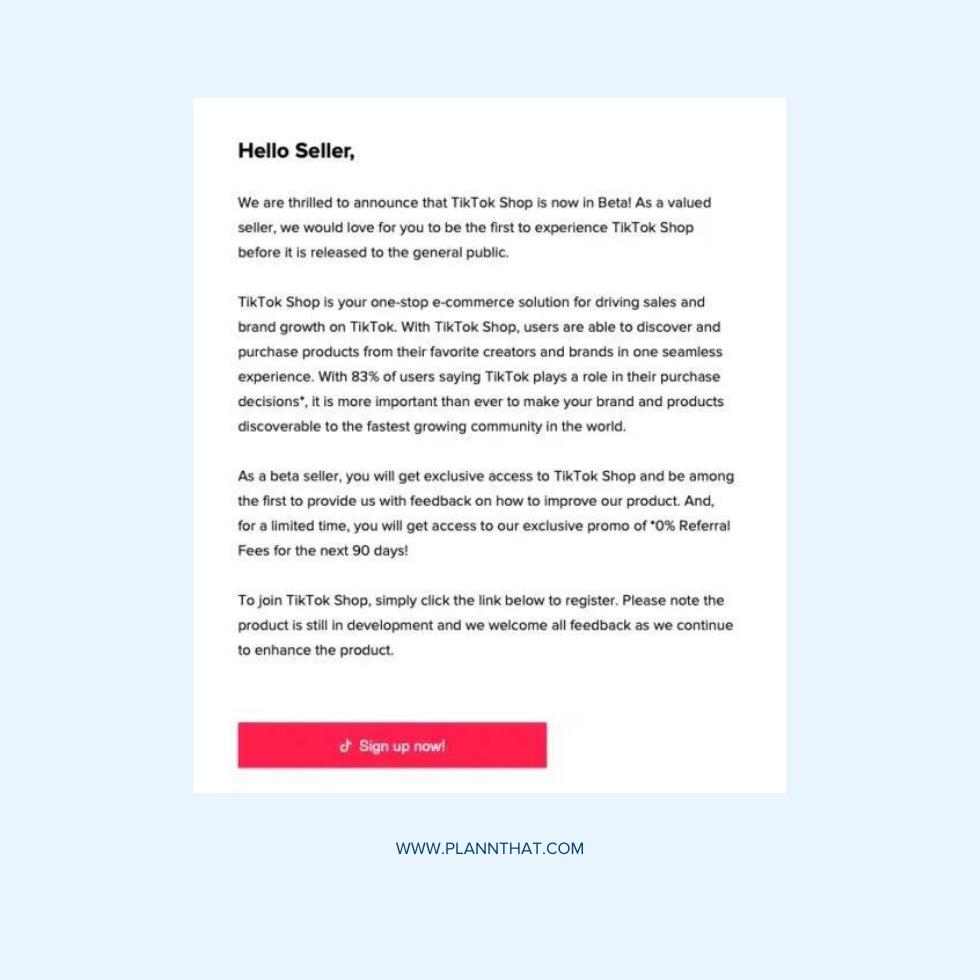 TikTok says that 83% of users' purchasing decisions are influenced by TikTok, making it more important than ever to make your products and brand discoverable on the platform. And, with TikTok Shop, users will be able to discover products from their favorite brands and creators all within the TikTok app. 
Although TikTok Shop hasn't been a massive success with Western audiences just yet, in-app shopping has seen enormous growth and success in China and Indonesia which is why TikTok Shop has seen a relatively slow rollout. 
Instead, it looks like in-profile product displays are a way for TikTok to test out the waters with Western markets by giving a select few retailers the ability to Beta test the new feature before they roll it out globally. 
To participate in the Beta testing of TikTok Shop, brands and creators can click the link in the email invitation or access it here. Users who sign up to TikTok Shop will be able to provide feedback for product improvements and for a limited time only, TikTok is offering 0% Referral Fees for the next 90 days. 
LinkedIn premium members get access to new custom CTA buttons
LinkedIn is rolling out a brand new feature for premium members that allows users to add custom call-to-action (CTA) buttons to their profiles which directs profile visitors to a specific URL.

This new feature is specifically for Premium Business users, which is a more expensive paid tier above the Premium Career option. Once you've upgraded to the right account, this feature will be available in the profile settings with six preset CTA options as you can see in the image above including:
• Visit my store
• Visit my website
• View my portfolio
• Visit my blog
• Request a consultation
• Sign up for a demo
Once users have selected the CTA button they want to add to their profile, they can enter any URL of their choice which then adds a large CTA button to their profile. This new feature is a great way to direct traffic to product or service offerings, portfolios, or blogs and build a LinkedIn presence. 
For thought leaders or those creating a personal brand on LinkedIn, this is a great opportunity to promote any blogs sharing industry news, stats, and thought leadership opinions. For those searching for job opportunities on LinkedIn, this is a great way to direct potential employers to view a portfolio of past work. 
Ready to supercharge your success on social media?
Looking for an all-in-one content creation suite that allows you to manage your social media channels effortlessly? From mapping out your strategy and designing your graphics to saving plug-and-play hashtag sets, you'll find everything you need inside Plann. 
Go on, and redeem your 7-day free trial of Plann Plus. If you don't like it, keep using Plann for free!