As a business owner or content creator, you already know what a vital role social media plays in today's fast-paced digital world. 
A clear, purposeful social media strategy allows you to connect with your audience, boost brand awareness and drive conversions. Plus, you need a clear social media workflow that will save you time and boost your productivity, too. 
Not sure where to start when it comes to creating social media content across multiple platforms? We've rounded up our top four expert tips for optimizing your social media workflow, from batch-creating your content to harnessing the power of repurposing. 
1. Create a social media strategy for your brand
Jumping on trending Reels and curating an aesthetic Instagram grid is fun. But you need to make sure you've got a clear purpose, objective and goal behind every single post your share on social media. 
And that's where a social media strategy comes in.
Whether you're starting fresh or revamping your social media presence, a clearly defined strategy will help you maximize the content you're sharing and drive measurable results for your brand. 
An effective social media strategy should outline a few key things, such as:
• Brand goals: What does your brand hope to achieve on social media? Are you looking to build brand awareness, drive traffic to your website, or increase sales?
• Tone of voice: What kind of language and messaging will your brand use on social media? Will your tone be serious, playful, or somewhere in between?
• Objectives: What specific goals do you want to achieve through social media? What objective do you have on each platform you're using, and why? 
• Content pillars: What topics or themes will your social media content focus on? What kind of content will you share with your audience?
• Audience: Who is your target audience on social media? What are their interests, needs, and pain points?
• Ideal posting frequency: How often should your brand be posting on social media to achieve your objectives and keep your audience engaged?
Defining these key elements will help you  create a clear roadmap for success on social media.
By proactively defining your brand voice, pinpointing your ideal audience and clarifying the goals you're working towards, you can ensure every single social media post your share is helping you to drive meaningful impact for your business. 
With a solid social media strategy in place, you can take the guesswork out of what to post, how to speak as a brand and speed up your content creation workflows, too. 
2. Batch your social media content creation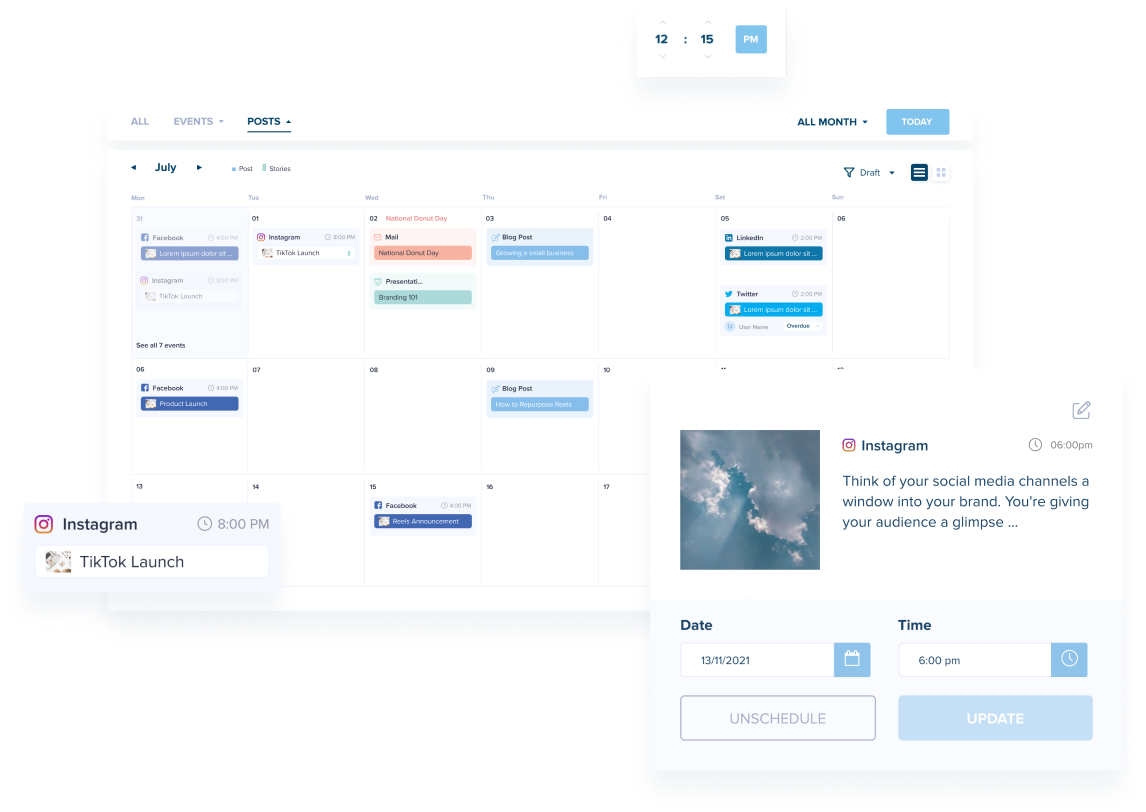 One of the best ways to optimize your social media workflow is to batch your social content creation. Essentially, this means dedicating a few hours each month to plan out and create a whole month's worth of content. 
Batching your content creation ahead of time and planning out your content calendar in advance means you won't need to come up with content ideas on the fly or even log on to make a post each day.
Sitting down to plan out a whole month's worth of social media content will keep your brand's tone of voice consistent and aligned with your brand's messaging. Plus, there'll never be a frantic rush to get a post out again. 
Instead, you can spend more time building an engaged community and less time coming up with new post topics.
When batching your content creation, be sure to include a variety of content formats, such as photos, videos, and graphics. This helps keep your feed visually interesting and engaging for your followers. 
Hot tip: why not tap into our done for you content prompts and caption starters to spark inspiration and get your next batch of posts sorted in record time. 
3. Repurpose long-form content into bite-sized social posts 
As a brand or content creator, you likely already have a treasure trove of long-form content at your fingertips, from blog posts to podcasts to videos. But did you know that all of this content can be repurposed for social media?
Repurposing content into bite-sized social media posts can help you work more efficiently. It means you don't have to reinvent the wheel every time you post on social media and can extract more value out of your existing videos, blogs and podcasts, too. 
Take this example: did you share a series of tips in a recent blog post? Why not break these down into a save-worthy Instagram carousel? 
Just published a long-form YouTube video? Why not cut this down into shorter, bite-sized teaser clips to share on Reels and TikTok.
The possibilities are endless!
Not only does repurposing content save time, but it also helps you reach a wider audience by providing a variety of content formats for different social media platforms. 
When repurposing content, consider both the audience on each platform and the content format, and adapt the content you're sharing accordingly.
4. Harness the power of social media management tools
Social media management tools (like Plann) are a game-changer for businesses and content creators looking to save time and streamline their social media workflow. 
With Plann's all-in-one social media suite, you can gain access to time-saving workflow features done-for-you caption starters, a handy hashtag manager, effortless team collaboration tools, and easy auto-posting capabilities. Managing your social media has never been more efficient!
And the benefits don't stop there. 
Have you heard? We've just released an epic new, Cross Post feature to help you extract more value from every piece of content you create. This allows users to quickly post the same content, including images and captions, to multiple social media platforms. With Plann you can repurpose and reshare your content with a click of a button. 
Whether you're managing multiple Instagram accounts or juggling social media platforms like Twitter, Facebook, and LinkedIn, Plann's cross-post feature makes it easy to streamline your social media workflow and reach a wider audience. 
Ready to streamline your social media workflow?
Looking for a comprehensive content creation suite that will help you easily manage all of your social media channels? From strategy mapping to graphic design, and content prompts, Plann is an all-in-one solution to streamline your social media workflow.
Why wait? Redeem your 7-day free trial of Plann Plus. If you don't like it, keep using Plann for free!