The history of social media is a long and storied one. It's bursting with pivotal moments like the launch of Instagram Stories, to that one time Zuck was on trial for Facebook privacy issues, to…honestly, let's just look at the entire social media history timeline.
So sit back, relax, and join us while we look back at what once was the future.
The 33 most important moments in the history of social media
The first social media site was born (1997)
On one of the first true social media sites, SixDegrees.com, you could set up a profile page, create lists of connections, and send messages within networks.
The site amassed around one million users before being bought out for $125 million, only to shutter in 2000.
The actual answer to "when was the first social media site launched" is debatable. SixDegrees was certainly one of the first, but you have to define what a social media site is before you can say which is the first.
For example, the PLATO system, developed by the University of Illinois in 1970, had many features of an early social media network but was largely used in academia.
So, how old is social media? It depends, but early social media platforms started to pop up in the late 90s to early 2000s, with the technology budding as early as the 70s.
Hot or Not (2000)
Who can forget AmIHotorNot.com? The site invited users to submit photos of themselves so others could rate their attractiveness. Hot or Not is rumored to have influenced the creators of Facebook and YouTube and nurtured millions of insecurities.
After being sold off a few times, it's currently rebranded as the dating app, Chat & Date.
Friendster (2002)
Launched in 2002, Friendster was originally going to be a dating site that would help set up people with friends in common. You could create a profile, include "status updates," and reveal your mood.
Unfortunately, the site's spike in popularity in 2003 caught the company by surprise. The flood of traffic took a toll on Friendster's servers, impacting users, who increasingly looked to connect elsewhere.
Myspace: "A place for friends" (2003)
Friendster rival Myspace (originally styled as MySpace) quickly became the go-to site for millions of hip teens.
Its customizable public profiles (which often featured music, videos, and badly shot, half-nude selfies) were visible to anyone, a contrast to Friendster's private profiles.
2005 marked the apex of Myspace. The site had 25 million users and was the fifth most popular site in the US when it sold to NewsCorp. And that was the start of its decline from ultra-trendy to ultra-tacky.
Gaining traction: LinkedIn, YouTube, and WordPress (and more) arrive (2003-2005)
In 2003, Mark Zuckerberg launched Facemash, described as Harvard University's answer to Hot or Not. "The Facebook" followed in 2004. Registering its one-millionth user that same year, the site became just "Facebook" in 2005.
Around the same time, a tidal wave of other social media sites swept ashore:
LinkedIn emerged, targeting the business community
Photosharing sites like Photobucket and Flickr came into being
Social bookmarking sites like del.ici.ous popped up
The now ubiquitous platform WordPress was born
Sites for teens like Nexopia launched, bringing sparkly, customizable profiles with them
Video-sharing came onto the scene with YouTube
News aggregator/snark factory Reddit arrived
Twitter hatches (2006)
Twitter (née twttr) took flight in 2006.
The first tweet ever, posted by co-founder @Jack Dorsey read: "just setting up my twttr." and really set the tone for future tweets. Dorsey originally envisioned twttr as a text message-based tool for sending updates between friends.
TechCrunch reported twttr's first users were sending breaking life updates like: "Cleaning my apartment" and "Hungry." (My, how times have(n't) changed!)
LinkedIn "in the Black" (2006)
In sharp contrast to other networks, LinkedIn was the first to offer users paid premium packages. Its Jobs and Subscriptions area, the site's first premium business line, helped bring in revenue in the early days.
"As far as we're concerned, a year of profitability is but a 'taste' of the success we aspire to achieve at LinkedIn," said social media manager Mario Sundar in a blog post lauding 2006 as LinkedIn's first year "in the black."
YouTube makes partners, the OG influencers (2007)
Through YouTube's elephantine beginnings, the buzz grew. Between its beta stage in May 2005 and the December 2005 launch, the site gathered nearly eight million daily views. Ahead of its acquisition by Google in the fall of 2006, the site grew to 100 million videos watched by 20 million dedicated users.
In May 2007, YouTube introduced its partnership program. The partnership program made it possible for YouTubers like Mr. Beast to make millions today. This moment essentially marked the beginning of social media influencers.
Tumblr and the age of the microblog (2007)
In 2007, the social network described as "Twitter meets YouTube and WordPress" came a-tumblin' along when 17-year-old David Karp launched Tumblr from his bedroom.
Soon after, the term micro-blogging became widely used to describe both Twitter and Tumblr, noting the exchange of 'small' amounts of content.
The hashtag arrives (2007)
The strict 140-character limit for tweets set Twitter apart from rivals, including Facebook and Tumblr. But Twitter's significance was really defined by the hashtag, a symbol that's helped political organizers and average citizens mobilize, promote, and create awareness.
Hashtags have also helped plant the seeds that sprouted movements such as #Occupy, #BlackLivesMatter, and #MeToo. Also, timesucks like #SundayFunday and #Susanalbumparty.
As the story goes, Twitter early adopter Chris Messina, proposed the hashtag for organizing tweets. It wasn't until a couple of months later, that the #SanDiegoFire hashtag was sparked to aggregate tweets and updates about the California wildfires. In 2009, Twitter capitalized on the hashtag by adding hyperlink capabilities.
Welcome Weibo (2009)
China's Sina Weibo, or simply Weibo, is essentially a Facebook and Twitter hybrid that launched in 2009, the same year Facebook and Twitter were banned in the country.
Along with WeChat and Douyin, Weibo remains one of the most popular social networks in China.
FourSquare "check in" drops (2009)
Location-based app Foursquare was one of the first that allowed users to "check in," while sharing recommendations all about their favorite neighborhoods and cities. They earned virtual mayorships while they were at it.
You may not remember Foursquare (or weren't yet born during its heyday), but chances are, you've used the company's tech. Foursquare's geolocation API was used for geofilters and location tagging in apps like Snapchat, Twitter, and Instagram.
Grindr revolutionizes the hookup (2009)
Grindr, on the scene in 2009, was the first geosocial networking app for dating geared towards gay and bisexual men, helping them meet other men nearby. It revolutionized hookup culture and paved the way for many other geolocation dating apps (like Tinder) for straight and queer people alike.
Introducing Instagram (2010)
On July 16, 2010, one of the first Instagram photos to be published by co-founder Mike Krieger (@mikeyk) was an uncaptioned, heavily filtered shot of a marina.
Instagram posts have become quite a bit more sophisticated, largely due to the platform's success, and Instagram's now the most downloaded app globally.
Pinterest has us pining to pin (2010)
Pinterest went live in closed beta in 2010, launching in 2011. Pinning quickly became a favorite new hobby (and verb) for domestic gods and goddesses.
As of 2022, Pinterest had 445 million monthly active users, proving just how popular the site remains.
Snapchat's disappearing act (2011)
Almost exactly a year after Instagram, soon-to-be rival "Picaboo" launched, quickly rebranding to Snapchat following a lawsuit by a similarly named company.
The app's early success tapped into the ephemeral nature of life's moments, allowing users to post content that would vanish after 24 hours. (Not to mention giving us all the ability to puke rainbows.)
The disappearing snaps appealed to the teen demographic the app first attracted. Snapchat was also the perfect alternative for teens to find their friends and flee their families on Facebook.
Google Plus wants in on the party (2011)
2011 was also the year Google attempted to roll out another answer to Facebook and Twitter, following previous failed attempts. Google Plus' invitation-only system dropped in 2011, giving new users access to 150 invitations they could send out before the official opening. Demand was so high that Google eventually had to suspend them.
Unfortunately, the social network's launch was no match for social juggernauts like Facebook and Twitter. Google Plus struggled to accrue its competitors' staggering usage numbers, and it eventually fizzled.
Twitch launches (2011)
Twitch, the hugely popular video game live-streaming site, was initially launched as a subsidiary of Justin.tv, a general interest streaming site that launched in 2007.
Apparently, A LOT of people (like 45 million unique viewers by 2013) love watching live-streamed video games. Amazon saw the spike and quickly scooped Twitch up.
Facebook celebrates one billion and acquires Instagram (2012)
Eight years after its launch (from Zuck's Harvard dorm room), Facebook announced its user base had reached one billion users.
"If you're reading this: thank you for giving me and my little team the honor of serving you. Helping a billion people connect is amazing, humbling and by far the thing I am most proud of in my life," Zuckerberg said.
This was also the year Facebook acquired Instagram for a billion dollars, a notable moment in the timeline of social networks.
Vine reshapes the way we view video (2013)
Vine launched in 2013, but not before Twitter bought the video-sharing app for $30 billion. The premise was fairly simple—videos shared on Vine could only be up to 6 seconds long—but quickly spawned a distinct genre of humor that still resonates today.
Despite the rapid success, the app had a fairly quick demise due to apps like Snapchat and Instagram following with their own video-sharing capabilities.
Slack (2013)
Slack dropped the same year as Google Hangouts and brought social media to the corporate world in a way LinkedIn didn't.
Slack offers workers a place to socialize online within corporations and industry professionals a place to socialize with others in similar Slack groups.
Patreon (2013)
While early social media influencers built followings on places like YouTube and Twitch, the monetization of their followers leveled up with Patreon.
It was created by developer Sam Yam and musician Jack Conte, who wanted to create an income stream from his YouTube videos. The platform allows patrons to subscribe to monthly or exclusive creator content.
Year of the Selfie (2014)
Twitter proclaimed 2014 as the "Year of the Selfie" following Ellen DeGeneres's Oscar photo. That selfie has been retweeted more than three million times, setting a Twitter record and winning Twitter's award for "Golden tweet" of the year.
If only Bradley's arm was longer. Best photo ever. #oscars pic.twitter.com/C9U5NOtGap

— Ellen DeGeneres (@EllenDeGeneres) March 3, 2014
The live-streaming wars begin (2015)
Meerkat was the first app to start the live-streaming craze (RIP). Then, Twitter developed Periscope and won the streaming wars (for a while).
Periscope became the go-to app for streaming and watching live events. Getting showered with hearts anytime you hit the record button was all the incentive anyone needed. It was so popular that Apple awarded the app the iOS app of the year in 2015.
Now, live-streaming is a standard feature in major apps like TikTok, Instagram, and Facebook. RIP to Periscope, 2015-2021.
Instagram launches Stories (2016)
Taking a page from Snapchat, Instagram introduced "Stories," allowing users to post photo and video sequences that disappear within 24 hours (although they can now be saved and archived).
Filters, stickers, polls, hashtags, and highlights to enhance Stories have made the app even more addictive.
In 2023, Instagram announced "Live Story Replay," a feature that allows you to replay your live videos on your Instagram Stories.
The U.S. election and social media's fake news crisis (2016)
You could argue that 2016 was a no-good, very bad year for social media and, by extension, democracy.
It was the year sophisticated information warfare was waged using "troll factories" on social media used to spread disinformation, including false claims and conspiracy theories, during the U.S. presidential election.
Facebook has since revealed that 126 million Americans were exposed to content by Russian agents during the election. In 2018, Facebook, Twitter, and Google representatives appeared before the U.S. Congress to testify as part of ongoing investigations into Russia's attempts to influence the elections.
A star (TikTok) is born (2017)
Douyin, an app by ByteDance, was released outside of China under the name TikTok. TikTok's popularity burns through Asian countries. It became widely popularized in North America in 2019, at about the same time Lil Nas X released Old Town Road on the platform, which quickly went viral.
Twitter doubles the character limit (2017)
Twitter doubled its signature character limit from 140 to 280 characters.
The major change, along with the introduction of Twitter threads (aka Twitterstorms), now means tweets that will make you go WTF are increasingly unavoidable as everyone makes the most of their 280 characters.
Rick Ross Funniest Moments

A Thread 🧵: pic.twitter.com/UgiWaWI4vW

— PleaseDontTouchMyRaf (@0piumThug) February 22, 2023
Facebook goes on trial for data privacy (2018)
In early 2018, it was revealed that Facebook allowed a researcher from Cambridge Analytica (one who worked on Donald Trump's presidential campaign) to harvest data from 50 million users without their consent.
Facing mounting pressure to address data privacy, Zuckerberg participated in five days of hearings before the U.S. Congress.
Instagram's foray into video (2018 – 2021)
In 2018, Instagram increased its one-minute video limit to one hour and launched a new app, IGTV, dedicated to long-form video. They also debuted Reels, an Instagram video feature, in 2019.
In 2021, Instagram merged IGTV and Feed videos into a single format: Instagram Video. This created four different types of video formats on the app: Reels, Video, Stories, and Lives.
Social commerce emerges with Facebook and Instagram Shops (2020)
The global pandemic shifted the way people viewed ecommerce, speeding up adoption rates astronomically.
Facebook and Instagram introduce Shops, a way for users to purchase in-app and businesses on the platforms to easily sell. This feature marks a shift in the rise of social commerce.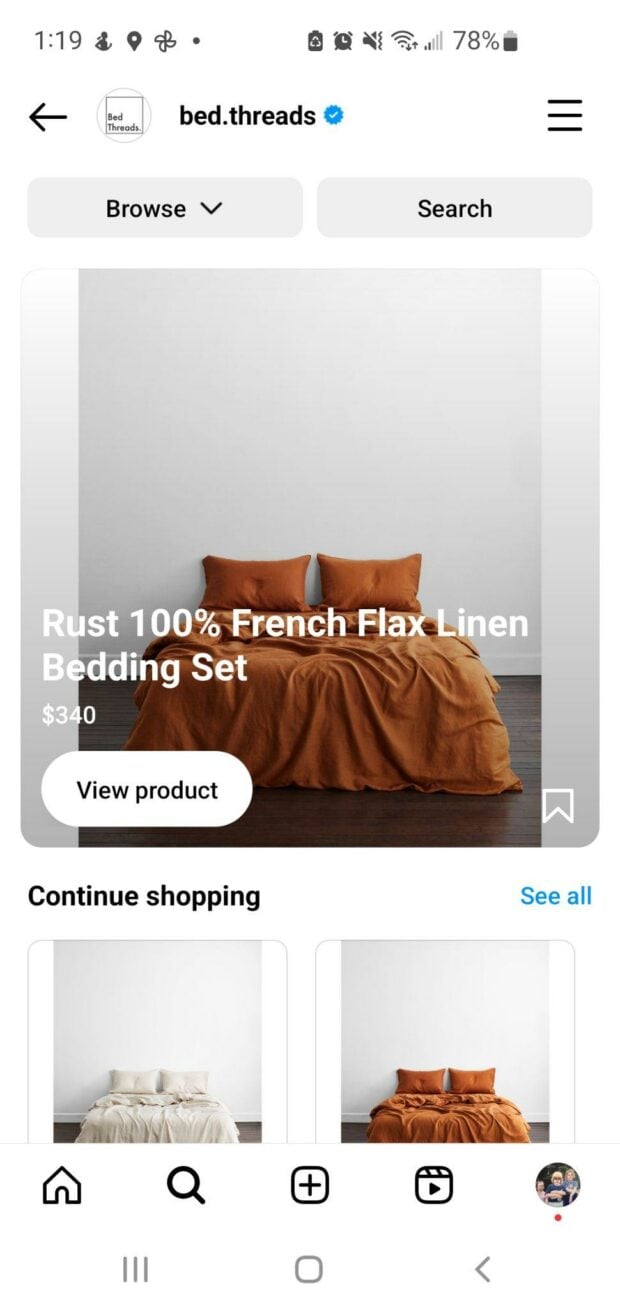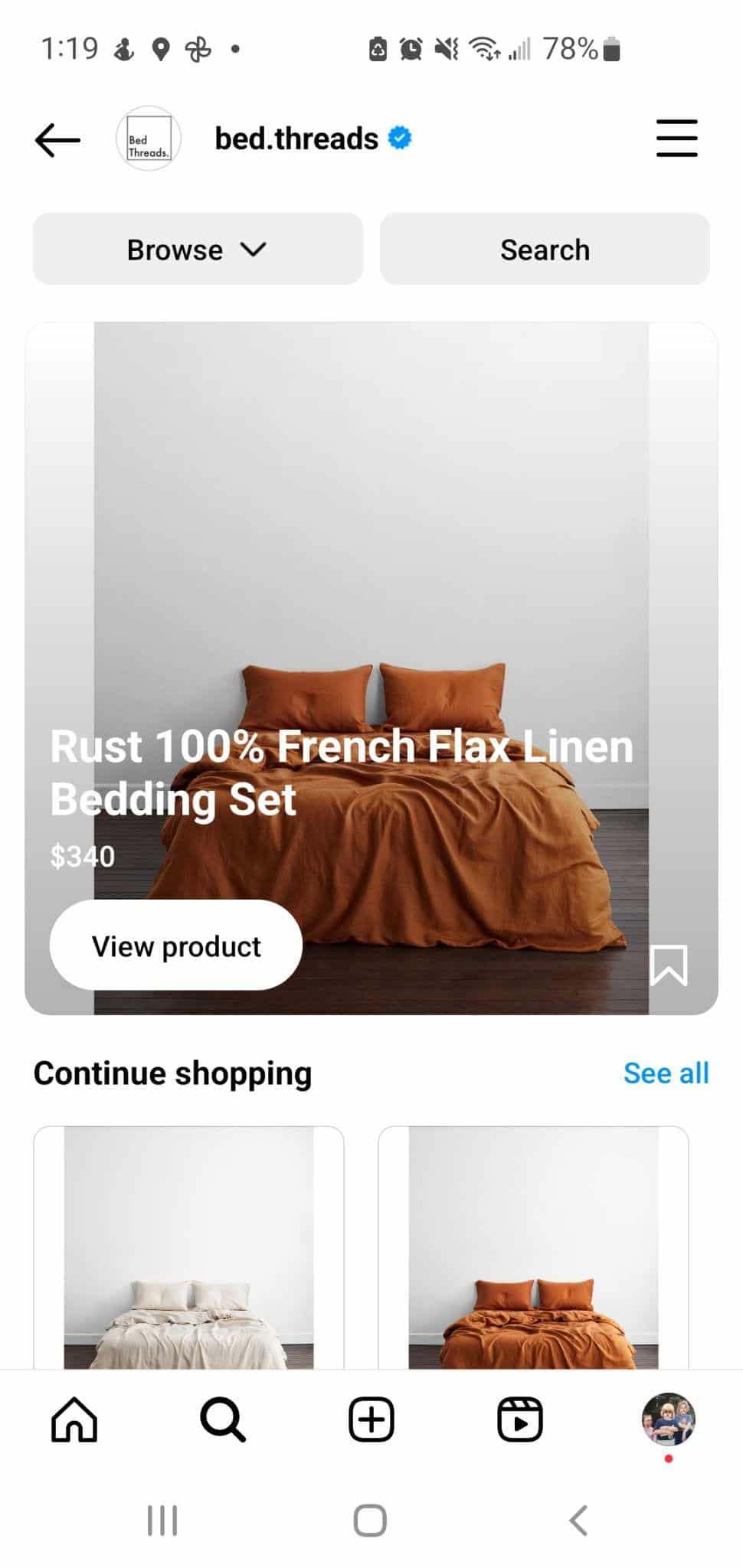 Source: Bed.threads on Instagram
New platforms like Clubhouse and BeReal continue to break ground (2020-2022)
As we entered a new decade, social media platforms continued to pop up across the digital landscape.
Clubhouse, a social audio platform, became extremely popular during the COVID-19 lockdowns in 2020. However, it struggled to remain relevant as pandemic restrictions eased.
BeReal, a photo-sharing app that prompts users to post one unfiltered photo per day, made a big splash in 2022. Though it was at one point the most popular social networking app in the App Store, it still remains to be seen if BeReal is the next TikTok.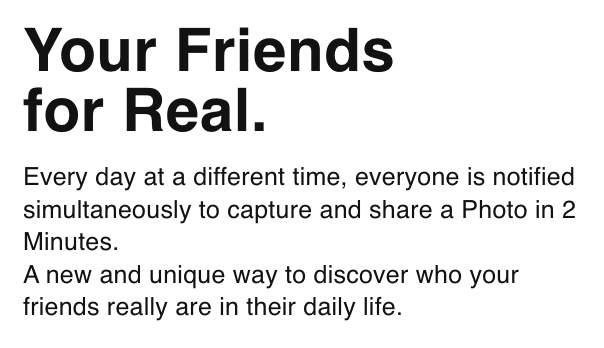 Source: BeReal
Elon Musk buys Twitter, app updates follow (2022)
In 2022, billionaire Elon Musk buys Twitter for $44 billion. The ownership change is followed by a series of app updates, including paid verification, visible view counts on tweets, and an unprecedented look into the recommendation algorithm.
Manage your social media marketing strategy for every important platform using Hootsuite. Schedule posts, engage your audience, and measure the impact of your efforts — all from a single dashboard. Try it free today.
Do it better with Hootsuite, the all-in-one social media tool. Stay on top of things, grow, and beat the competition.