In 2014, pro golfer Chris Kennedy Tweeted a dare to three friends: dump a bucket of icy water on your head within 24 hours or donate $100 to support ALS. The now-famous ice bucket challenge went viral, raised $115 million in donations, and funded new treatments for the disease. The campaign set the standard for how to fundraise on social media.
Not every social media donation drive delivers such stunning results. There's competition for scrolling thumbs, and the platforms themselves keep throttling the reach of organic posts.
But social media is still fertile ground for fundraising. Non-profits, universities, government agencies, and hospitals will find energetic supporters ready to help meet funding goals there. The trick is knowing how to do it.
In this post, you'll learn the unique advantages fundraisers have over other organizations on social media. You'll see successful campaigns to mimic. And you'll find a toolkit to make your team more efficient.
How to fundraise on social media: 12 tips
An organization in rural Iowa can reach wealthy donors in Singapore. A niche non-profit can connect to its best supporters with a few mouse clicks. That's the power of fundraising on social media.
But there's more to promoting a fundraiser on social media than simply posting pretty pictures. These 12 tips show you how to create a fundraising strategy, network with followers, and track your progress.
1. Create a goal-oriented plan
Any social media fundraising campaign needs both a destination and a roadmap.
The destination is your goal. It's probably based on dollars donated. But it could also include other key performance indicators (KPI) like total new donors, repeat donors, or average donation amount. Pick a reasonable target based on previous drives and a stretch goal. That'll motivate your team to blow past previous campaigns.
The roadmap is your campaign plan. It's the how and when that'll lead to achieving your goal. Your social media campaign plan should include:
Start and end dates
The types of posts you'll publish
Hashtags, both specific (like #ALSicebucketchallenge) and general (like #ALSsucks)
How people will donate
Roles and responsibilities for the team
A budget for things like paid post distribution if applicable
Consistency is key in social media. So while creating your plan, explain how you'll publish content regularly. One option is to produce a batch of posts and schedule them for release at optimal times.
The demographics of your donors and the type of content you'll publish dictate which social platforms you use.
Here's how each of the most widely used social media apps stacks up.
Facebook's users skew older than the average audience on other socials. It's also a versatile platform to post videos, images, long-form text, and managed events.
Instagram's audience is concentrated between 18 and 34-year-olds. The platform is primarily visual, so it's the place for a carousel of photos and videos.
Twitter's user graph looks like Facebook's, with nearly 60% between 25 and 49 years old. As the place for 280-character comments, it's best to use Twitter for direct donation requests, like Generous Heart did with this Tweet.
The day is almost upon us. Give Generously!! 💙 #401gives #donate #fundraiser #nonprofit #youth #organization #community #grassroots #bipoc #leadership #lgbtq #volunteer #fyp #share https://t.co/qDKTrojJZs pic.twitter.com/Asy0qeuK18

— Generous Heart (@GenHeartUSA) March 22, 2023
LinkedIn is where professionals go to find jobs and talk shop. Regardless of age, this is where you'll inspire corporate donations.
TikTok is the platform to use if your goal is to reach Gen Z; most people on the platform are under 34. Funny, educational short videos are the key to success here.
YouTube holds a unique position on this list as the place for long-form videos. They give you more space to tell a deeper story. There's a cross-generational audience on YouTube, so just make sure your content matches your target demographic.
3. Optimize your content for mobile
Most people flip through social feeds on their phone (e.g., 97.4% of Facebook users access via the mobile app). You want your posts to shine on small devices.
Here's a fundraising post from Water for People that's optimized for mobile.
Notice that the copy is short and snappy. That's important because Instagram truncates captions until someone clicks them. Write your highest impact statement clearly in the first few words.
The post has most of its hashtags after the main text. Hashtags are important, but you don't want them blocking out other copy. You can also hide them in a comment.
See how they shortened the link via Ow.ly? That's another way to keep the copy tight. They also put the full link in their bio. IG doesn't let you link in captions, so make sure donors know where to go.
One thing missing from this post is a donate button so followers could donate without leaving Instagram. We'll explain how that works in a minute.
4. Show and tell your story
Researcher Paul Zak uncovered an interesting truth about our brains. We're more likely to support a cause when we hear stories about it.
That's why your fundraising posts should include emotional stories about the people, places, or animals you help.
The Make-A-Wish team is masterful at telling stories on YouTube. Their features show supporters how their donations change lives. Watching a child, who's been through the roughest of times, meet their hero is a powerful motivator.
These videos are beautifully produced, but you don't need a professional videographer or voiceover pro to create yours. Sixty seconds of iPhone footage or a well-timed photograph can be just as persuasive. Combine it with a quick paragraph on how your organization uses funds, and new donors will jump at the chance to help.
5. Add donation links to posts
Alright, you've captured the hearts and minds of new supporters with your fabulous posts. But if it takes seven steps to donate, some givers will move on. Luckily, Facebook, Instagram, and TikTok let donors give without leaving the platform.
Here's an adorable example from the Hotel for Homeless Dogs. They presented a carousel of cute canines, then added a fundraising link to the post.
Followers that click the link go to a donation page in the IG app. They can donate directly or share the campaign to their posts and Stories. The whole process is more straightforward than clicking through to an external page.
Facebook also has an automated thank-you tool to show appreciation without extra work on your team. And several apps let you add donate stickers or buttons to live streams so donors can give during live events.
6. Use your bio
Posts are usually the star of your social media fundraising campaign. But don't forget your bio. It's valuable space you can maximize on every social media platform.
Check out how St Jude's Children's Hospital uses its profile to raise money.
The bio is so effective because it has:
a "Donate Now" button that links to their donation website
a fundraising link so followers can donate and share from Instagram
a link to their store
several pinned Stories that show other ways to give
That's an efficient use of valuable real estate.
7. Enlist your supporters
The network effect is influential on social media. A single request can find its way onto thousands of feeds when people share it around.
The American Heart Association tapped into the network effect with its #keepthebeat challenge. They asked followers to share a video with creative ways to move to a beat. Dancing, bouncing, and even kicking were all on the table.
People posting videos challenged three friends to find their own way to keep the beat. Each post included a text-to-donate number so viewers could donate from their phone.
Peer-to-peer fundraisers like this are popular on social media and there are several versions of them. Birthday campaigns—where users post your donation link on their birthday—are simple. Giving days, like #givingtuesday, are common, too.
8. Collaborate with creators and KOLs
It takes time to build an audience of passionate patrons. Shortcut the process by tapping into the existing networks of popular social media creators and key opinion leaders.
Step one, find the right partner for your fundraiser. Aim for someone who has an audience you want to reach and a vibe that matches your goal. Here, the British Red Cross collabed with men's lifestyle guru Ehab Ali.
Ali showed sharp dressers they could find fine fashions in the BRC resale shops, and support a great cause at the same time.
Ali and the BRC used Instagram's Collaborate feature. You can see that both accounts are tagged. That means BRC's followers and Ali's audience sew the reel. Your partners can also add donate buttons to their posts or links to your giving pages in their bios.
However you decide to collaborate, don't worry about finding top-tier celebrities with massive audiences. (Although if Selena Gomez wants to shout out your org, even better.) Look for micro-influencers with a few thousand followers that are easier to reach. Or partner with like-minded corporations or other non-profits. Whatever helps you boost the signal to new audiences.
Bonus: Get the influencer campaign template for brands to easily plan your next campaign and choose the best social media influencer to work with.
9. Consider paid posts
Social media algorithms prioritize posts from close connections. That's great for user experience but makes reaching donors difficult with organic posts. One solution is to spend on sponsored posts.
Sponsored posts, Tweets, or videos are available on almost every social media channel. The best part is that you can pick an ideal audience to view your donation requests. Say your organization helps people overseas like the World Food Program does. You could tell Facebook to show your post to travel enthusiasts.
Source: World Food Program USA on Facebook
You can target an audience by demographics like location, age, interest, or activity like former donors. You can even find a "look-a-like" audience with similar characteristics to people who already follow you.
Of course, the downside to sponsored posts is the cost. But if you start with a small investment, it won't break the bank to test the waters. Then use metrics to see what's working and focus your budget on the places with the highest return.
10. Say thanks and celebrate the wins
You set benchmarks for success in your plan. When you hit them, celebrate publicly and thank all the donors that helped get you there. You'll remind current supporters that their help matters and sweep new donors up in the excitement.
When the American Heart Association hit a million-dollar milestone in one of its campaigns, people took to TikTok to share the love.
@americanheartassociation

THANK YOU!! YOU ALL & so many others have come together to raise $1,038,645.56 & counting for the American Heart Association! This life-changing accomplishment and milestone will save lives for years to come. This is a testament that the power we have when we come together is unlimited. ❤ @kfiercce @kristinekapow @kickinitwithk20 @marriedwithflaws @nadines_heart @scottdhenry @shannonwinnington @duetraiders @swoledds @thehealingheart @themccartys @vanessacutting
Several devoted AHA supporters posted short videos throwing streamers and saying congrats for the big win.
The beauty of this strategy is that the AHA supporters did all the work. Plus, they shared the post with their network, expanding its organic reach beyond the charity's page. That's a lot of exposure for their fundraising campaigns without a lot of work put on volunteers.
11. Track and analyze performance
Results grow wherever your focus goes. Analytics let you see which posts and platforms deliver the best results. What if your Instagram paid ads get many views, but more people donate through Facebook? You could shift the paid budget to Facebook and use IG for awareness.
The best results analysis includes both big-picture views and granular, post-level tracking. A few metrics to review include:
Engagement rate
Impressions
Likes
Profile visits
Website clicks
You can pull these metrics individually from each platform. Or you can create a custom dashboard in Hootsuite that collects data from several social media apps.
It's much easier to compare when you can see like-for-like results from each social media app. And with Hootsuite, you get benchmarks from your industry to know how you compare.
12. Use the right tools
Most fundraising organizations run lean. There's never enough time to do all the work that needs to get done. The right social media tools let your team work more efficiently and effectively.
Social media platforms offer options to help fundraisers get a leg up on other organizations.
You'll also need a fundraising landing page if you don't already have one built into your website. Donorbox and Little Green Light are good options.
For creating, scheduling, and managing social media posts and campaigns, Hootsuite has you covered.
Composer is where you'll build and schedule posts in Hootsuite. You can write text, add images and videos, and even design posts using Canva (without leaving the Hootsuite dashboard).
There's a Grammarly plugin to avoid any embarrassing spelling mistakes. Plus, Composer will suggest the optimal time to publish your post.
Hootsuite supports your collaboration efforts, too. Assign permissions to team members so only the right people are allowed to create, schedule, or approve content. Then let the team review and respond to all the DMs, comments, and Twitter mentions from one centralized Inbox. No more making a dozen people check a dozen different inboxes.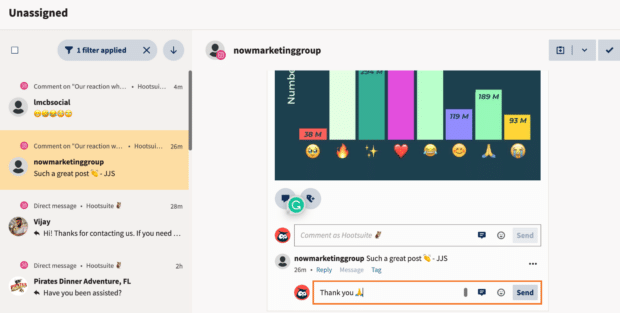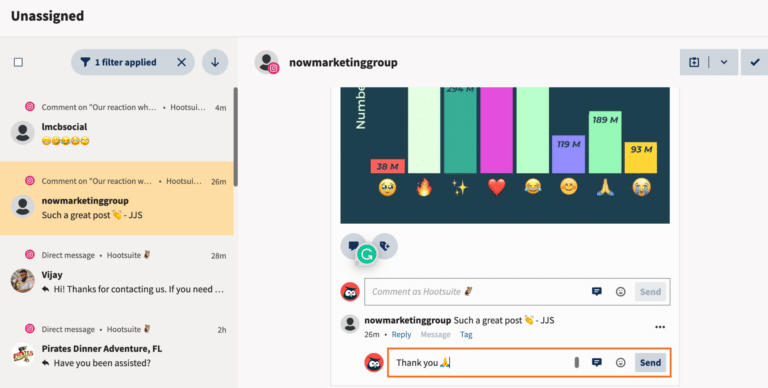 You'll likely post on a variety of social media platforms. In Hootsuite, you can manage all your paid and organic posts from Facebook, Instagram, and LinkedIn. And as mentioned, you can view the analytics in one place.
How to fundraise on social media: FAQs
Can social media be used for fundraising?
Social media is an inexpensive and easy-to-use platform for raising funds and engaging donors. More people say social media inspires them to donate than email, websites, print, or TV ads.
Can I fundraise on Instagram?
Instagram has several advantages for fundraising. There are dedicated tools to collect donations and spread the word about your cause, plus a large and active community of potential supporters.
Which social media platform is the best for fundraising?
The best social media platform for fundraising depends on your donor demographics and the types of content you'll share. Facebook and Twitter users skew older, TikTok younger, and Instagram has a more multi-generational audience.
How do I get people to donate on social media?
Social media is a flexible communication channel with many methods to motivate donors. You can post a direct donation link to your account, ask followers to create fundraising posts on your behalf, and collaborate with creators to tap into their network of followers.
Use Hootsuite to manage your next fundraising campaign on social media. From a single dashboard, you can schedule and publish posts across networks, engage the audience, and measure results. Try it free today.
Do it better with Hootsuite, the all-in-one social media tool. Stay on top of things, grow, and beat the competition.