Are you tired of seeing all the happy, smiling brands around you, animatedly chatting about their latest successful campaign while you're on the sidelines wondering when it'll be your turn to get engagement, too?
You don't need to wait for the Facebook algorithm to notice you: You already have everything you need to get more eyeballs on your content.
Put on your best sweatpants and try out these 16 engagement posts on Facebook to become the hero of your own marketing story, er, strategy.
Bonus: Download your free pack of 5 customizable Facebook cover photo templates now. Save time and easily promote your brand with a professional design.
What is a Facebook engagement post?
A Facebook engagement post is a type of social media post that increases your Facebook Page's engagement rate by encouraging your followers to take action. Facebook engagement actions include likes, reactions, comments, shares, video views, and link clicks.
16 engagement post ideas for 2023
Facebook isn't dead. Sure, there are tons of stats out there about how low organic reach is nowadays, but Facebook is still the world's most popular social media platform.
Almost 3 billion users — 36.7% of the global population! — use Facebook every month. These engagement posts for Facebook can reach more of them.
1. Host a giveaway
Free stuff: You like it, I like it, everybody likes it. All types of social media contests are great for engagement, but giveaways are especially effective thanks to the low barrier of entry. You're usually asking for a like and comment on your post. Easy peasy.
The most important thing is to tailor the prize to your Facebook audience. It doesn't need to be super high value, but it should be something your ideal customer wants.
In this case, the mall knows its audience loves to shop, so gift cards are a perfect prize to serve two purposes: Get lots of entries and get people into the mall.
Source: Guilford Town Centre on Facebook
Check out our Facebook giveaway guide for step-by-step instructions to rock your first giveaway and guidelines that will help you stay aligned with Facebook's terms of service.
Giveaways can help you:
Engage your existing audience and reach new people
Grow your Facebook Page following
2. Ask questions
Nobody likes someone who only talks about themselves all the time. Asking your audience questions, or playing "fill in the blank," also gives you valuable insights into what your customers want.
One crucial thing? Make sure you reply to each and every comment or answer on that post. Not only does this ensure your followers feel heard, but this 1:1 reply rate will essentially double the comment engagement rate on your Facebook post. Nice.
And you don't need to overthink it. Sometimes you might want a few paragraphs; other times a short standalone question is enough.
Source: Domino's Pizza on Facebook
Asking questions can help you:
Learn more about your audience.
Improve your marketing and social media content strategies (beyond Facebook) based on what you learn.
Earn more reach, thanks to the boost in comment engagements.
3. Educate or inspire
Asking questions makes your content more about your audience than you, and so does focusing on teaching or inspiring others. But it's not all altruistic here, babe: People love to see free educational content in their news feeds — and sharing lots of it is one of the oldest strategies in the book to earn trust.
Trust = sales.
Try sharing your best "how to" tips and hacks in a Facebook Reel:
Educational content can help you:
Show, not tell, your audience how your product or service can help them.
Boost your reputation as a valuable learning resource.
Prime your audience to buy later, since they'll learn to trust you from your free content.
Do short or long captions get more engagement on Facebook? Ehh… Unproven?
Our ideal post length experiment found longer captions get more engagement. However, other research has shown that captions under 19 words perform better. Personally, I don't think there's a right answer. The length of your captions can absolutely affect your engagement rate but it comes down to your audience instead of the algorithm.
Are they pressed for time? Keep captions short and focused on delivering quick wins.
But, if your audience follows you to learn about detailed subjects? In-depth captions probably make sense for you, like the British Library's mini-historical lesson:
Source: The British Library on Facebook
What if you're not sure? Experiment with different caption lengths and measure which performs better over a few weeks to months.
Finding your ideal post length can help you:
Super-boost your engagement rate.
Better serve your audience by giving them content formats they want.
5. Use high-quality visuals
Okay, pretty basic, but good quality visuals are so important, whether it's a video, photo, or graphic.
Luckily, it's never been easier for anyone to create great-looking media. Need a photo? Check these 30+ free stock photo sites. Need bangin' reusable templates? Grab these 50+ free Canva social media templates.
Plus, Hootsuite Composer has Canva built-in, so you can create top-notch graphics for your posts faster than ever — all in one place.
Great visuals can help:
Stop the scroll — they catch your audience's eye, increasing the chances they'll stop and interact with your post.
Establish and reinforce brand awareness.
6. Try Facebook Live video
If creating Reels already feels overwhelming, Live video can seem like Mt. Everest, but it doesn't have to be scary. Yes, Facebook Live is great for hosting an interview, webinar, or special event, but you can also use it more casually.
Capturing even a few minutes of candid content can be a perfect Facebook Live video. You may not have a good reason to post cute kittens like this animal shelter does, but try talking about your latest product and offer to answer any questions that come in during the Live.
Don't forget that social media is all about connection. Live video is a powerful tool for building authentic connections.
OK, but not sure how to actually do it? We've got you covered with this complete guide to going Live on Facebook.
Facebook Live video can help you:
Build relationships with your customers.
Sell more by answering questions and showing different ideas for using your products.
7. Show behind the scenes
Behind the scenes content is perfect for Facebook Reels, or a Live video. Show your office, your cafe, your staff — whatever makes sense for you.
Of course, keep the focus on your audience by making it useful for them, like this video of the top 10 Hootsuite hacks you gotta know:
Behind the scenes content can help:
Keep your audience watching longer. We're all snoopy and love seeing how other people do things. C'mon, admit it, it's true.
Add personality to your Page.
Position you as a social-led brand.
Sure, your actual post content is important but besides boosting your engagement rate, comments are content, too. Everything is content.
Almost half (48%) of consumers say they read comments on brand social media channels to learn more about the company. And, 45% say it's important for brands to reply to their comments.
Besides serving your audience, replying to comments also boosts your engagement rate. Yep, your own replies count as part of Facebook's engagement calculations. So there you go, a guaranteed way to increase your engagement.
It doesn't need to be a big reply. Show appreciation by liking the comment and adding a quick reply, like Fujifilm does here:
Source: FUJIFILM X/GFX CANADA on Facebook
Replying to comments can help you:
Instantly boost your Facebook post engagement rate.
Build relationships with your audience.
Identify trends to improve your FAQ or product descriptions.
9. Post at the right time
When you post matters as much as what you post when it comes to Facebook engagement. After all, the best post in the world still won't get any engagement if nobody sees it.
Naturally, you're probably wondering, "Okay, when is the best time to post on Facebook then?"
Honestly? I don't know! Yeah, our research says between 8 a.m. PST and noon PST on Tuesdays and Thursdays, but that's not true for everyone.
Instead of wondering WTF your best time is, let Hootsuite do it automagically with Best Time to Publish. Hootsuite analyzes your audience to figure out when they're most likely to see your content. Then, schedule posts for those times with one click. Magic.
Posting at the best times helps:
Improve your reach (and therefore engagement since more eyeballs = more chances they'll engage).
Get the best possible results out of every piece of content.
10. Use Facebook Stories
Instagram Stories gets all the love but as part of the Meta family, Facebook Stories is the best way to reach your Facebook Page followers with candid, short-form content.
But there's no need to reinvent the wheel here. Connect your Facebook Page to your Instagram profile to set up automatic Story sharing from Instagram to Facebook. Then you only need to worry about sharing to Instagram first and it'll automatically publish on Facebook, too.
Source: Republica Coffee Roasters on Facebook
Facebook Stories can help you:
Share "in the moment" or time-limited content, since Stories disappear after 24 hours, unlike Facebook Page posts.
Maximize the reach of your Instagram Stories by automatically sharing them to Facebook.
11. Boost your Facebook posts
Sometimes it's worth it to pay to play. Boosting a Facebook post turns it into a paid Facebook ad. It's economical, super easy to set up, and you don't need to know any technical ads management stuff.
Check out a few different ways to boost a Facebook post, including using Hootsuite to automatically boost the posts most likely to help you reach your social media goals. Ooh. Watch below, or read our guide to boosting posts on Facebook.
Boosting Facebook posts can help you:
Get in front of new people and grow your audience.
Start experimenting with social media advertising on a budget.
Okay, so this tip isn't about an actual Facebook post you can make. It's about being where your audience is, because meaningful engagement isn't limited to one platform.
Even if this type of engagement doesn't "add anything" to your metrics and reports, it can be some of the most effective social media work you do all year.
Start tracking the hashtags your audience uses. Find out what other brands they follow and where they hang out online. Then… casually, without looking stalkery, inject yourself there.
Seriously, it's about showing up to serve your audience where they are, not limited to your own social media profiles. Reply to a Reddit thread where someone is asking for advice on your industry and/or type of product, or comment on someone's post where they mention you.
How do you find these opportunities for organic engagement? Two words: Social listening.
Inside Hootsuite, you can track hashtags, keywords, specific accounts, and much more with custom dashboards to see the latest and most popular content within each of your "watched" topics. Log in and engage with a few posts every day in less than five minutes.
Even a quick comment thanking a customer for posting about you goes a long way in relationship building.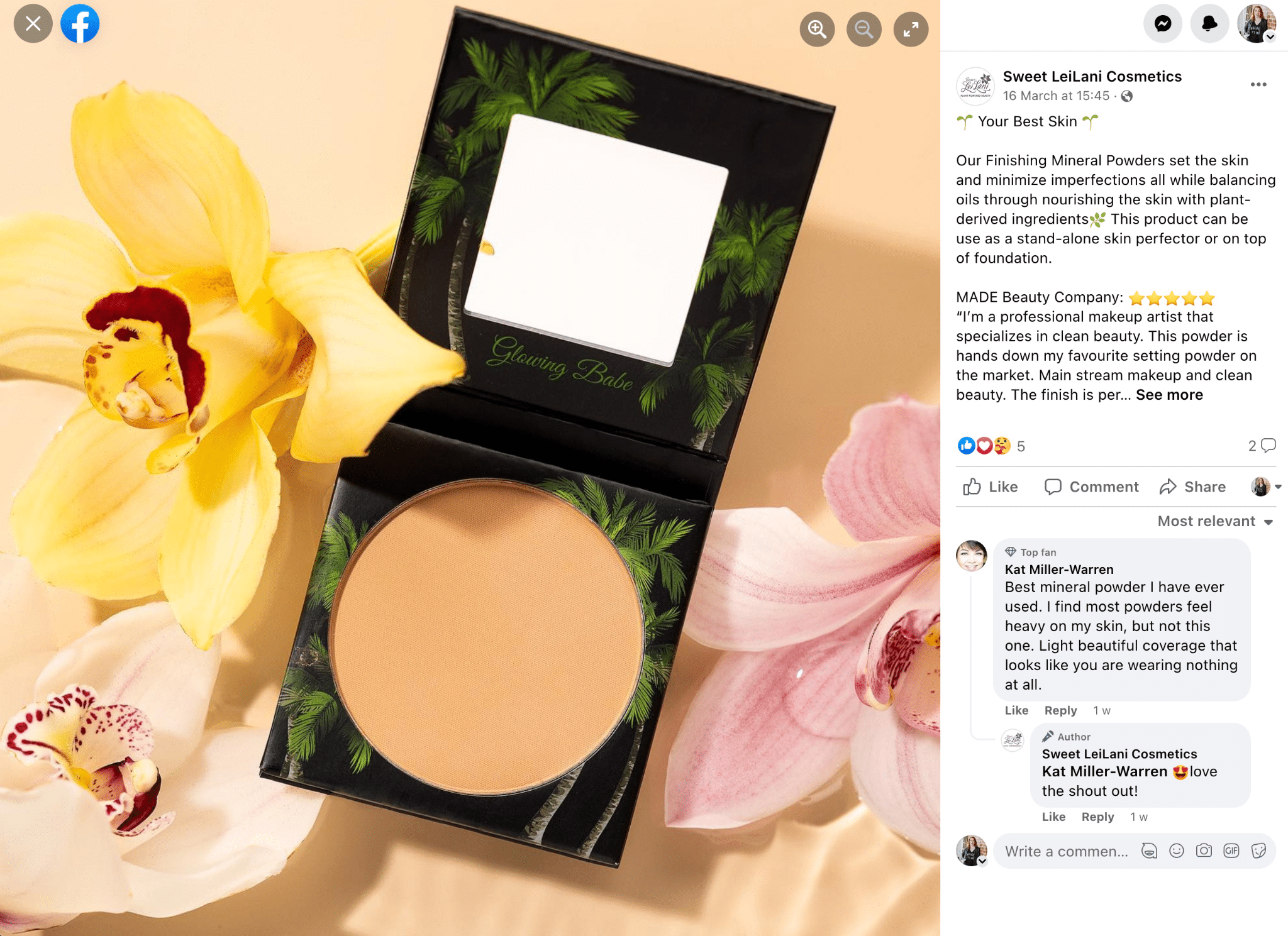 Source: Facebook
Tracking hashtags and keywords can help you:
Stay ahead of industry trends and monitor your competition.
Build relationships with customers to cement their loyalty.
Quickly address potential customer service issues or PR crises.
Building on the tip above, tracking hashtags and keywords also allows you to quickly find and share user-generated content (UGC). What's that? Any content about you created by your customers.
The two main benefits of incorporating UGC into your Facebook content are:
It's the modern day word-of-mouth: UGC is the most trustworthy type of content, according to consumers.
Conversion increase: Besides trust and social proof, sharing UGC content helps guide buyers to purchase. Over half of Millennials buy products based on recommendations.
Track hashtags to find organic UGC to share, or hire creators for dedicated UGC content campaigns. Share or repost UGC from the original creator, or use a clip from theirs to create your own (with permission and credit given, of course).
User-generated content can help you:
Earn trust.
Gather testimonials to use across all your digital channels.
14. Partner with others
Influencer marketing may already be part of your social media marketing strategy, but what about partnering with other brands?
A joint brand collaboration can pay off for both of you, as long as your products or services complement each other and you set a common goal. Wondering how to approach another brand to suggest a collab? We've got a guide to planning brand collaborations.
Vans launches collaboration collections regularly, ranging from small tweaks to their classic aesthetic to more elaborate concepts.
Source: Vans on Facebook
Influencer and partner marketing can help you:
Reach a new, highly targeted audience.
Build long-term promotional and professional relationships.
Network in your industry.
15. Repurpose your top content
Who doesn't love more of a good thing? Repurposing content has a few meanings, depending who you ask, like:
Optimizing content for each platform before posting (e.g. changing size/aspect ratio, using different hashtags, etc).
Taking a piece of existing content and creating new content from it (e.g. turning an article into a YouTube video).
Sharing evergreen content again and again.
Each of these tactics has a place in your social content strategy. Personally, one of my favorite things about Hootsuite is the ability to quickly customize my post for each social platform before I schedule it:
Routinely update and re-share your top-performing content — as long as it's still relevant — for maximum reach and engagement.
Repurposing content can help you:
Get the most results possible for all your content.
Work more efficiently by creating and promoting in batches.
Discover what works for your brand on each platform through experimentation.
16. Get personal
At the end of the day, we're all humans behind our screens (I hope?). When we see another human being sharing something from the heart, we tend to listen more closely. Whether it's a personal anecdote about building your business or a customer testimonial about their transformation, vulnerable storytelling can bring in massive engagement.
Getting personal can mean showing up for candid Facebook Stories and Reels, telling jokes, sharing advice you had to "learn the hard way," or explaining the "why" behind your latest project.
Source: Locality Brewing on Facebook
Sharing personal stories can help:
Build trust and loyalty.
Customers give you more grace during tough situations, such as supplier delays that impact their orders.
FAQs about engagement posts
What is a good Facebook engagement post?
A good Facebook engagement post is any piece of content that works to grow your audience and brand. As the old saying goes, give the people what they want.
What type of Facebook posts receive the most engagement?
The Facebook engagement posts that work for your audience won't work for another due to different demographics, industries, interests, and more. You'll have to experiment with different types of content to see what your audience engages with most.
A recent study found Gen Z engages most with sale or promotional content, and trustworthy-seeming brands.
Source: MarketingCharts
How does Facebook post engagement work?
Your Facebook post engagement rate is how many interactions, or engagements, a post gets compared to its reach, or how many people see it.
Want to quickly calculate yours? Try our free engagement rate calculator, then start putting these Facebook post ideas to work.
Grow your Facebook engagement — and all your other social profiles — with smart tools like Best Time to Publish, unified Inbox, truly insightful analytics, and more with Hootsuite. Try it free today.
Do it better with Hootsuite, the all-in-one social media tool. Stay on top of things, grow, and beat the competition.