TikTok is one of the most powerful marketing channels for brands and businesses. In fact, experts predict a whopping 840 million people will be using the app in 2023 alone.
As TikTok's influence continues to soar, there's never been a better time to consider the impact of TikTok engagement. When you create content that helps you connect with your target audience, you can achieve incredible results.
So what does the age of TikTok marketing really mean for you? And how can you amplify user-generated content to enhance your social strategy?
Let's find out!
Why engaging with TikTok users is important
On TikTok, like other social media platforms, engagement is critical to success.
Engaging with your TikTok audience can help you reach a wider audience, sharing your message and the power of your brand with people from around the world. Talk about great brand visibility!
Beyond this, TikTok engagement can help you build trust and establish communities driven by brand loyalty.
When you work strategically to engage effectively, you can foster a sense of connection that invites people to invest in you and the content you share.
This not only has the potential to span across other platforms, but it can also help you develop greater influence within the parameters of your TikTok campaigns.
On TikTok, you're sharing video content with a captive audience. You have an opportunity to highlight your brand's value and encourage people to care about your offer.
How to engage with TikTok users
Feeling overwhelmed by the prospect of having to engage with your fellow TikTokers? You're not alone. Fortunately, there are a number of simple strategies you can apply to get started.
Maintain an active presence
Firstly, you need to maintain an active TikTok presence.
TikTok's fun videos are fast-paced by nature, which means that it won't take long for your content to fall out of the algorithm cycle.
If you want your brand to stay top of mind for consumers, you need to publish new TikTok videos regularly. Try to create videos that embody your brand and represent your mission.
Work to stay active on the TikTok app, both by sharing original video content and by communicating with other creators. The more present you are, the easier you'll find it to develop an effective engagement strategy.
Respond to comments
Next, start responding to comments, especially when they appear on your videos.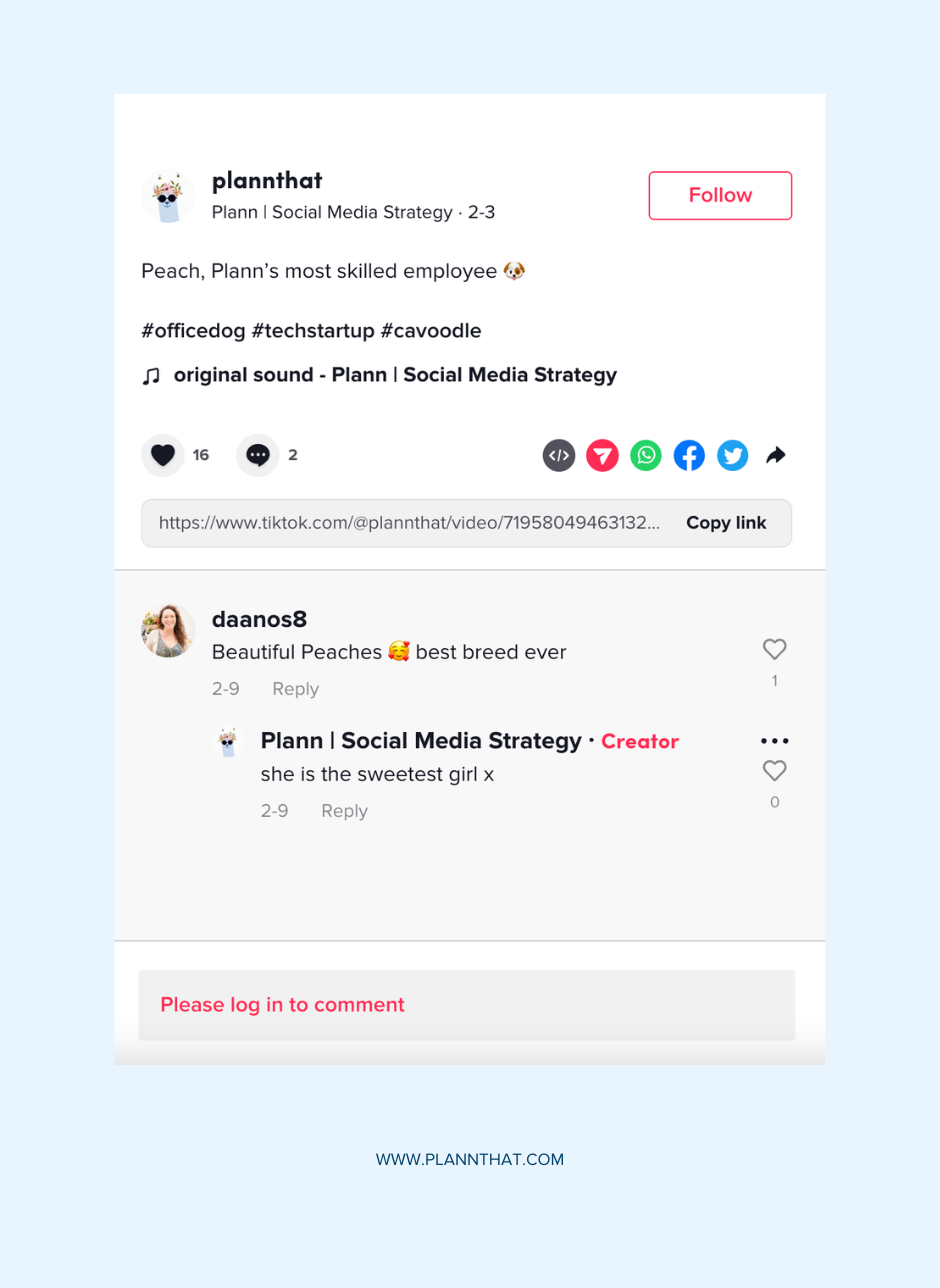 On social media, it can be tempting to post and run, but good engagement relies on you taking the opposite approach. You need to stick around and start conversations.
Make it a habit to visit the comment sections for your TikTok video posts. Ask questions, and answer them. Respond to every user who has taken the time to connect with you.
The hard work doesn't stop there. If you really want to grow your TikTok account, you also need to engage with other people's videos. Set aside some time, and start commenting on posts shared by your favorite creators.
Collaborate with other users
In the world of social media, collaboration is a great way to boost your reach.
The good news is that your TikTok account doesn't have to be an island. It can be helpful to collaborate with other users and co-create videos that reflect both your brands and audiences.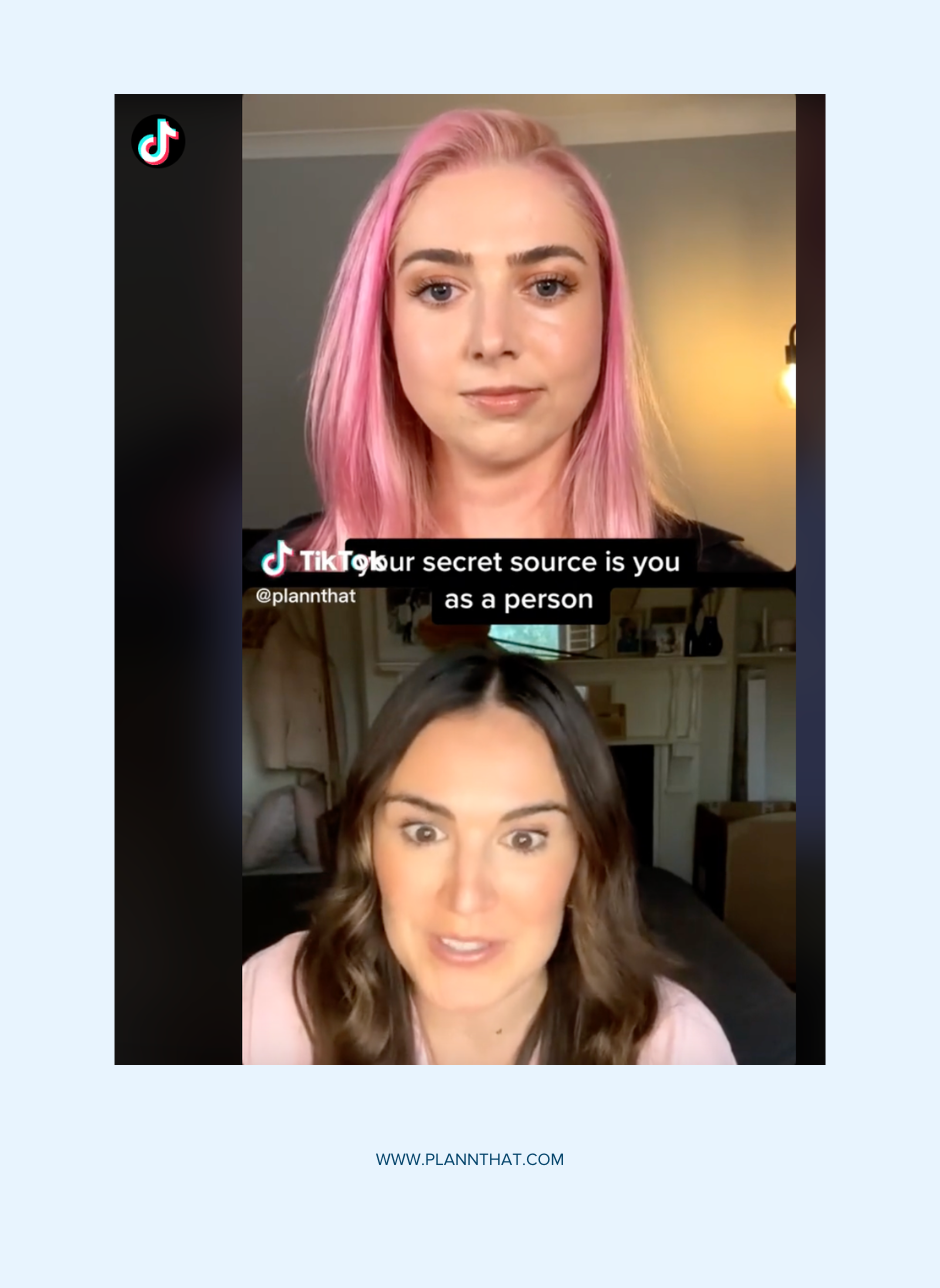 Working with other TikTok creators has many benefits. You'll meet new people who you can learn from, all while accessing a whole new audience cohort for your own content and brand message.
Effective collaborations don't have to end at TikTok. You can repurpose content across your social media strategy, also sharing videos to Facebook, Instagram, YouTube, and so on.
Participate in challenges
On TikTok, challenges are evergreen! Getting involved with viral trends can help you reach the masses.
When you notice a popular trend gaining traction on TikTok, consider how you can get involved while staying true to your brand and your niche. Could you put a unique spin on the latest meme?
By producing videos that align with what's popular, you can benefit from that popularity! This will likely offer an algorithm boost, helping you achieve high engagement and account growth.
The best thing about TikTok challenges? They often inspire more viral ideas. This means that you'll never run out of fresh and current content to help you stick with rule number one: keep your account active.
How to amplify user-generated content on TikTok
Now you know how to drive TikTok success. But what about user-generated content? UGC videos can be a great addition to your strategy with extra engagement benefits.
Here are a few practical ways to get started with your UGC journey as a brand or business.
Created branded hashtags
A branded hashtag is a great way to drive traffic to your TikTok profile while providing you with an easy way to curate user-generated content.
Gen Z users are often looking for the next big TikTok trend, and this includes hashtag challenges. If you can come up with a fun, engaging challenge that reflects your brand well, you could soon have plenty of UGC to choose from.
Remember, positive user-generated content doesn't just save you content creation time. It also works as a form of influencer marketing, helping your brand reach new audiences.
Run contests and giveaways
Similarly, TikTok contests and giveaways can be a great way to help you generate the buzz you need to put together strong UGC ads.
Create challenges with a prize incentive, and use a specific hashtag to promote this exclusive offer. When you ask a targeted audience to create content for a chance to win, you could soon have all the user-generated content you need.
Use the TikTok platform based on its strengths. Give users a reason to share video clips that exemplify word of mouth marketing for your brand.
Use clear calls to action
Across all social media platforms, clear calls to action are an essential marketing tool, helping you encourage people to engage with you.
Whether you're creating videos or requesting them, always include a call to action, or CTA, that invites users to be part of the conversation. Ask people to leave a comment, share your videos, or even use the duet feature to communicate directly.
Effective CTAs drive a response, which can only help your engagement rate as you work to generate more interest in your content and your account at large. Plus, you may gain some positive reviews you can use in a future TikTok UGC campaign!
Feature user-generated content
Last but not least, you need to find a purpose for the user-generated content you receive!
When users create UGC, you can use it to provide social proof of your brand value. That's not to mention the time you'll save by relying on your followers to produce some of your content.
Look for opportunities to feature UGC campaigns, and show your followers that you care what they have to say. This approach is the key to building trust, fostering personal connection, and ensuring you never run out of content for TikTok.
Want to learn more?
Social ad campaigns aren't for the faint of heart! If you're interested in learning more about how you can optimize your TikTok engagement and performance, Plann has got you covered.
Not only do we allow you to auto post your TikTok videos, but we give back valuable time to business owners (like you) to refocus your efforts on boosting engagement and collating UGC from your audience.
What are you waiting for? Sign up for a 7-day free trial of Plann Pro and start building an engaged TikTok following today.