Social commerce platforms and apps have exploded in popularity in recent years. eCommerce brands are constantly looking for new ways to improve conversion rates and unlock new ways to win customers and drive sales. 
It's no surprise that all the major social media platforms are heavily investing in social commerce features. Take these stats: more than 25% of people head to social media to inspire their next product purchase. 
Plus, 49% of brands are said to be increasing their social commerce investment in the year ahead, meaning now is the time to double down on your social commerce strategy.
Not sure where to start? Let's run you through the top social commerce platforms and features you need to be harnessing this year (and beyond). 
What is Social Commerce?
Before we go anything further, let's start with the basics. Social commerce is all about using the social platforms you know and love to drive sales, promote products and sell your goods. 
By drawing on the principles of eCommerce, social commerce turns your content into shoppable posts, stories and videos (often with the ability to checkout without even leaving the social media app). 
What makes social commerce so powerful is this: it streamlines and fast-tracks the sales journey. 
Rather than navigating to a website or online stores, users can discover and shop for new products tailored to them in just a few taps. Plus, but harnessing the power of user-generated content (UGC), social commerce showcases real shoppers using your products in relatable settings to inspire other users to make a purchase, too. 
Why is Social Commerce Valuable for Brands?
Social media gives brands and businesses access to hundreds, if not thousands, of potential customers. With social commerce, you can turn these users into paying customers, all without leaving the social media platform's ecosystem. 
In short, social commerce reduces friction in the buyer journey and makes it easier for a user to get to 'yes' sooner. 
But that's just where the benefits of social commerce begin. In fact, brands stand to gain a stack of value from social commerce features, including:
• Visibility: social media gives you access to targeted, high-value new audiences through platform features like hashtags, geotags, and even discovery pages (like Instagram's Discover Page or TikTok's For You page).
• Social proof: social commerce harnesses the power of UGC, allowing real shoppers to advocate for your brand (and products) in your own words). By using UGC to promote your products, you can build trust and credibility with potential customers.
• Streamlined checkout: the biggest drawcard for brands is the way social commerce allows purchases to be made directly within the platform. No need to navigate to a separate eCommerce site: now product discovery and purchase can be made in one place.
Ultimately, social commerce is a must-try feature for any brand looking to increase sales, reach a new audience and drive tangible return on investment from social media marketing. 
The Best Social Commerce Platforms 
Now we've covered why you need to be using social commerce, let's dive into five of the best social commerce platforms to be using (and our favorite shoppable features). 
1. Facebook Shops
Best for: brands with an existing eCommerce store who are looking to run paid advertising to drive sales of their products on Facebook.
If you use Facebook, you may have come across Facebook Shopping, giving brands the ability to create online shopfronts directly in the Facebook ecosystem. Facebook Shops allow users to browse products and even make in-app purchases.
One of the best parts of Facebook Shopping is that you can directly import your product catalog from your eCommerce site (such as Shopify), which means you don't have to spend hours manually building and creating your Facebook shopfront. 
Not only can you organically sell your products through Facebook Shopping, but you can harness shoppable Facebook ad campaigns to supercharge your chances of increasing revenue through Facebook advertising. 
With a fast and secure checkout (either within the Facebook app or redirected to your own website), zero setup or subscription fees and simple inventory management, Facebook Shopping is a powerful way to drive sales through your Facebook page. 
2. Instagram Shopping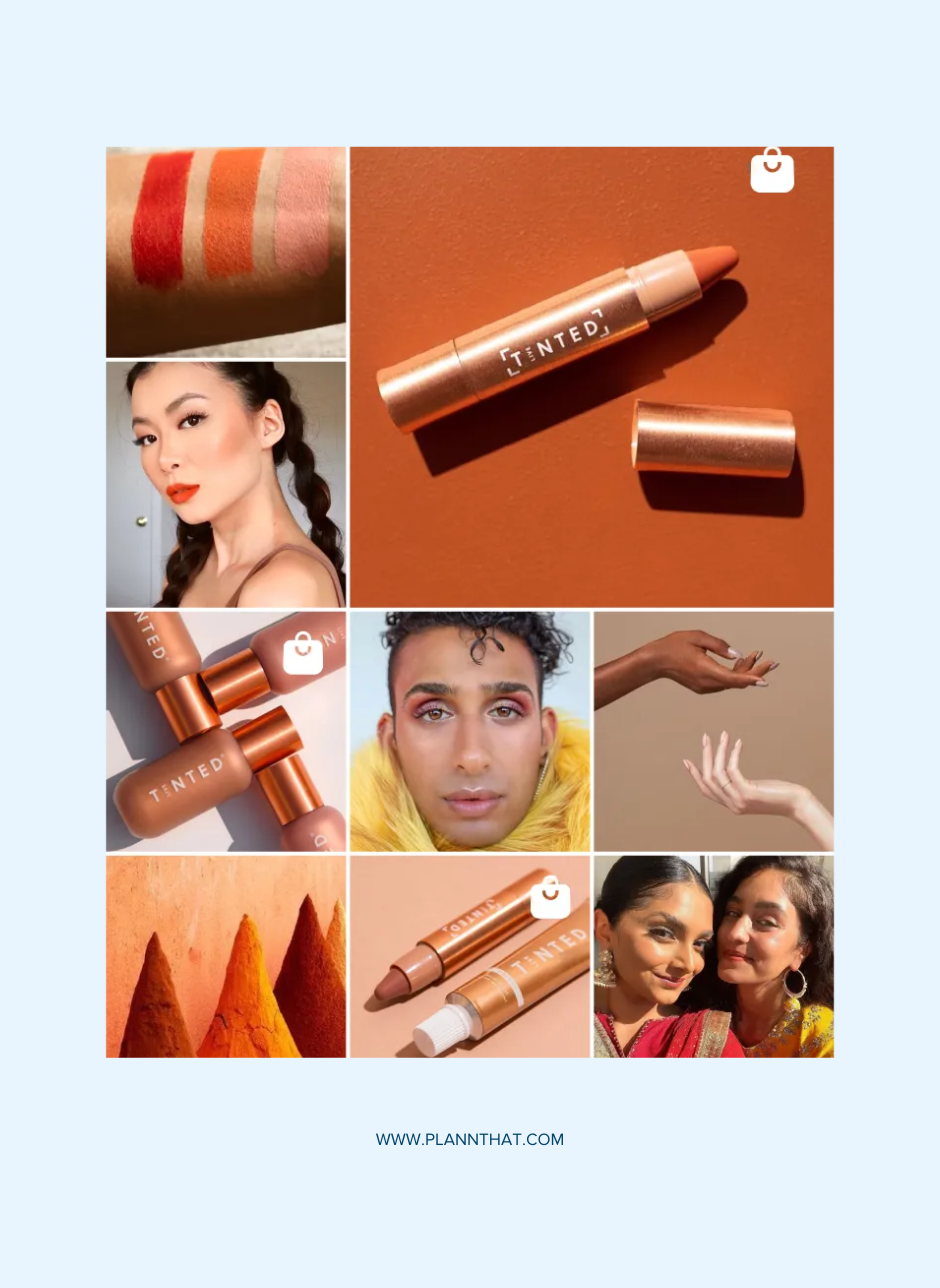 Best for: direct-to-consumer brands with high-quality visual assets and a solid UGC strategy, such as beauty, fashion, wellness or fitness brands.
Instagram has created a set of tools to help businesses sell on the platform. Instagram Shopping, for example, allows customers to shop directly from your Instagram Business page. 
Simply set up a virtual shopfront on Instagram, create curated collections and design product detail pages, complete with product pricing and descriptions. 
You can also use product tags to showcase your products in a range of different content formats, from Reels to carousels and even lifestyle UGC imagery. Plus, you can run Instagram ads with product tags to increase the reach of your shoppable posts, too. 
Aside from that, Instagram Live Shopping allows you to launch your own live shopping channel. You can sell products and interact with customers in real time by using live videos. 
This allows you to receive direct feedback from customers and strengthen your relationships with shoppers and followers.
3. Snapchat's AR Shopping Lens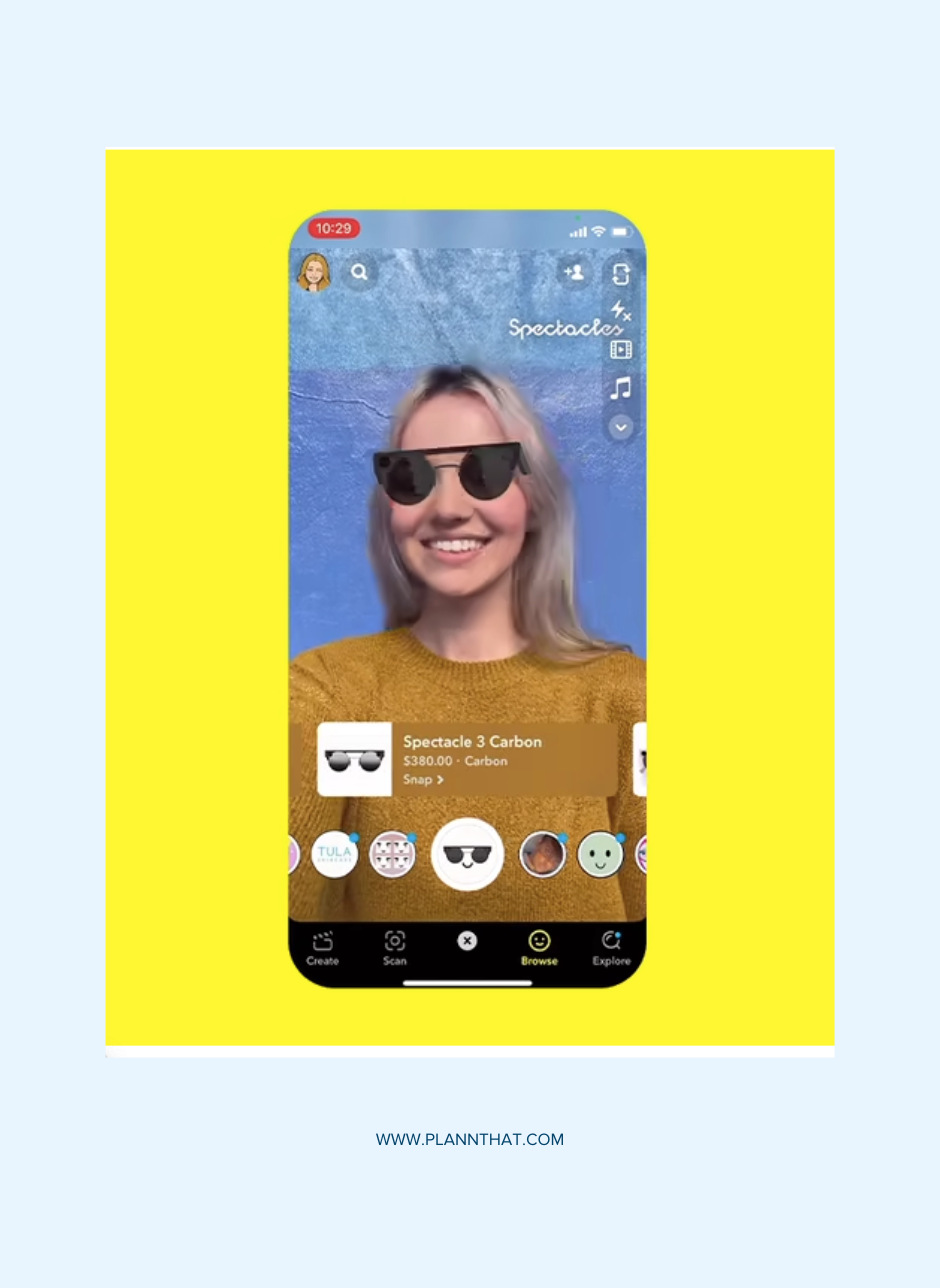 Best for: brands that want to help their customers visualize or try on their products, such as fashion or beauty brands as well as home decor or furniture brands. 
Did you know you can create catalog-powered AR shopping lens on your business's Snapchat account?
This recent feature allows brands to link their Product Catalogs with an AR Lens on Snapchat, unlocking an exciting Shopping Lens experience. 
Essentially, this feature allows your customers to virtually 'try on' or view your products in a more dynamic way. From sunnies to beauty products, shoppers can experience these products through the power of AI and even purchase products with ease (thanks to Snapchat's Lens Product Cards).
Talk about one of the coolest interactive ways to drive sales through your Snapchat account.
4. TikTok Shopping
Best for: brands looking to target a younger Gen Z audience, from cosmetics brands to tech companies and even fashion brands. 
Like Facebook and Instagram, TikTok offers a range of powerful eCommerce features to allow brands and creators to drive sales within the app.
With TikTok Shop, brands can showcase and sell their products directly on the platform using a range of content formats from in-feed videos to Lives and even a product showcase tab.
There are also huge opportunities to team up and collaborate with creators, enabling brands to reach new communities through shoppable live stream videos. 
5.
Best for: visual-first brands with an aesthetic product or brand identity, such as beauty, fashion, home decor and even creative brands (selling art, prints, homewares and more).
Pinterest is one of the best social media platforms for driving product discovery and sales. Not only is this platform a visual search engine but the Pinterest team is heavily investing in new eCommerce tools to support brands and help drive sales.
With Catalogues, brands can connect their eCommerce store (hosted on Shopify or WooCommerce) to their Pinterest account and score a 'Shop' tab on their profile. 
After joining the Verified Merchant Program, brands can gain greater access to users on Pinterest with enhanced reach and distribution. Plus, there are plenty of paid content formats to explore, from Shopping Ads to Collection Ads and beyond.
Ready to drive sales through social media?
If you're looking to harness the power of social commerce, it's time to start planning for success. 
With Plann, you can easily strategize, create and schedule your content across all your social platforms with ease. If you're looking to drive sales on Instagram, our Product Tagging feature takes the hassle out of turning your content into shoppable posts. 
What are you waiting for? Sign up for a 7-day free trial of Plann Pro and harness the power of social commerce like a pro.
"}" data-sheets-userformat="{"2″:513,"3":{"1″:0},"12":0}">