Having an orderly, beautiful and consistent set of Instagram highlight covers looks cool, sure — but it's also a great opportunity to show off your branding, color palette and sense of style to your followers. And, aesthetic highlight covers encourage profile visitors to click and view the Stories that contain all the important information you've essentially pinned to the top of your profile.
You can design personalized highlight covers from scratch or use a graphic design tool or photo editing app for extra support. Read this post and you'll be, well, covered.
Download your free pack of 40 customizable Instagram Stories Highlights Icons now. Optimize your profile and set your brand apart from the competition.
What is an Instagram highlight cover?
First: What is an Instagram highlight?
An Instagram highlight is a collection of Instagram Stories that a user has saved under a certain category. Instagram Stories can only be viewed for 24 hours, but adding a Story to a highlight gives it a permanent spot on your profile.
An Instagram highlight cover is a photo or graphic that appears above the highlight name on your profile page. It's like a book cover, but for your highlight.
In the example below (indicated by the blue rectangle), a fashion brand uses highlights to feature important information—a sizing guide, care info, new launches, etc.—and each highlight has a cute floral highlight cover.
Source: Instagram
Highlight covers aren't essential, but they do provide your profile with a polished look—and they make a great first impression for people visiting your Instagram page for the first time.
Here's how to make them.
How to create an Instagram highlight cover
To create an Instagram highlight cover, first you need to have an Instagram highlight. Follow these step-by-step instructions to create a highlight (and if you already have a highlight set up, skip this part).
How to create an Instagram highlight
1. Open your Instagram account in the mobile app and click "New" in the highlights section below your bio.
2. Scroll through your Story archive and select the Stories you want to include in your highlight. Then, tap Next in the top right corner of the screen.
3. Type in the name of your highlight.
4. Optional: Tap Edit cover to edit the default cover picked by Instagram (a frame from the first Story in your collection). You can also do this later, once your highlight is live — we cover the process in detail below.
5. Click Add in the top right cover of the screen.
That's it! Your highlight will show up on your profile page.
How to create a personalized Instagram highlight cover
Once you create an Instagram highlight, the cover will generate automatically — but personalizing your Instagram highlight covers is way more fun. It's also a great way to showcase your branding and add an individual touch to your profile.
We've put together 40 Instagram Story highlight cover icons that are free to download and easy to customize. Or, you can make your own.
You can create circular Instagram highlight covers using any design app or software. We're fans of Canva (and psst… Canva is now integrated with Hootsuite, making it simple to design beautiful graphics for free). Here's how to create a highlight cover using Canva.
1. Go to canva.com. Canva is free to use, but you do need to create an account to log in.
2. You can design your own Instagram highlight from scratch using any circular image, or personalize a Canva template (that's what we'll be doing in this example). Type "Instagram Story highlight" into the search bar to find thousands of templates.
3. Select your favorite template.
4. Once you've selected your template, you can edit the text…
5. …and the colours…
6. …and even add graphics, if you want to. Canva has a ton of free images and designs to choose from.
7. When you're happy with the design, click "Share" at the top right of your screen to download the image.
8. Choose Download from the drop-down menu. Download the image as a PNG or JPG. If the template you've chosen has several pages, only download the pages that you want—in this case, we're only saving page 2.
9. Save the image to your phone's camera roll. Now, it's time to use the image as a highlight cover.
How to change your Instagram highlight cover
To change your Instagram highlight cover to a personalized image, follow these simple steps:
1. Open the highlight from your Instagram profile.
2. Tap More in the bottom right corner.
3. Tap Edit highlight. Then, tap Edit cover, near the top of your screen.
5. To choose an image from your camera roll, tap the photo icon near the bottom of your screen.
6. Choose the new highlight cover from your camera roll. Then, tap Done.
That's it! Your brand new highlight cover is live.
8 tips for clicky Instagram highlight covers
Still searching for inspiration? Here are some great examples of engaging Instagram Story highlight covers and tips on how to get it right.
1. Keep it simple
Instagram Story highlight covers are small—so small, in fact, that you'll want to avoid crowding that precious little circle with too much text or overcomplicated images.

Source: Instagram
Keeping your covers basic and clean is ideal. Even simple color-blocked highlight covers (like the ones used by the artist above) are super effective: they're not too busy, and pleasing to look at.
2. Be consistent
Your IG highlight covers don't need to be identical, but ideally, they'll match: consider picking a certain color, theme or pattern to follow when making your covers.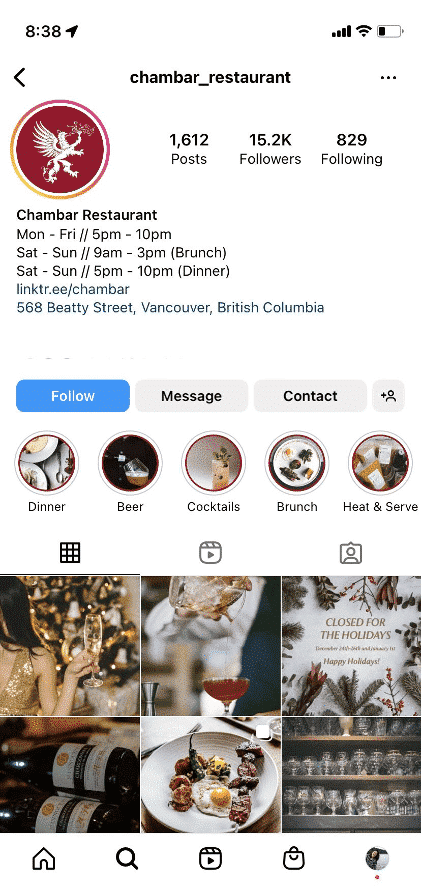 Source: Instagram
This restaurant uses a red circular frame on all of their highlight covers, creating a consistent look even though the photos within each frame are all different. It's a small detail, but it gives the covers a cohesive look.
3. Be creative
Highlight covers are an opportunity to show off your creativity as a brand. Think about how you can infuse your brand into your highlight covers as much as possible.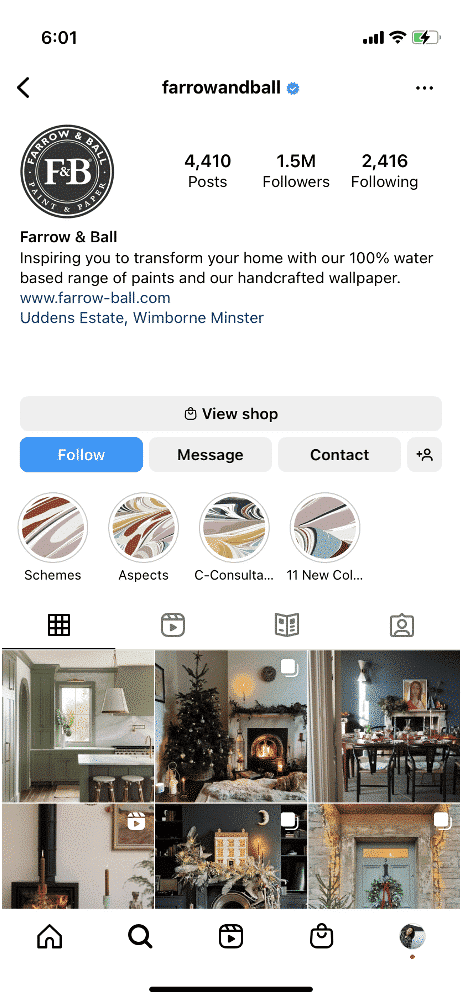 Source: Instagram
For example, paint brand Farrow and Ball has highlight covers that look like paint mixing together. It's a very unique choice that effectively communicates something about the brand (mainly, that they sell paint).
4. Use a branded color palette
Another way you can incorporate your brand into your highlight covers is by using your brand's colors in the designs. Think of a cover like a label for your business: audiences should be able to look at it and immediately know that it belongs to you.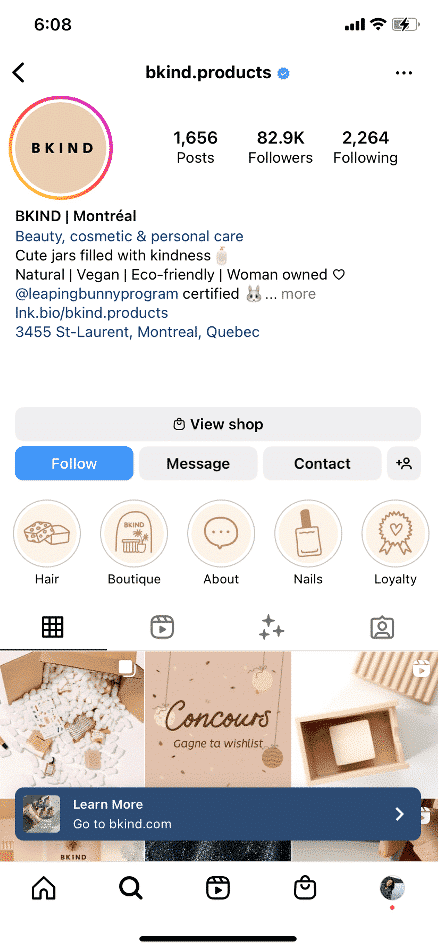 Source: Instagram
This cosmetic brand, for example, has a very consistent color palette across their products and on their Instagram. The highlight covers are no exception: they take on the same trendy pinky-brown hues as the rest of the profile.
5. Use icons
Because there's not much real estate on a highlight cover, using pictures that symbolize words and ideas—or icons—can be an excellent tool for communicating simple information.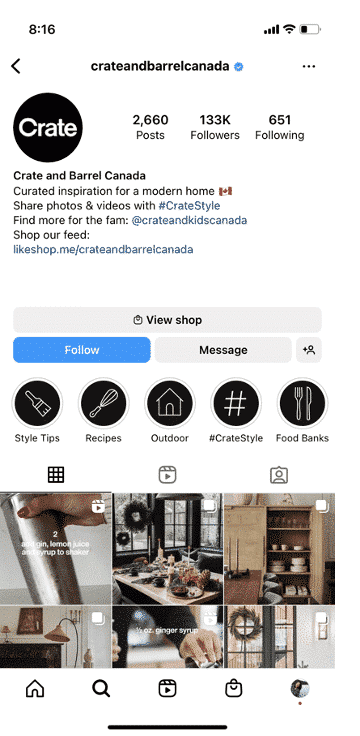 Source: Instagram
Crate and Barrel's Instagram highlight covers are quite basic, but the icons are effective when it comes to symbolizing ideas (and they're pretty cute, too). Icons are where editing apps like Canva really shine—there's thousands of symbols and simple illustrations built right in.
6. Show off your products
If you use Instagram for business, your highlight covers work as a tiny marketing tactic. Instead of having to scroll through your feed to see all of your merchandise, Instagram users can get a quick look at your products via the highlight covers.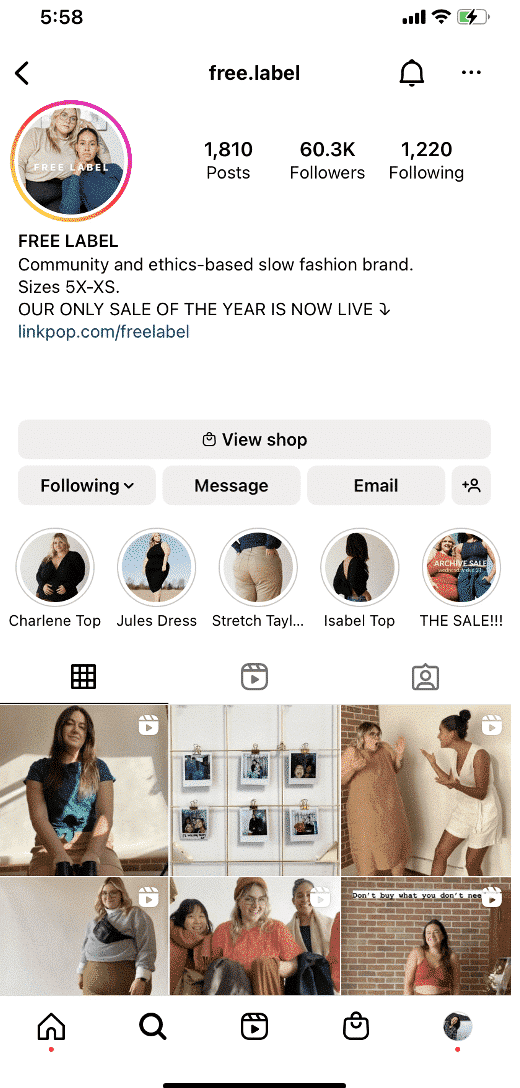 Source: Instagram
This slow fashion brand uses highlights to feature specific products, so curious shoppers can easily research the design and fit of different pieces of clothing.
7. Highlight what matters most
Don't make the high school mistake of highlighting everything. Highlights should be used to showcase only the most important and useful information to your audience. It's good to be picky about which Stories you highlight (and as a bonus, being selective means you won't have to design a ton of highlight covers).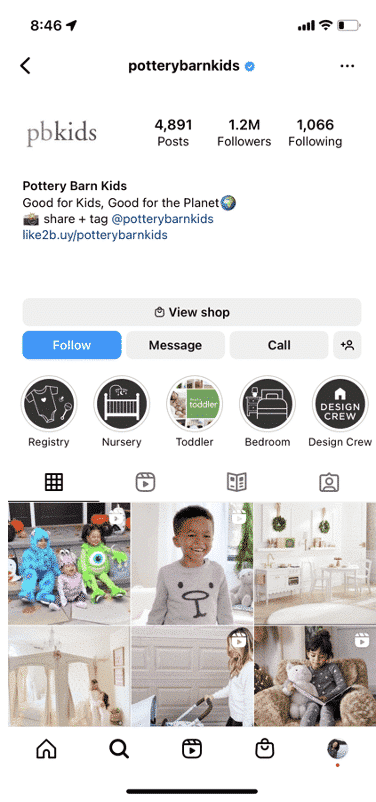 Source: Instagram
Pottery Barn Kids keeps their highlights simple and broad: topics like "Nursery," "Toddler," and "Bedroom" make it easy for Instagram users to find the inspo they're looking for.
8. Don't be afraid to experiment
Highlight covers often symbolize the highlighted category in a very literal way, but if you've got an idea, try it—one of the best things about highlight covers is that they can be edited or switched out if you change your mind. Let your imagination go wild.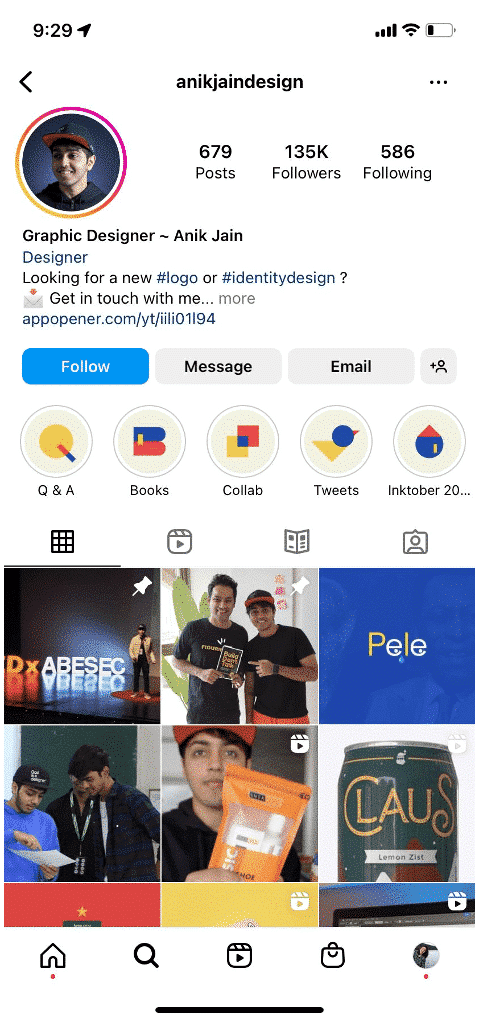 Source: Instagram
It's not surprising that this graphic designer has very bold, distinctive highlight covers—they fit perfectly with his brand. For example, it would be the typical choice to go with Twitter's logo for the "Tweets" section, but this designer created his own personal version of that iconic bird.
Instagram highlight cover templates
Now that you know how to create Instagram highlights and add custom covers to them, download this bundle of 40 free customizable designs and take the look of your Instagram profile to the next level.
Download your free pack of 40 customizable Instagram Stories Highlights Icons now. Optimize your profile and set your brand apart from the competition.
Easily manage all of your Instagram marketing with Hootsuite. From a single dashboard, you can schedule and publish posts directly to Instagram, engage your audience, measure performance and run all your other social media profiles. Try it free today.
Grow on Instagram
Easily create, analyze, and schedule Instagram posts, Stories, and Reels with Hootsuite. Save time and get results.