For as long as we can remember, the Instagram experience has been very limited when it comes to driving website traffic. 
In fact, Instagram users are only given access to a single clickable link that they can add to their profile.
But, did you know that you can make this single bio link the hub for all of your important business links? With a link in bio tool, everything is possible.
Ready to skyrocket your sales and boost the chances of your followers turning into paying customers? Let's run you through why you need to be using a link in bio tool. Stick around: we've got a VERY exciting announcement to share in this piece!
What is a 'Link in Bio' tool?
No matter what niche or industry you work in, we can all agree that a single clickable link on your Instagram profile isn't enough! 
But that's a thing of the past thanks to link-in-bio tools. These micro websites help businesses create a 'link in bio' landing page. Think of it like a hub of all the clickable URLs that your business wants to add to your Instagram account to drive more traffic and sales.
When someone clicks on the link in your bio, they'll be taken to a landing page with endless images, buttons and links. 
From your latest blog posts to new product listings to podcast episodes, the opportunities are needless when it comes to link in bio tools.
Introducing EasyLink by Plann – your ultimate link in bio tool!
Huge news: EasyLink by Plann is here! Our brand new offering is your new Social Planner + Link in bio Duo!
EasyLink is an elegant and visual 'link in bio' tool designed to enhance the experience of creating, managing, and sharing content by focusing on visuals, customized designs, and modern aesthetics. 
With Easylink, you can effortlessly create a fully customizable link in bio web page that stores all the different links you want to add to drive more traffic and get more sales for your business.
It has all the features you need to curate the perfect link in bio web page for your business. Update colors, headers, buttons, avatars, fonts, images, and more – everything you need to make this landing page your own! It is also super easy to move and edit around using a drag-and-drop feature, so you can quickly change the layout of your design.
Unlike many other link in bio tools, EasyLink offers a unique experience by using both simple links and visual links or cards. Plus, it takes less than five minutes to set up your page so you can start sharing, selling and growing your business sooner!
The benefits of using a link in bio tool on social media
We already know that you can fully customize your 'link in bio' web page to reflect your brand visuals and aesthetics. But there's more to it. We've laid down the top benefits of using the 'link in bio' tool.
#1 Drive your followers to your website
The best part about using the 'link in bio' tool for your social media is that you can drive users to your website. With an eye-catching call-to-action in your Instagram bio, you can prompt profile visitors to learn more about your business and dive into your website. 
The best way to turn followers into paying customers is to get them off Instagram, so make sure you're leveraging a link in bio tool to maximize your chances of making a sale! 
Are you ready to drive more traffic to your website? Get started with EasyLink by Plann today!
#2 Build brand recognition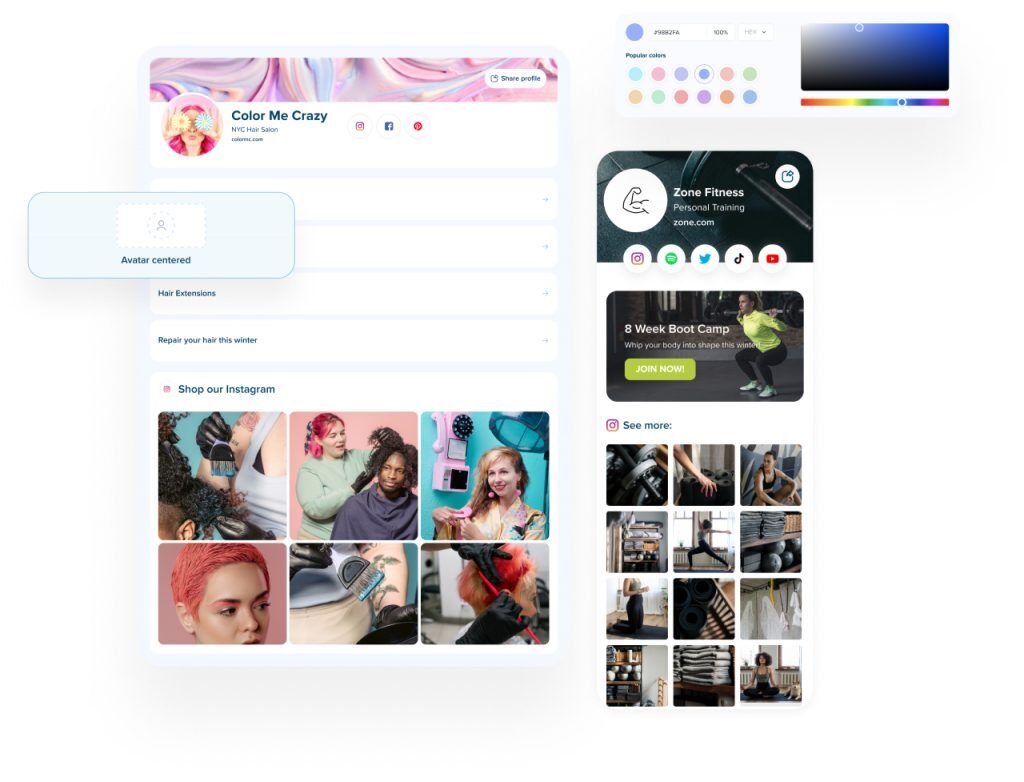 You can create your 'link in bio' landing page like a mini-website that reflects your brand colors, visuals, elements, and feel. It's a great opportunity to make your landing page look more visually appealing and reflect your brand identity.
With EasyLink, it's easy to make your link in bio page feel authentic to your brand! Add your own colors, backgrounds, images and custom messages – make your page as unique as you. 
EasyLink also allows you to add visual link cards that help you drive traffic and sales with in-built CTA's that you can customize.
#3 Make your socials shoppable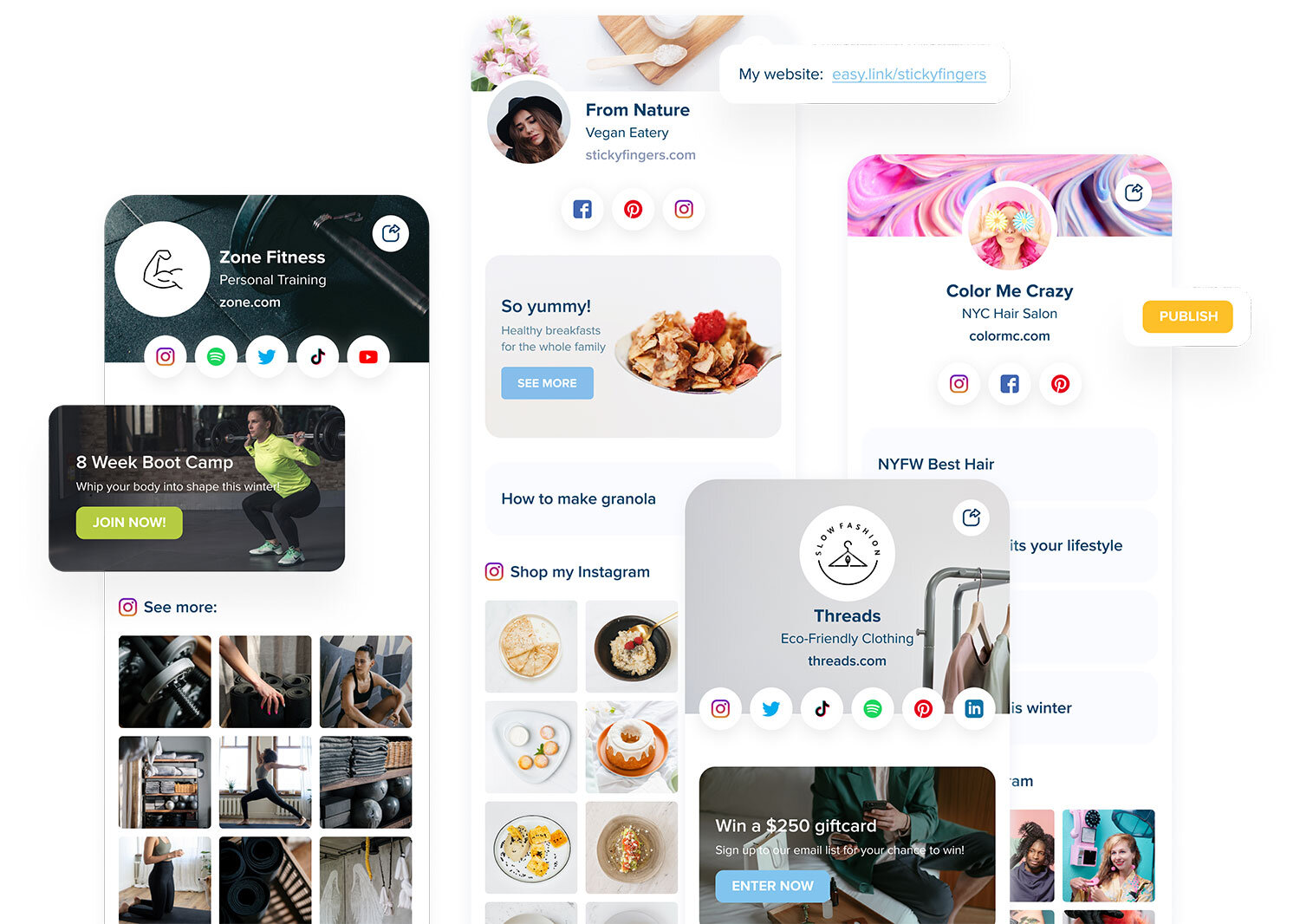 Social commerce is a booming industry – and that's not just limited to adding product tags to your posts. By skillfully curating your link in bio page to showcase your latest releases, you can drive serious sales from your Instagram followers. 
EasyLink by Plann has some amazing features to help you earn income from your social channels, including: 
Make your own shoppable Instagram grid. 

Set your links to appear and disappear without you having to be online, so you never have outdated links.
#4 Highlight your best content, products and campaigns
A 'link in bio' tool allows you to highlight that one piece of content or product you think is going to drive massive results. 
From blog posts to podcasts to flash sales, you can customize your links to hit your business goals. 
EasyLink has pre-designed done-for-you templates you can use to design the link in bio landing page of your choice with ease. Just tweak the templates to reflect your branding visuals and you're good to go!
Drive sales and traffic with the ultimate link in bio tool!
Ready to maximize your results on social media? You need to be doing everything you can to turn your followers into paying customers.
With EasyLink, a powerful link in bio tool by Plann you can sell products, host content and grow fans – all in one place! 
Go on, get started with EasyLink today.