Creating a content strategy for Instagram is easier than you think.
Sure, it can feel daunting when you're staring at a blank page, a hard drive full of photos and videos, and no idea what to say or how to position your brand.
What if you had a foolproof formula? A guide that takes all of the guesswork out of the equation and gives you exactly what you want:
• An engaged community
• A strategy for post ideas
• An audience who wants to buy what you're selling
Intrigued?
In this post, you'll learn how to use different types of content to grow your following, establish your brand as the go-to expert, and it effortless to sell your latest products and services.
Ready? Steady? Let's go!
1. Community Content
Community content nurtures your relationship with your audience. It makes your personal or business brand relatable and allows users to fall in love with everything that makes you, YOU.
That includes all your quirks, life experiences, and idiosyncrasies.
Here's what community content looks like in practice:
Your Story
We all have a story.
Even if you think yours isn't that interesting, it's still an important part of who you are and why you're doing what you're doing.
Share your story to connect with your audience and build a strong online community. You'll form meaningful connections with people who are going through similar struggles or have the same aspirations.
It's what makes you likeable.
What is the best way to tell your story? With Instagram Stories, duh!
Take a page from Ruby Lee's book and save it as a highlight. It's an excellent way for new followers to connect with you, and you can use it as a bookmark to direct anyone who asks about your journey.
Another option is to schedule a "Hi, my name is" Instagram feed post every 3-months or so. It allows you to re-introduce yourself to your followers and share parts of your story.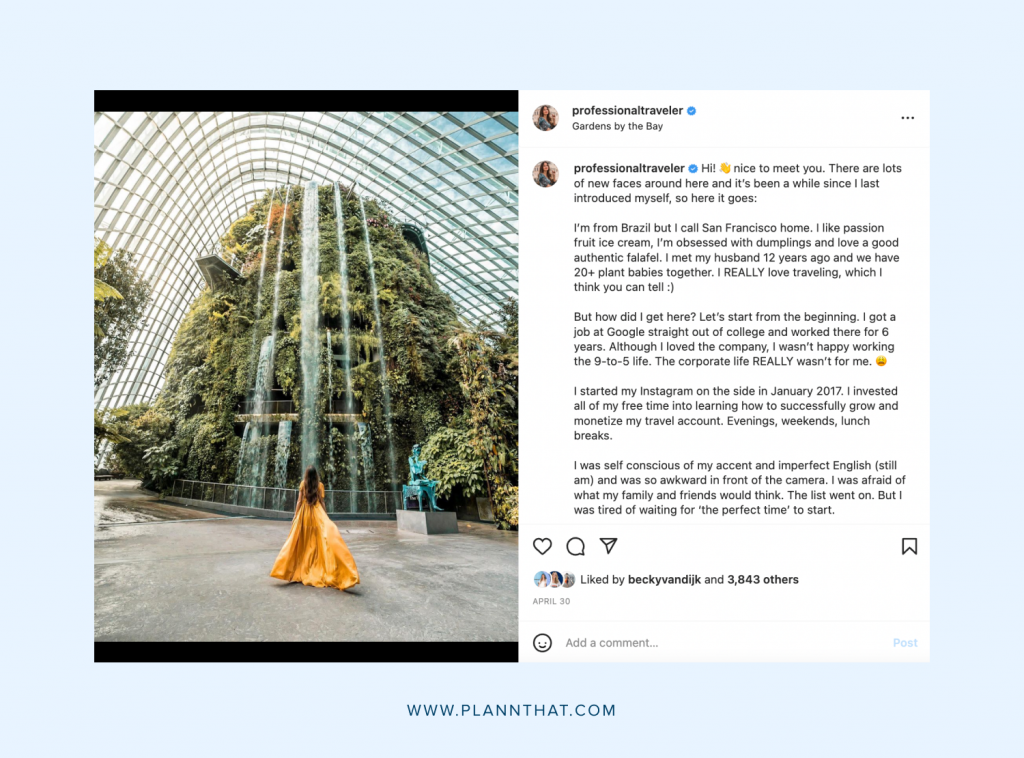 Relatable Skits
While Instagram Stories are for developing a deeper relationship with your audience with behind-the-scenes content, Instagram Reels are how you attract and grow your audience.
The best way to get more eyeballs on your page?
Relatability.
These are content pieces where your audience can see themselves in you. Maybe you both share the same Taylor Swift obsession, or you have identical grocery store pet peeves.
It's those weird isms that make someone feel, "wow! I'm not the only one who feels, likes, or thinks this!'
One influencer that does an excellent job with this type of content is Gabi from @packslight. She's constantly sharing relatable stories about travelling alone, dating, and the everyday highs and lows of visiting a new destination.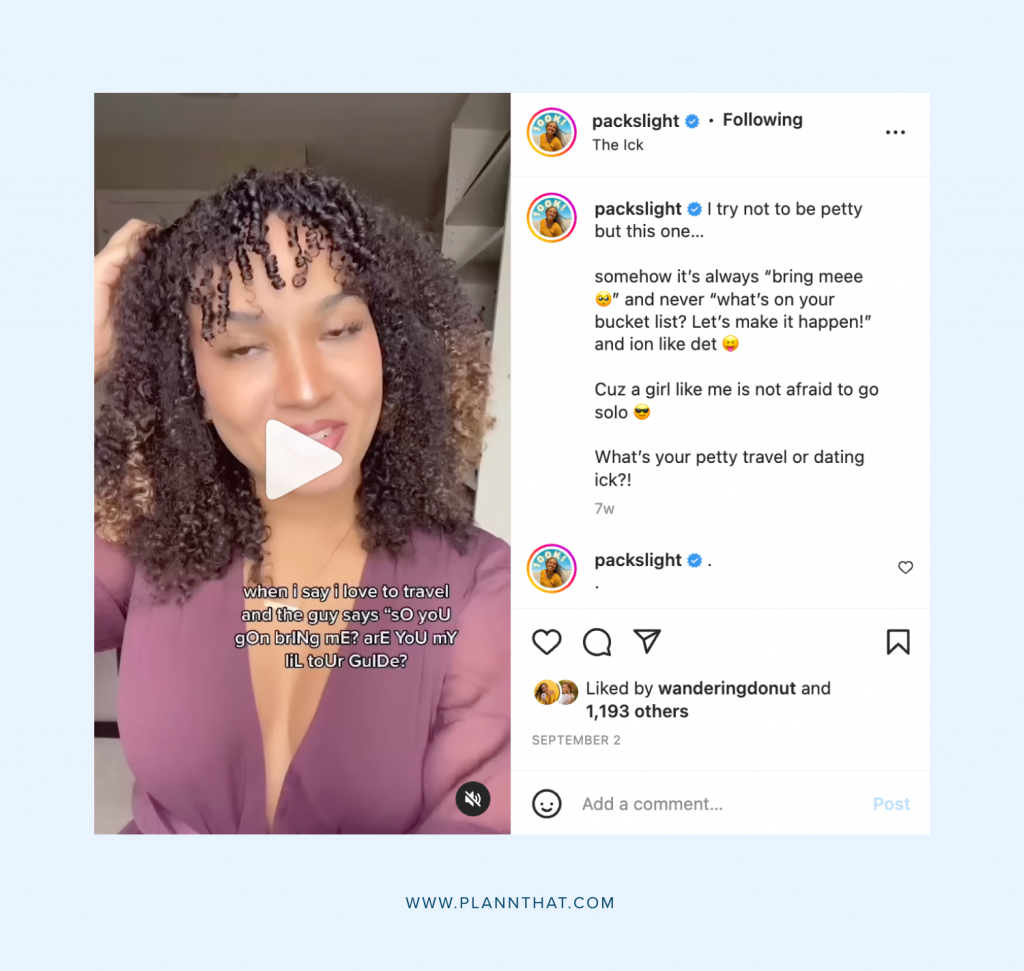 Games
Games are a way to connect with your audience and have fun together.
Just got back from a new destination? Quiz your audience and see who was paying attention to all the tips you shared,
Or take it a step further and hide clues in your content for your audience to find.
@howfarfromhome hides emojis in their feed posts and encourage their followers to guess their current destination with short clips. These strategies encourage users to spend more time looking at your content (which the algorithm loves), and it adds another dimension to your posts, increasing engagement.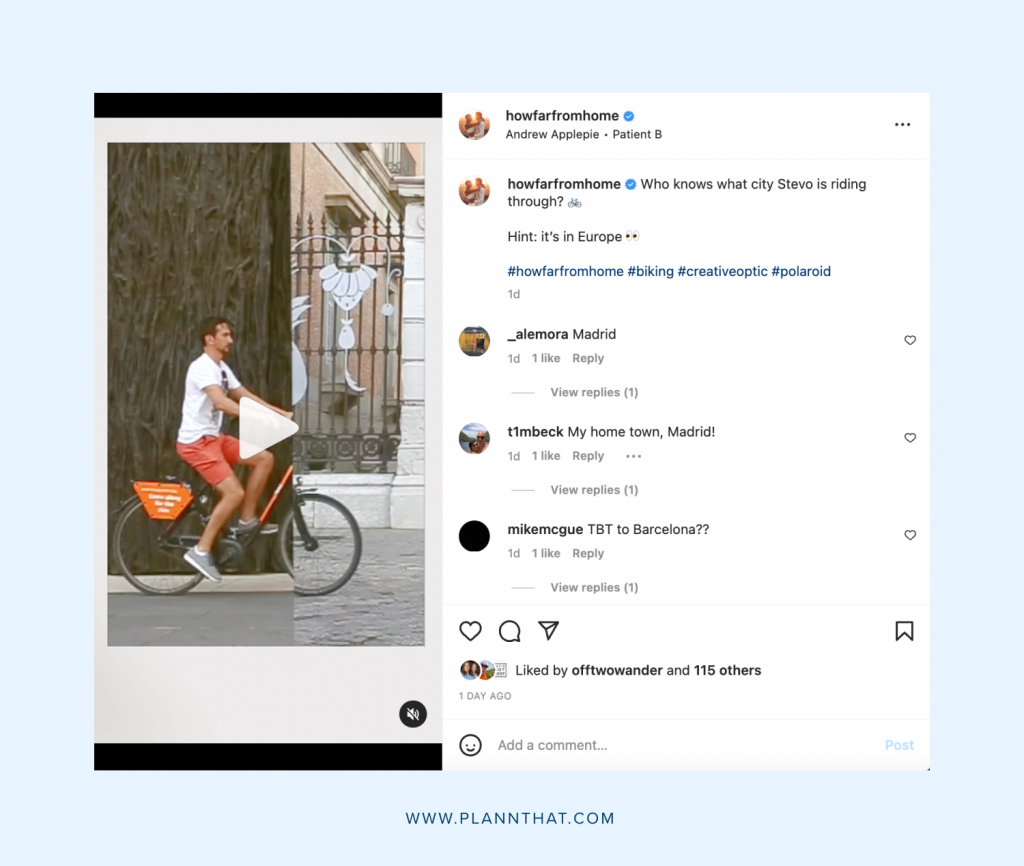 2. Actionable Content
Actionable content is driving your audience to, you guessed it, take action. Your promotional content encourages users to get off Instagram and visit your blog, store, or sales page.
Promoting Products or Services
Feeling shy about promoting your business? Re-frame the thought.
If you don't tell your audience about it and why it's awesome, how will you make the change you want to see in the world?
Promotional posts in your content plan are a gentle nudge to let your followers know, 'Hey, I'm selling this thing that I think you'd like. Here's how you can find out more about it.".
You're not being sleazy. You're being proud of your work.
Sponsored Content
Got a few brand deals on your Instagram content calendar? Those belong under your actionable content types.
Why?
You're promoting something, and you want your audience to take action, whether it's to follow the brand, use your discount code, or enter a competition.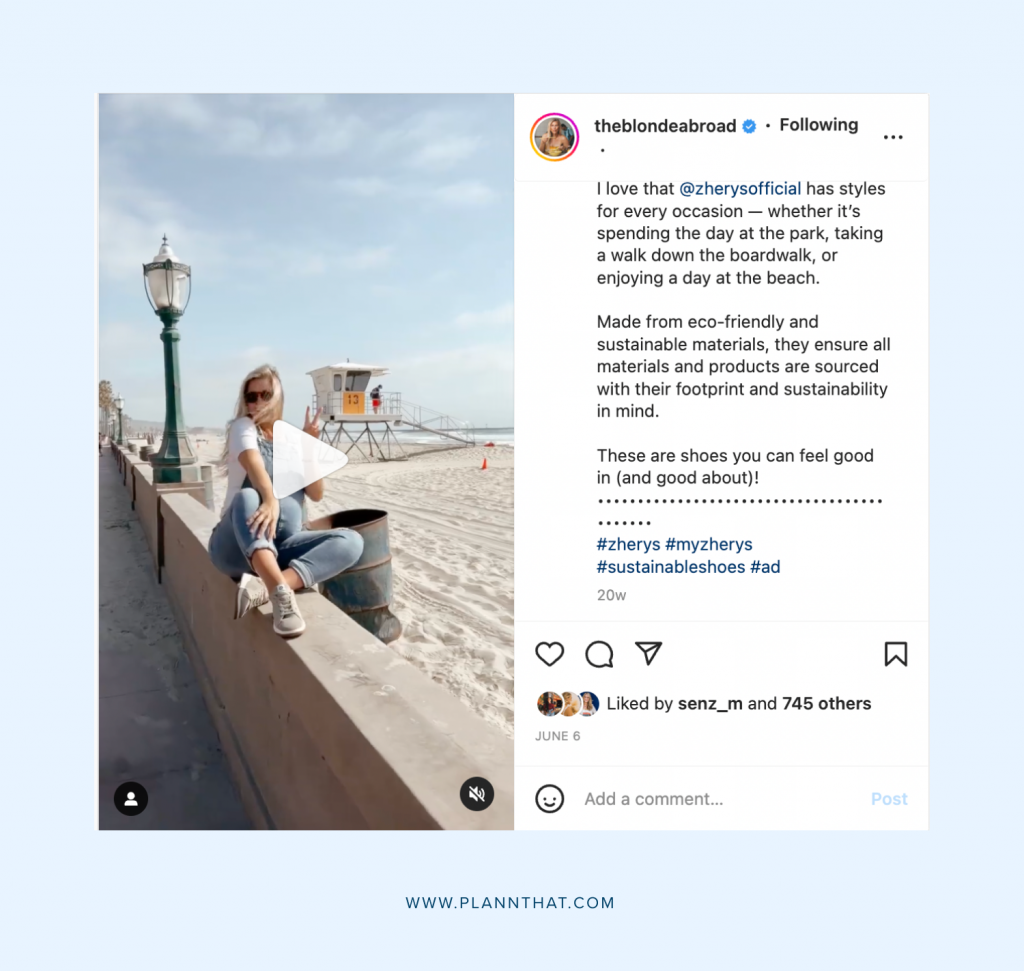 Success Stories and Testimonials
The most magnetic way to sell online? Social proof.
Social proof is user-generated content or testimonials from people who have used your product or services.
It establishes you as a trustworthy, credible brand and makes users feel comfortable spending money with you.
After all, it's not a paid ad.
It's a real person sharing their experience and results.
By incorporating success stories, reviews, and testimonials into Instagram posts, you're creating FOMO and making it easier for someone to believe that your product or service is the best solution to solve their problem.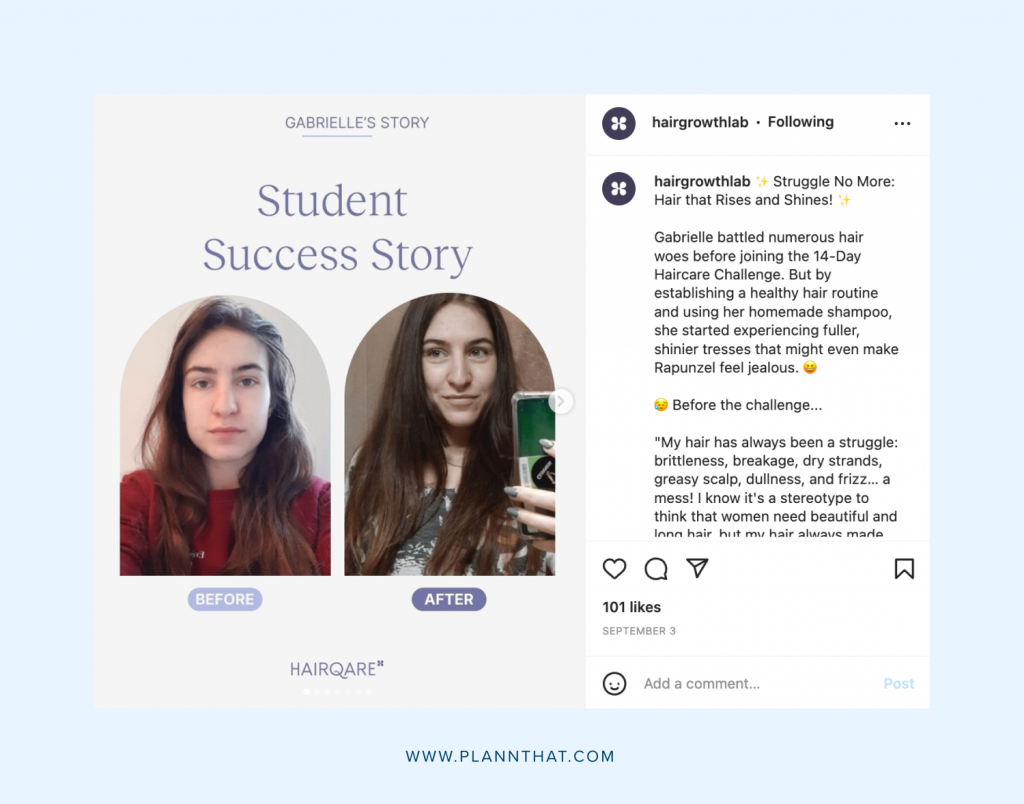 3. Growth Content
Growth is sharable content.
These types of Instagram posts go viral because people feel it's entertaining, valuable, or shocking and wants to share the feeling with their friends and family.
Instagram Reels are an excellent example of growth content. Hop onto a trend early enough, add a niche twist, and you'll see a steady stream of new followers, likes, comments, and shares.
The other types of Instagram posts that work well for the growth phase are:
Memes, Hacks, and Secrets
Travel influencers use this strategy by posting Instagram posts or Reels like:
• 5 secret waterfalls in South Africa you've never heard of
• The best travel hack for saving money in Europe
• 3 travel apps that will change how you travel
These titles create a sense of FOMO, urgency, and mystery. Humans are naturally curious, and we want to know the answers, which makes growth content hard to resist and sharable.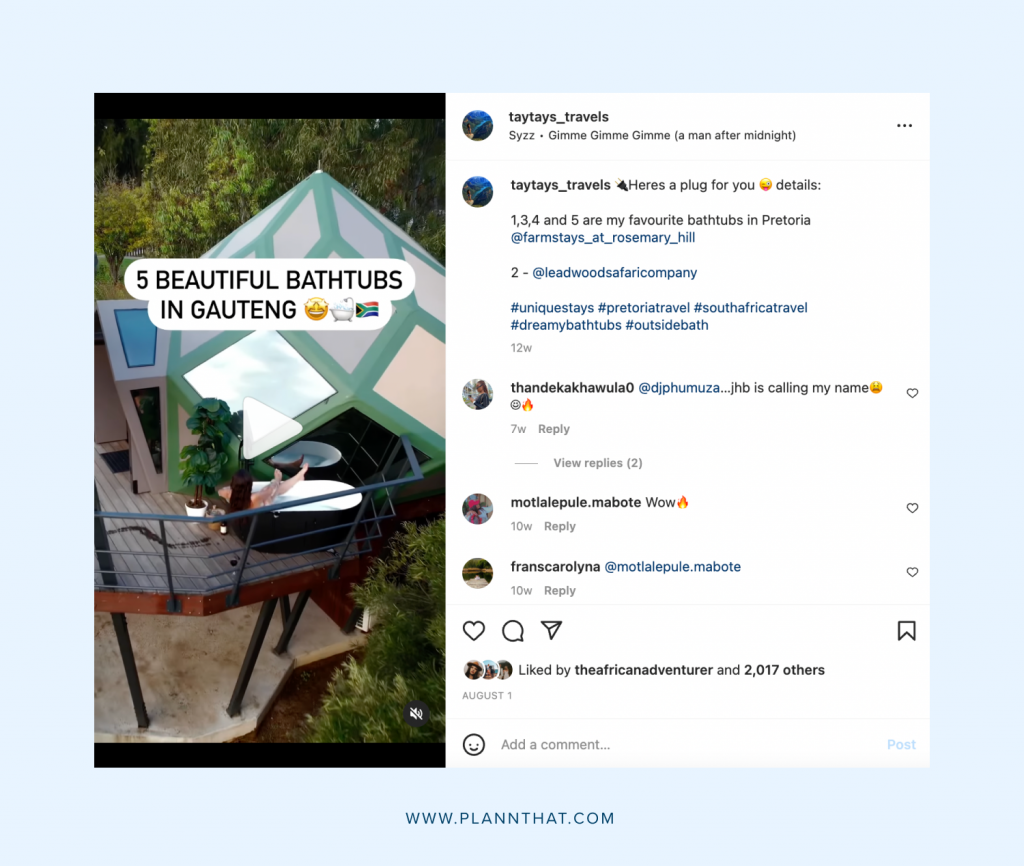 Memes are an engaging content type that any online business can use. It helps you blend pop culture with your brand's personality to connect to your audience and create a memorable experience.
Not sure how to use memes in your content plan?
@herhq does a marvellous job of creating relatable, funny content on Instagram for freelancers and service providers.
4. Expertise Content
The last type of post you need is content that establishes you as an industry expert. People feel safer investing their money into an online course or new products if the person selling feels credible.
By creating content that positions you as an expert in your niche, you're increasing trust signals and setting yourself up to become the go-to thought leader.
What types of content turn you into an expert? It's anything that teaches your audience how to do something. It's the posts where you share your industry knowledge and explain how someone can achieve a result.
For example, Copy Posse posts how-tos, tutorials, common mistakes, and industry myths for copywriters.
Scroll through her feed, and you'll quickly learn:
• How to create the perfect copywriting portfolio
• How to use Answer The Public to write better copy
• 5 surprising lessons from starting a copywriting business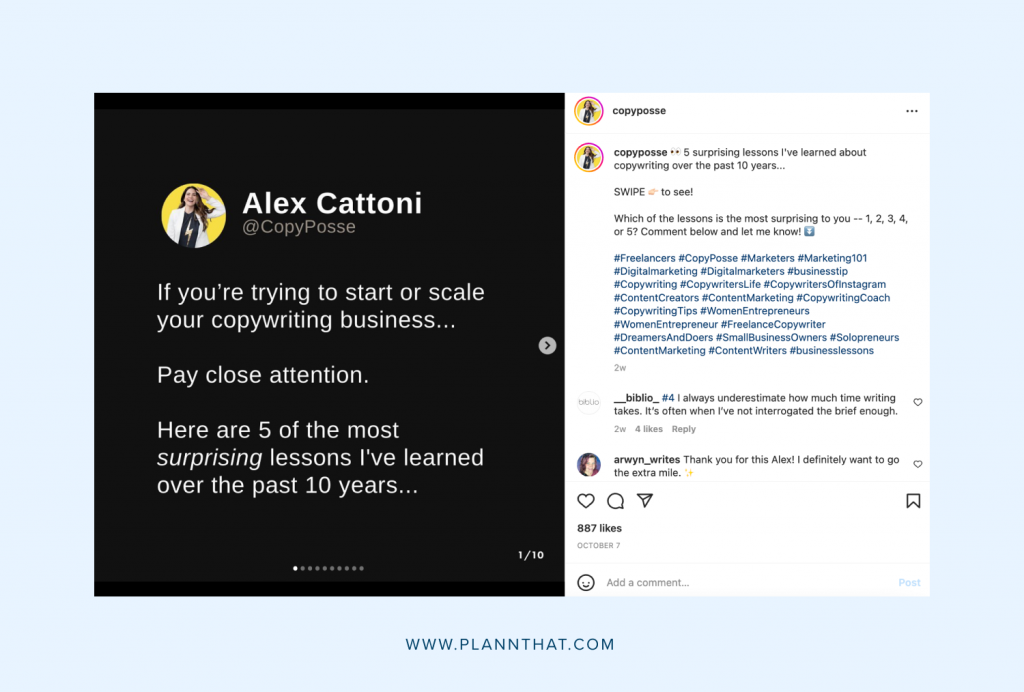 @Shreddy, a fitness app, posts how-to content for the gym. For people starting their fitness journey, these tutorials are invaluable. It increases motivation to go to the gym and use the app to achieve their fitness goals.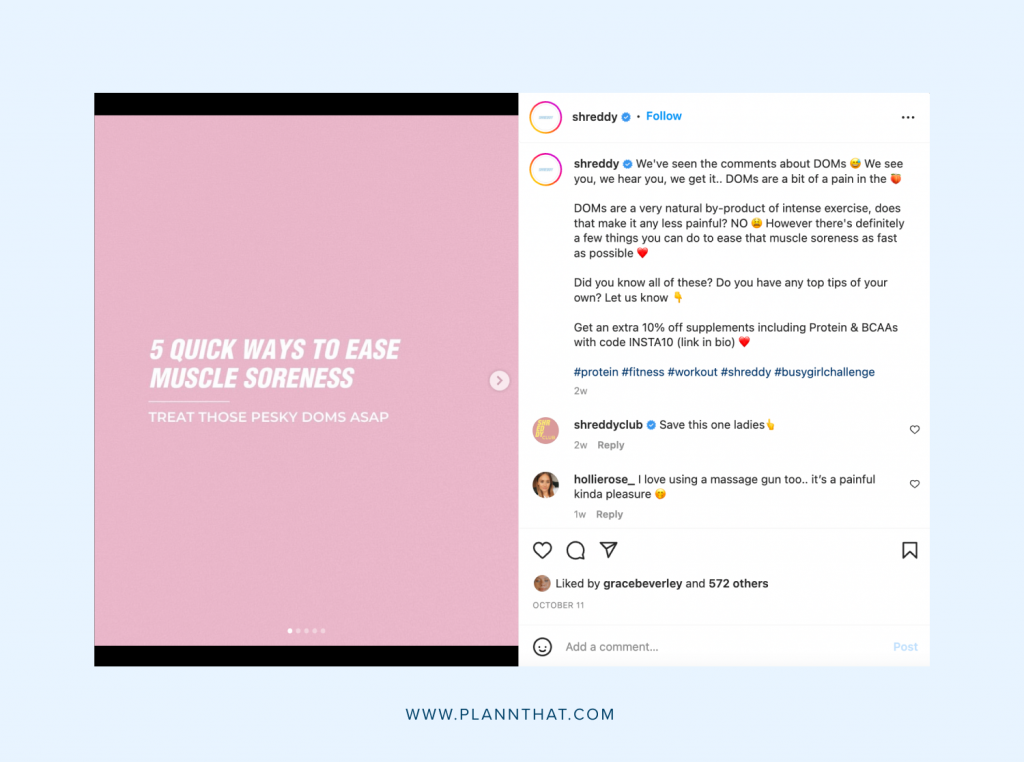 Plann Your Next Instagram Post
Now that you know the types of content you need to post on Instagram to:
• grow your audience
• increase engagement
• become an industry thought leader
• make more sales
The next step is creating it all!
Sign up for a 7-day free trial of Plann Pro today, and use our social media calendar tool to schedule your posts to your Instagram feed, Reels, or Stories.⁠
"}" data-sheets-userformat="{"2″:513,"3":{"1″:0},"12":0}">