So you're in a bit of an Instagram rut. Your content isn't sparking joy in the way it used to. It's not about accumulating more followers or getting more likes: you're just kind of bored. The honeymoon stage is over.
Hey, don't quit. This is normal. You and Instagram can still have a long-term, loving, fulfilling relationship. You've just gotta put some effort in. It's time to spice things up.
From simple photo editing hacks to easy Reels inspo, this is the place to go if you're looking for new things to try on Instagram. Read on for the freshest trends, new features and examples from the pros.
Download the full Social Trends report to get an in-depth analysis of the data you need to prioritize and plan your social strategy in 2022.
12 things to try on Instagram in 2023
1. Turn photos or Stories into Reels
While Instagram used to be a photo sharing app only, video is the new queen. Videos on Instagram have an average engagement rate of 1.5% (it doesn't sound like a lot, but it is!) and generally perform better than photos—which isn't great news if photos are kind of your thing.
But with a little creativity, you can transform your photos into a Reel—like the example above. You don't have to be an expert videographer to make Reels: a little music and a carefully clipped slideshow goes a long way.
You can also make Reels out of existing Stories (Instagram will even suggest it to you, see the screenshot above) or story highlights.
Sometimes, all you want is a traditional, perfect-looking insta-worthy photo. But we're not all Photoshop experts, and while there's a ton of free and easy apps you can use to edit photos from Instagram, there's also photo editing software built into your smartphone.
Lately, photo-savvy folks have been sharing exactly how they make their Instagram photos look so good, and some of them have gone viral (not necessarily on Instagram—instead, they're spilling secrets on TikTok).
Spoilers: this won't work every time, but it's still a cool thing to test out.
3. Customize your Story links
The easiest way to point your Instagram followers to a specific page on a different platform (for example, your personal blog e-commerce website) is to add a link to your Instagram story.
And, if the link sticker doesn't suit your brand's vibe, you can even customize it completely in six easy steps.
That customization option aside, you can also edit the link within the IG app to change the sticker text. When you copy and paste a link into the URL field, the sticker text will automatically be the name of the website (for example, WIKIPEDIA.ORG). But if you type into the "sticker text" field, you can change that (to, for example, LEARN MORE ABOUT SHREK).
4. Post a detailed photo dump
Photo dumps, invented and perfected by Gen Z (but, in a way, truly discovered by your aunt on Facebook who doesn't know the meaning of the word "curation") are one of Instagram's newest—and dare we say, most charming—trends.
The beauty of a photo dump is that it doesn't have to be beautiful. Case in point: Emma Chamberlain's photo dump from a trip to Bath, England, includes both a snapshot of her crying and a literal dumpster.
But photo dumps can also be a way to show your followers what you've been up to, and maybe even show off your content a little. This photo dump from a photographer really showcases her work, and the caption details both career-related things ("Shot and scanned a lot of film this month!") and bits and pieces from her personal life ("Got the whole family up early and spent the morning at the museum").
So, if you've already tried the strictly silly-only photo dump, try posting one that acts more like a highlight reel or life update—they can be just as engaging, and there's no pressure to be funny.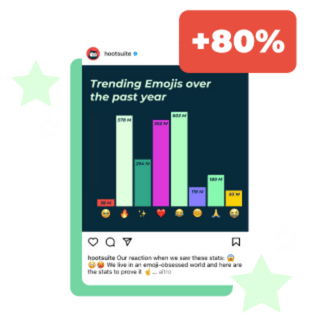 Growth = hacked.
Schedule posts, talk to customers, and track your performance in one place. Grow your business faster with Hootsuite.
5. Make a Reel that jumps on a trend
If you're struggling for inspo for an Instagram Reel, we humbly suggest just scrolling through everyone else's (this doesn't feel like work, but believe us, it is). You'll notice that many creators and brands are using the same audio in similar ways, each putting their own spin on the trend.
Once you've found a trend you like—and one that can showcase your regular content in a new way—hit the audio name at the bottom of the screen, which will take you to all of the Reels that use that sound. Watch a bunch of them to make sure you really understand the trend (it's important to be in on the joke) and then try it for yourself.
This ceramicist hopped on a trend, and used the opportunity to make a really cool transition video where she starts with a block of clay and finishes with completed, handmade mugs. She didn't just copy what other users were doing, she altered the trend to suit her own style of content.
Pssst: the caption on this Reel points to another source of inspo: TikTok. Trends often hit TikTok a few weeks (or even months) before IG Reels, so you can also peek at that platform for more ideas.
6. Use the updated poll sticker on Instagram Stories
Instagram first introduced the poll sticker to Stories in 2019. The sticker is an awesome way to encourage engagement on your Stories (who doesn't love to give their opinion) but the poll only allowed for two answer options, which was quite restrictive.
But in January 2022 the platform introduced more poll options—so now, you can offer up to four answers to your poll. You can ask your followers about their favourite products, their opinions on your new launches, their favourite season, etc.
7. Make behind-the-scenes content
As beautiful as polished photos and videos are, sometimes seeing what's behind the scenes is even more compelling.
Showing your process—whether it's how you make your soy candles, how to set up lighting for a tricky scene in an indie film, or how you get that perfect snapshot of your Insta-famous poodle—helps your followers see more of who you are. It's also an opportunity to easily double the amount of content you're making.
The owner of this skincare company did a product photoshoot, but also made a reel showing off what all those photos looked like in her camera roll. This is an effective way to show another side of your brand to your audience (and it doesn't require too much time or resources, either).
8. Host a contest or giveaway
Hosting an Instagram contest or giveaway is a great way to thank your followers for their support—and to gain some new followers in the process.
Just be warned: there are specific rules and guidelines that your contest must abide by, otherwise you risk it getting taken down (or worse, your whole page getting flagged).
You can host a giveaway for any reason—maybe a holiday-focused event, like the example above, or to celebrate a meaningful brand anniversary. Or for no reason at all: no excuse necessary, everyone loves free stuff.
9. Pin important posts to the top of your profile
In spring 2022, Instagram introduced a new feature: you can now pin up to three posts to the top of your profile grid. Instead of the grid being ordered from newest to oldest post, pinning ensures that your followers see your most important posts, first.
To pin a post to the top of your profile, simply pick the post you want to pin, tap the three dots, and select "Pin to your profile." A little pin icon will appear in the top right corner of the photo on your grid.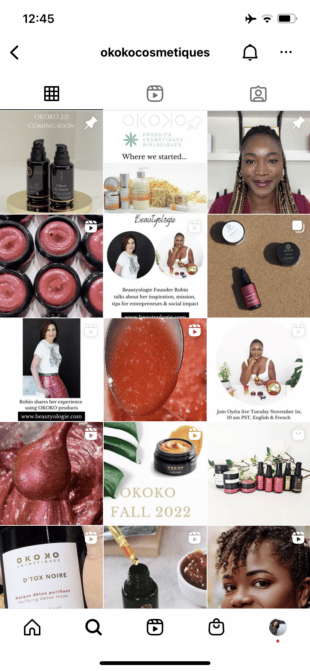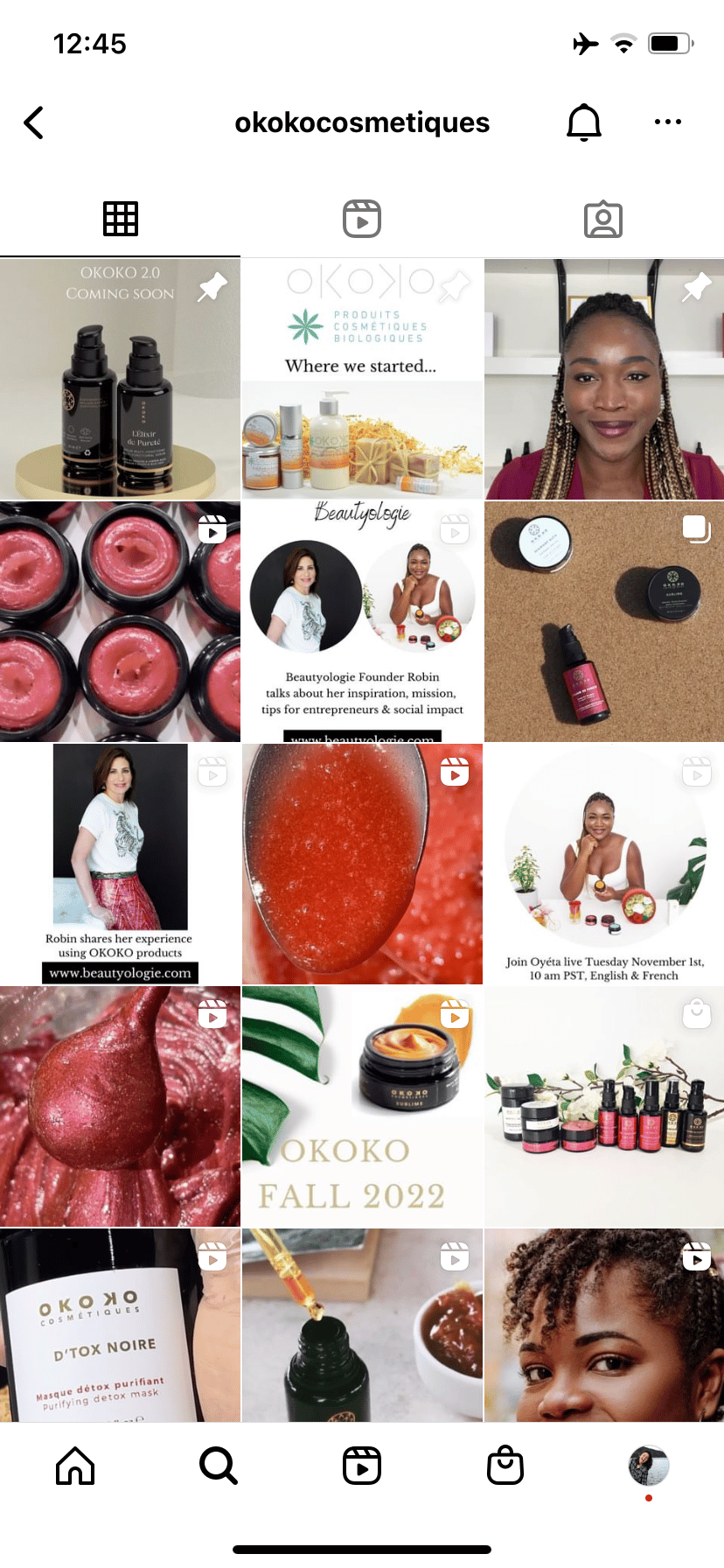 Source: Instagram
You can pin posts that contain important logistical info (for example, when and where you're having a sale), posts introduce your followers to yourself or your brand or even or pin a Reel that has gone viral to capitalize on that clout.
10. Make a simple transition Reel
Transition videos are generally a low investment, high reward type of content (you can go super hard if you want, but you don't have to). They make a great type of Reel because they're really satisfying to watch, regardless of what the content is.
For example, the Reel below is fun, simple and pretty—and it's hard to watch just once, regardless of whether or not floristry is interesting to you.
Once your Reel is ready, you can go ahead and schedule it for the best possible time (a.k.a. the time when most of your audience is online) using Hootsuite.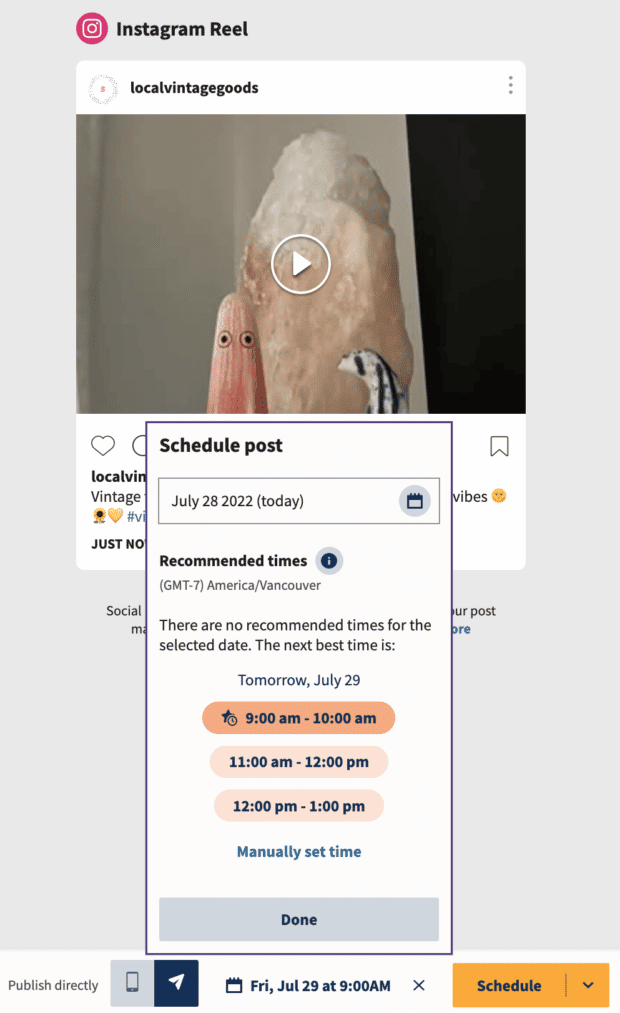 For more details, check out our guide to scheduling Reels.
11. Convince your family to get involved
There's been a super positive move towards authenticity on social media in the last few years—audiences aren't looking for heavily-filtered perfection, they're more about authenticity (especially Gen Z audiences).
One creative way to make your brand's social media presence more genuine is to show a more personal side of it: for example, what your family thinks.
Of course, this strategy isn't for everyone (and not everyone's dad is thrilled to be on-camera) but if your loved ones are game, it's a fun—and funny—way to share more of who you are.
12. Learn about Instagram SEO
Ok, we'll admit this isn't the sexiest strategy on this list… but unlike a temporary trend or feature that's subject to change, SEO (Search Engine Optimization) is enduring. It's useful not only on Instagram, but basically any internet-based platform.
To put it simply, optimizing your Instagram for search means making it easy for people to find you. Proper Instagram SEO involves using the right keywords, hashtags, and alt text to ensure that anyone searching for content in a specific niche comes across your account—Instagram's software needs to be able to identify you well enough to suggest you.
For example, if you're a plant-based chef who specializes in desserts, you'd want any sweet-toothed vegans to be able to easily find you. Putting "Vegan chef" in your IG handle or bio, hashtagging #plantbasedrecipes or #vegandonuts on your Reels, and using alt text to describe your content is a good place to start (learn more about this via our blog post on social media SEO, where we've included tips for every major network).
Save time managing your Instagram presence with Hootsuite: Schedule posts, Reels, and Stories ahead of time, and monitor your efforts using our comprehensive suite of social media analytics tools. Try it free today.
Easily create, analyze, and schedule Instagram posts, Stories, and Reels with Hootsuite. Save time and get results.