Instagram HQ has been a little quieter than usual but now we know why. There are two pretty big changes and updates coming your way. 
After a stack of new features focusing on Reels content, Instagram is shifting its focus away from video content (for the moment) with two exciting new changes. 
Instagram announced they are introducing an in-app scheduling feature that allows users to schedule content up to 75 days in advance. Plus, users who enjoy Instagram from their desktop are set to see a brand web feed experience. 
While the scheduling feature is an exciting announcement, there are still plenty of reasons why brands and businesses need to be using a dedicated scheduling suite.  
Ready to learn more about these features? Let's dive in! 
Two exciting new updates from Instagram HQ
Adam Mosseri the Head of Instagram jumped into our feed this morning announcing two brand new and exciting features rolling out to both the Instagram app and desktop version.
Let's run through what these new features look like and how to use them. 
Update 1. Instagram In-app scheduling for professional accounts 
First up, Instagram has officially announced that in-app scheduling is making its way to the Instagram app. 
In-app scheduling via Instagram is a long time coming. There have been lots of people waiting patiently for this feature for quite some time. Content creators, influencers and businesses have been relying on third-party tools (like Plann) to schedule their Instagram content. 
Instagram has been testing this feature with select users for the last few weeks, but, from today, all professional accounts on Instagram will be able to schedule posts, Reels and carousels directly from the Instagram app for up to 75 days in advance. 
Let's unpack how this new feature works. 
• Once you've made your post click 'Advanced Settings' 
• You should see a new 'Schedule this post' toggle
• Select the time and date you want to schedule your post for
• Next you need to head back to the Instagram post flow and click 'Schedule'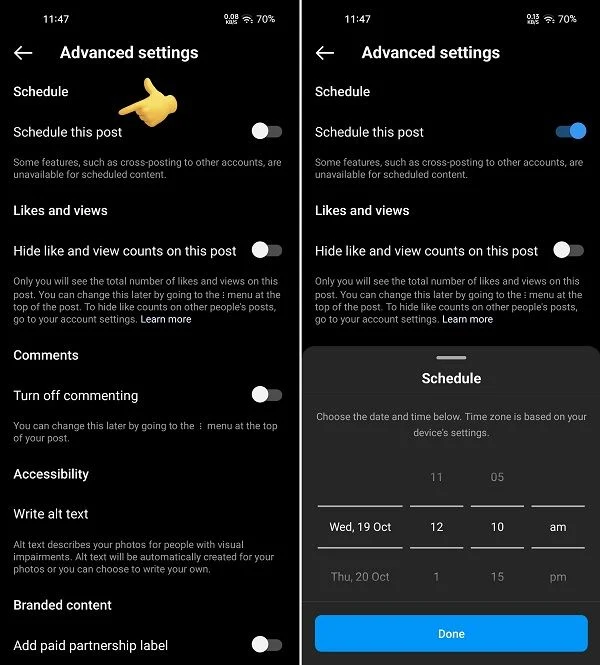 If you want to go back and see all your scheduled posts in the 'Scheduled Content' section, you can head to your profile and select the three lines on the top right-hand corner (where you access settings). Here, you'll also be able to reschedule your content if you need to. 
So far, there's been no information about whether the general public will be able to access this feature or what the full rollout will look like. So far, only professional Instagram accounts will have access to this feature and if you don't have it yet, you will very soon. 
Update 2. Upgrades to the Instagram desktop experience
Instagram desktop fans can rejoice because Instagram HQ has announced that they have re-designed the Instagram website. 
People who use the desktop version of Instagram will likely know that Instagram has paid very little attention to it – after all, the ability to DM people via desktop was only released last year. 
But, it's looking like that's all going the change soon. Now, we don't actually have too much information about what the new Instagram desktop will look like, but, Jonah Manzano took to Twitter a few weeks ago to show what the new Instagram desktop looks like.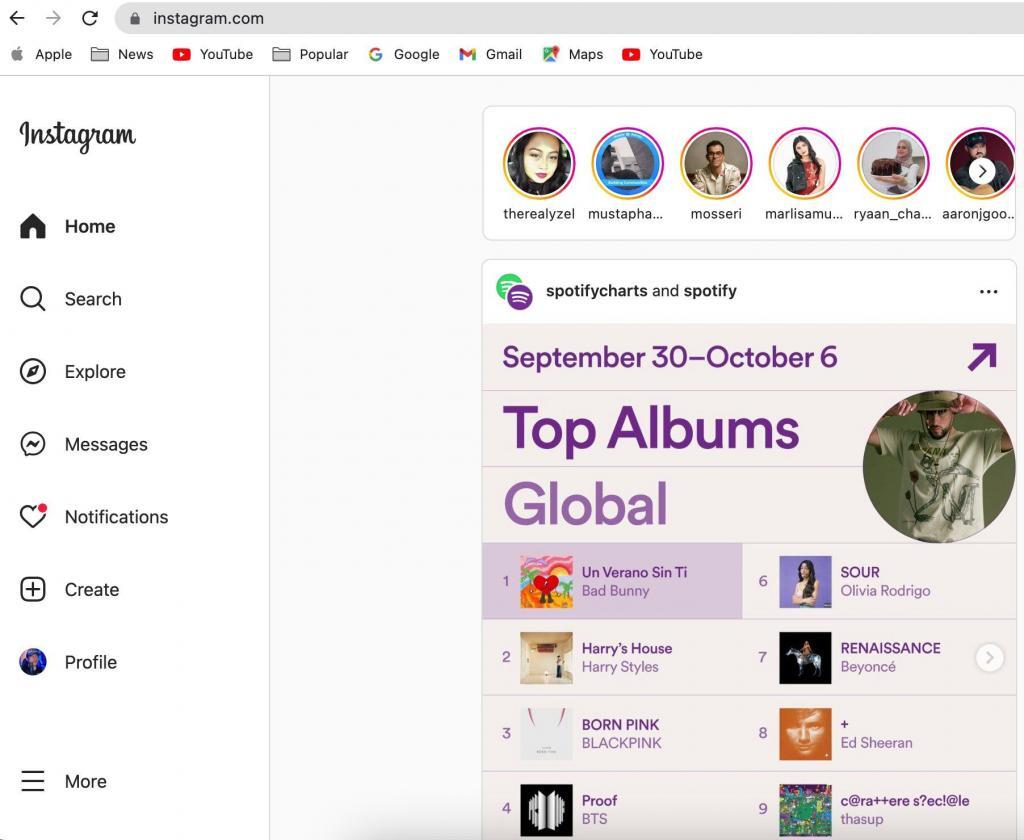 Based on the image, the desktop version will be divided into two parts, the left side hosting options such as search, explore, messages and notifications. The right side displays the main feed which displays Stories at the top. 
Adam Mosseri says this move is to make the web experience cleaner, faster and easier to use and is designed to take advantage of large-screen monitors which have become more widely used. 
Why a dedicated scheduling tool is essential to success in 2022
Although these brand-new Instagram features are exciting (probably should have been released years ago!) there's still a lot we don't know about Instagram's new in-app scheduling feature. 
Since Instagram is in the early stages of rolling out the in-app scheduling feature, we expect it to launch with more basic functionality instead of a full suite of features you get with a dedicated scheduling tool (like Plann). 
When using a dedicated scheduling suite like Plann, you've got access to more features beyond just scheduling which Plann users have been enjoying for years. 
Some of the features you can access with Plann that level up your Instagram game are:
• Visual planner: letting you visually see and plan your Instagram feed in advance. 
• Done-for-you content: access thousands of captions starters for when you've run out of killer caption ideas.
• Unified brand calendar: this allows you to sort your content out by platform and post types so you can organise and schedule all your content. 
• Strategic planning tools: helps you build and make content that is strategically aligned with your brand and business goals. 
• Hashtag manager: to help you speed up your workflow, we've got curated hashtags that are the best performing in each industry and niche – ready for you to save and add to your posts in seconds. 
• Analytics: as well as an all-in-one scheduling tool, our analytics suite helps you understand what's working for you and what isn't so you can tailor your Instagram strategy to get better results. 
Plus, if your brand or business is across various social media platforms like Instagram, TikTok, LinkedIn, Pinterest and Facebook it's likely you'll want to repurpose, schedule and visually plan out your content all through one suite. 
It can get really frustrating, jumping from app to app to schedule content and sometimes you'll want to repurpose content from Instagram to Pinterest or Reels videos to TikTok. Plann easily helps you create content and share it across multiple platforms. 
Ready to supercharge your success on social media?
Looking for an all-in-one content creation suite that allows you to manage your social media channels effortlessly? From mapping out your strategy and designing your graphics to saving plug-and-play hashtag sets, you'll find everything you need inside Plann. 
Go on, and redeem your 7-day free trial of Plann Plus. If you don't like it, keep using Plann for free!