At this point, just about any smartphone app is likely to include bite-sized "stories." (Sometimes, we're surprised we don't see updates about our friends' night on the town when we open the calculator app.) So it should come as no surprise that we're now living in the era of TikTok Stories.
Following suit from the likes of Instagram, Snapchat, Facebook and the rest, TikTok is the latest app to hop on the trend. And business is both good and good for your business. Before I confuse myself further, let's dig in.
Bonus: Get a free TikTok Growth Checklist from famous TikTok creator Tiffy Chen that shows you how to gain 1.6 million followers with only 3 studio lights and iMovie.
What are TikTok Stories and how do they work?
TikTok Stories are short video clips that expire after 24 hours. They're similar to Instagram Stories, although slightly shorter, with a cap of 15 seconds max (Instagram's long-running 16-second limit was recently updated to 60 seconds).
Each 15-second Story you publish will appear in sequence, so you can string together a series of short clips if you need more time to get your message across.
Despite their resemblance to Stories on other platforms, some features set TikTok Stories apart from the pack.
When you post a Story on TikTok, it appears on your main feed tagged with a blue Story icon that takes viewers to that specific Story. That means your relevant content all lives in one place, even if you had to post multiple segments because you went over the 15-second time limit.
Better yet (well, unless you've got a troll problem), TikTok Stories include the comment section embedded in the post. While Instagram Stories only allow viewers to reply to a story privately, TikTok offers another place to keep conversations going publicly.
TikTok Stories have been rolling out for just over a year, but the feature still hasn't been officially introduced to all users. So if you don't have them yet, don't worry — they're coming.
How to make a Story on TikTok
If you are lucky enough to have TikTok Stories, posting them is incredibly simple. Just follow these steps:
Step 1: Start making a regular TikTok.
Tap the plus icon in the bottom menu bar, then start creating your content. You can record video, take a photo, or upload existing content from your camera roll.
Step 2: Customize your content.
Use TikTok's robust library of tools, including sounds, effects, stickers, filters and everything else.

Step 3: Push your post.
Once you're happy with your content and ready to post, you'll be faced with two options: Next, which will create a regular TikTok post, or Post to Story, which will, well, post to your story.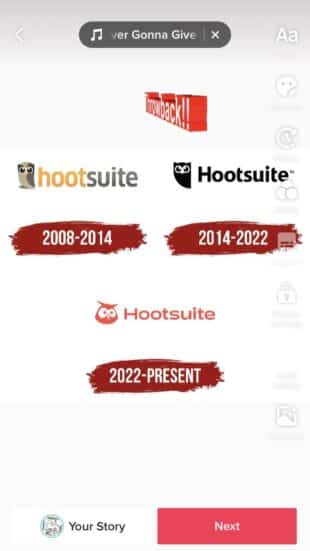 If that's not straightforward enough, there's an even easier way. Go to your TikTok profile and click the blue plus sign beside your profile picture.
Boom — you're instantly in the Create Story section.
Once the story is live, it will appear on the For You and Following pages. When you've posted a story, a blue circle will also appear around your profile picture. Curious followers can tap the ring to view your story.
Now you know how to add a Story on TikTok, let's get into why.
Why you should use TikTok Stories
There are two major reasons why using TikTok Stories will get you more TikTok views:
Adopting any new feature on this incredibly popular app is likely to make an impact for you and your brand, and
Stories have proven to be a success on almost every other app.
But there are many more specific reasons that TikTok Stories will be good for your brand. Here are some of them:
Stay ahead of the curve
Though they've been around in some form for over a year, TikTok Stories are just getting started. They may not be the most popular feature on the platform (yet) — but that makes them a perfect sandbox for you and your brand. Social platforms want you to use their new features and will often reward users that do with more reach.
Plus, if you're the first in your space to master TikTok Stories, you've got a distinct advantage over the competition.
Test what works
Social media experts often use sponsored posts to A/B test content before they decide on a permanent post or campaign. Rather than spend money to pit two posts against each other, you can use Stories as your testing ground.
Try one campaign, then try the other on a different day at a similar time. TikTok's metrics will allow you to measure which story had more reach.
Find new ways to influence
TikTok Stories also present new opportunities for both influencers and brands. After all, there are plenty of ways to monetize this new feature.
A brand could hire an influencer to take over their Stories for the day, or an influencer could charge a brand a lower fee to promote their product on Stories if they didn't want to pay the big bucks for a main feed post.
You can keep it short
You don't need to be an industry analyst to know that audiences want shorter bursts of content in larger quantities, and Stories are the perfect place to do these. There's no need to obsess over timing, and you don't really need to drone on, either. Stories are the perfect place to give your audience a quick hit of content that keeps them wanting more.
Lower stakes/higher return
TikTok is for everyone, but the explosive popularity of the app has meant a gradual increase in slick production for branded posts. That's obviously a good thing, but it can also mean more time invested for brands.
Generally speaking, the expectation for stories on any social platform is that it's lower effort content — and content that will expire. With that in mind, you can post more content, more often on TikTok Stories and not worry that it will hurt your algorithm.
TikTok Stories FAQ
Here are the answers to some frequently asked questions about TikTok Stories.
How long can TikTok Stories be?
TikTok Stories max out at 15 seconds, but you can post multiple stories at a time. It's important to find a sweet spot that works for your audience. If you're just getting started, we suggest testing a maximum of four stories (or 60 seconds of content).
Can you see who viewed your TikTok Stories?
Good news for lurkers: Unlike Instagram, TikTok Stories do not offer a full list of viewers. That said, TikTok Stories include a public comment section as well as the ability to like, stitch or duet with stories, so there are plenty of ways to interact.
How long do TikTok Stories stay up?
TikTok Stories expire after 24 hours and will no longer be visible on your public-facing feed. Fortunately, you'll still have access to an archive, where you can view all of your old stories and dig into their stats.
Can you delete TikTok Stories?
Yes, it's easy to delete your TikTok Story. If you decide you can't wait 24 hours for it to disappear, just view your Story and tap the three dots at the bottom right of the screen. From here, just tap the Delete option to remove your Story.
Why doesn't my TikTok have Stories?
The rollout for TikTok Stories has been long and slow, so you might not have TikTok Stories just yet. But the feature is also pretty hidden, so there's just as good a chance that you do have it and haven't noticed. Make sure your TikTok app is up to date, then go to your profile and look for a blue plus sign by your profile picture. If it's there, you've got Stories.
Who sees my TikTok Stories?
Anyone who follows you will see your TikTok Stories appear on the For You Page as well as on your standard feed. Stories are differentiated with a blue story icon. Further, if you have an active TikTok Story that is currently live, your profile picture will have a blue clickable ring around it.
Need help managing your TikTok? Grow your TikTok presence alongside your other social channels using Hootsuite. From a single dashboard, you can schedule and publish posts for the best times, engage your audience, and measure performance. Try it free today.
Grow on TikTok faster with Hootsuite
Schedule posts, learn from analytics, and respond to comments all in one place.