As a marketer, understanding LinkedIn analytics is crucial to your success.
That's because being "data-driven" isn't just a buzzword — these days, it's a necessity.
LinkedIn's analytics can help you track progress, measure success, and connect with your target audience.
In this complete LinkedIn analytics guide, you'll:
Learn how to use LinkedIn analytics
Discover the best metrics to track
Explore LinkedIn analytics tools that can simplify reporting and deliver deeper insights
Let's learn how to get the most out of the data available on LinkedIn.
Bonus: Download a free guide that shows the 11 tactics Hootsuite's social media team used to grow their LinkedIn audience from 0 to 278,000 followers.
How to use LinkedIn analytics
There are two main ways to track metrics using LinkedIn analytics:
LinkedIn's built-in analytics tools, or
Third-party tools, like Hootsuite's LinkedIn analytics product
The route you take depends on your social media marketing strategy and what you want to track. Let's look at each option in more detail.
Native LinkedIn analytics tool
The native LinkedIn Analytics tool is available to all Page admins. It provides detailed insights into your page's performance.
To access the LinkedIn dashboard, go to your company page and click on the Analytics tab. A drop-down menu includes options to view analytics for Visitors, Updates, Followers, Competitors, Leads, and Employee Advocacy.
You can also find a quick snapshot of your last 30 days of activity on the left-hand side of your homepage.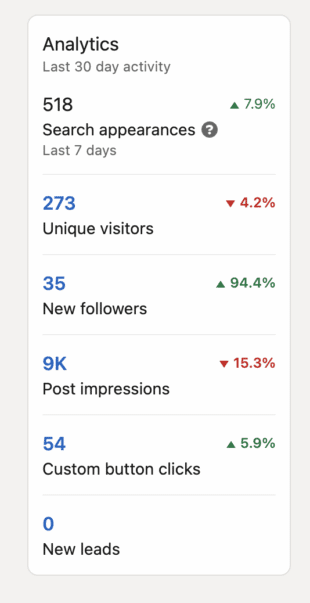 Here's a breakdown of metrics available in the native LinkedIn analytics tool.
Visitor analytics
Visitor analytics show you people who are coming to your page but aren't loyal followers of your brand on LinkedIn — yet!
You can use this data to spot traffic patterns and tailor your LinkedIn updates to new visitors. This can lead to visitors converting into new followers and increased social engagement.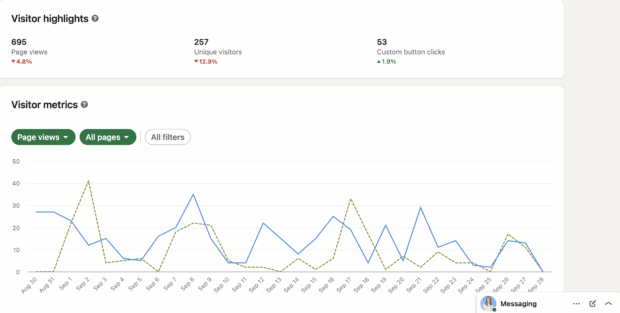 Scheduling tools like Hootsuite can also help you convert visitors to followers. When you find out which posts are performing best, use Hootsuite to promote them as sponsored content and draw in new audiences.
Update analytics
Update metrics show how effective your LinkedIn updates are. They can tell you if your followers are engaging with your updates. This data is great for helping social media managers spot trends and patterns.
For example, if your update analytics show low post engagement, start testing different variables. You can try changing the time you schedule posts or the type of content that's published.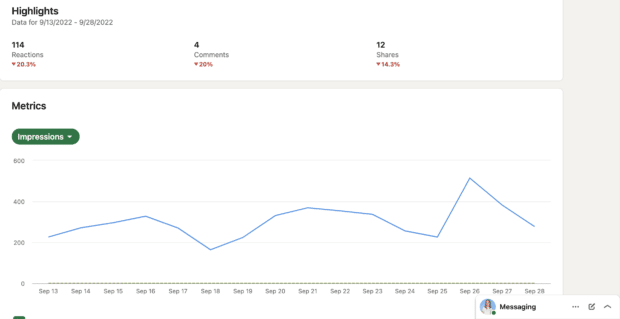 Follower analytics
These metrics highlight who is interacting with your page content and updates. When you understand your followers, you can create content that speaks directly to them. This can help improve engagement and traffic.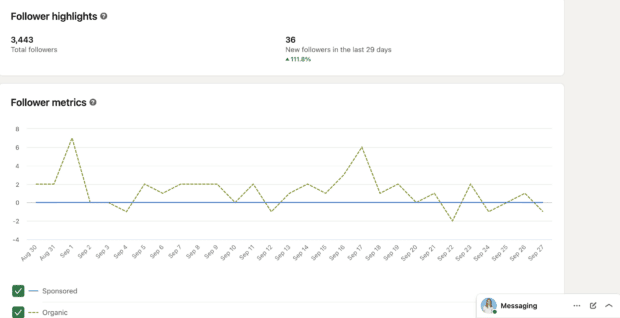 LinkedIn shows you this data based on your followers' location, job, seniority, the industry they work in, and company size.
(Find out more about important LinkedIn demographics here.)
Competitor analytics
LinkedIn competitor analytics is a newer feature that's still in development. Currently, you can compare your page followers and engagement with competitors.

This comparison helps you improve your social media strategy. Competitor analytics can tell you what you're doing right and where there's room to improve.
Lead analytics
If you have a lead generation form on your LinkedIn page, you'll also be able to track leads and conversions. Look at metrics like conversion rate and cost per lead to get an idea of how effective your campaigns are.
You can also download your leads and measure the impact of your campaign by viewing metrics like completion rate, cost per lead, and more. This data will help you understand what's working and what isn't so you can improve your results.
Employee advocacy analytics
These numbers help LinkedIn Page admins review how employees engage with recommended content.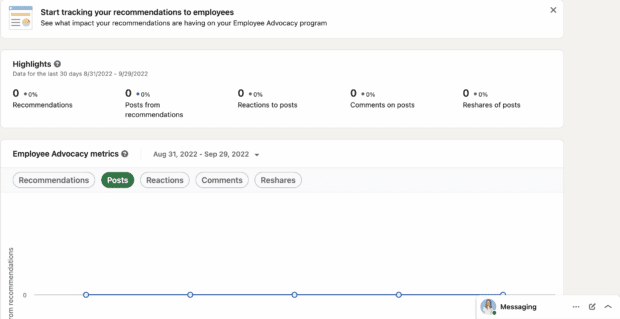 (Note: These numbers will be a little more useful if you have employees!)
You can view metrics like the number of recommendations made for employees and the number of comments on employee posts.
LinkedIn post analytics
Drill down on the metrics for a specific post by clicking View analytics in the bottom right corner of a post.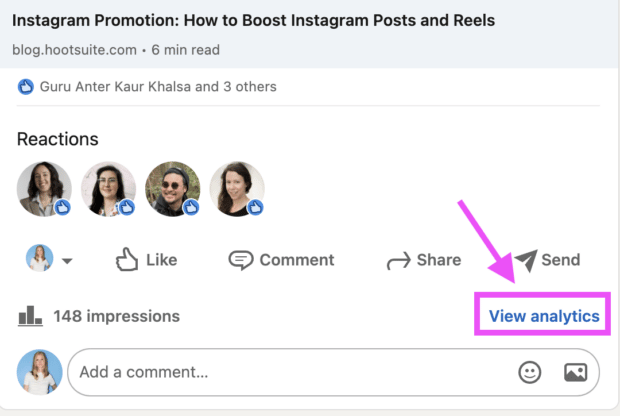 This view will show you the number of impressions and engagement your post received. It can also show you the demographics of people reached.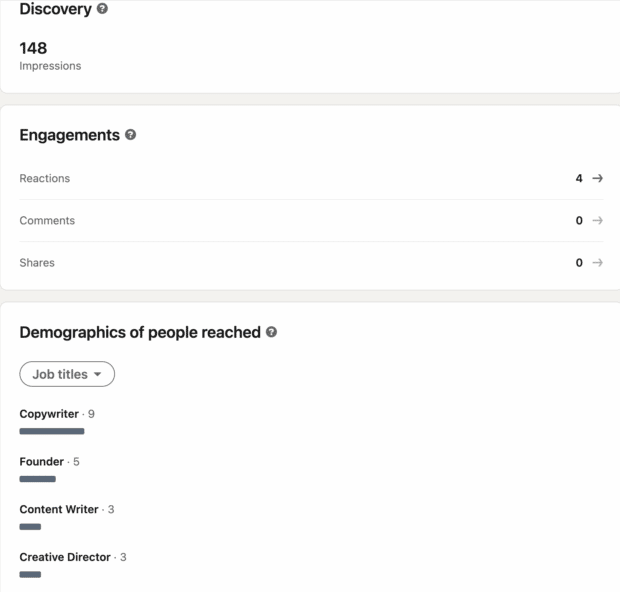 You can also find detailed insights into post-performance using Hootsuite Analytics:
LinkedIn profile analytics
Tracking profile analytics is a good idea if you offer professional services from your LinkedIn profile or act as a brand ambassador.
These stats can be found on your profile, directly under Your Dashboard.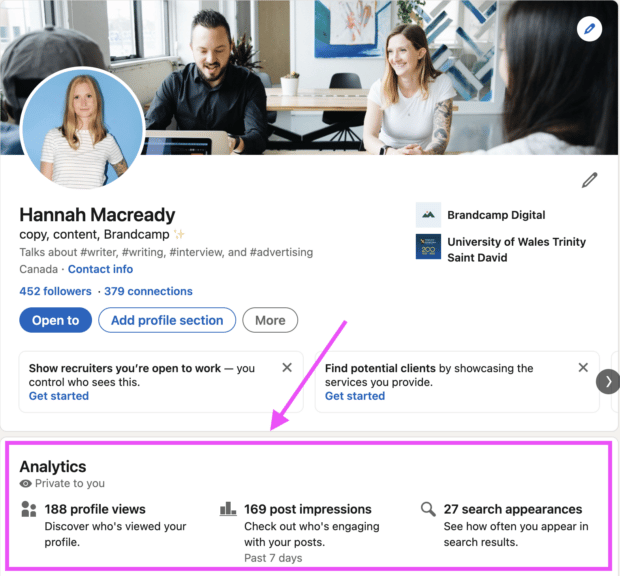 Hootsuite's LinkedIn analytics tool
Hootsuite's LinkedIn analytics product gives you all the information you need to track your brand's performance on LinkedIn—in one place.
When you connect your LinkedIn account to Hootsuite, you can:
View detailed analytics for your Company Page and profile
Compare your social media stats side by side
See how your content performs over time
Download and share customized reports
Get real-time alerts when someone mentions your brand
Add multiple LinkedIn accounts to Hootsuite, and switch between them with just a few clicks.
Hootsuite's LinkedIn analytics tool also offers more detailed metrics than LinkedIn's native tool. These stats include page engagement, page clicks, post time watched, post video views, post Ow.ly traffic, top posts, and more.
See a complete list of Hootsuite LinkedIn metrics here.
Hootsuite is also great if you're managing one or more LinkedIn Company pages. Your Hootsuite dashboard lets you track vital stats like page views, follower growth, and engagement levels.
Track content performance over time and compare your page stats against competitors. You can use this data to adjust your strategy on the fly to ensure you're always getting the most out of LinkedIn.
Plus, use Hootsuite Impact's Audience Discovery feature to measure the online behavior of LinkedIn users. This will show you how specific LinkedIn users engage with topics online. This is a great way to learn what your audience cares about so you can serve them more of the content they love.
The best LinkedIn metrics to track
There are countless LinkedIn metrics available to marketers. But does that mean you should be tracking, monitoring, and reporting on them all?
Nope! That's a lot of data.
Which LinkedIn metrics you should track depend on the marketing goals you set.
For example, if your brand is trying to engage new audiences through its published posts, keep an eye on update analytics. If you want to grow brand awareness on this platform, track followers and visitors analytics.
If you're brand new to monitoring LinkedIn metrics, start simple. Here are some basic metrics you should be tracking.
Update metrics to track
Here are the best LinkedIn update metrics to track.
Impressions
This metric lets you know the total number of times your LinkedIn update is visible for at least 300 milliseconds. This tracks when the post is also, at minimum, 50% in view to a user that's logged into LinkedIn.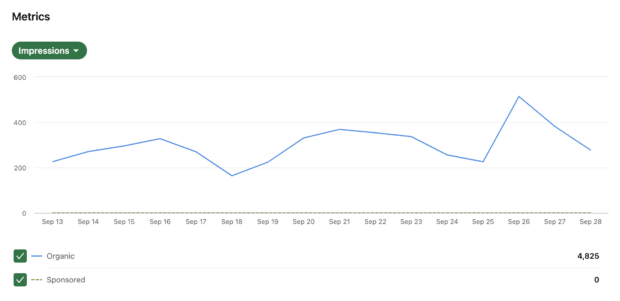 You might also want to track unique impressions. This is the number of times your post displays to individual signed-in members. Unlike impressions, unique impressions won't count when a user sees the same post multiple times.
Reactions, comments, and shares
These engagement metrics count the number of times your post received a reaction, comment, or share.
LinkedIn Reactions are used to display different emotional responses to your content. Users can select emojis to show that they like, celebrate, support, love, find insight or feel curious about the content you share.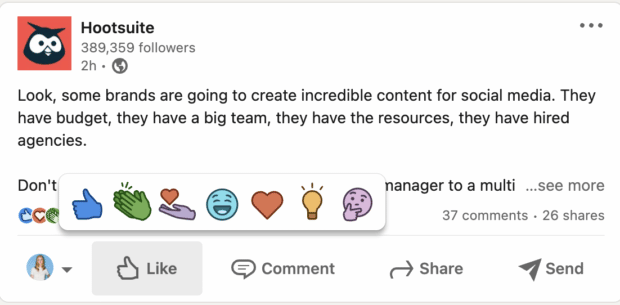 Shares is the number of times a user decides to share your content with their own LinkedIn following, expanding your post's reach.
And comments are the number of user comments left underneath your post.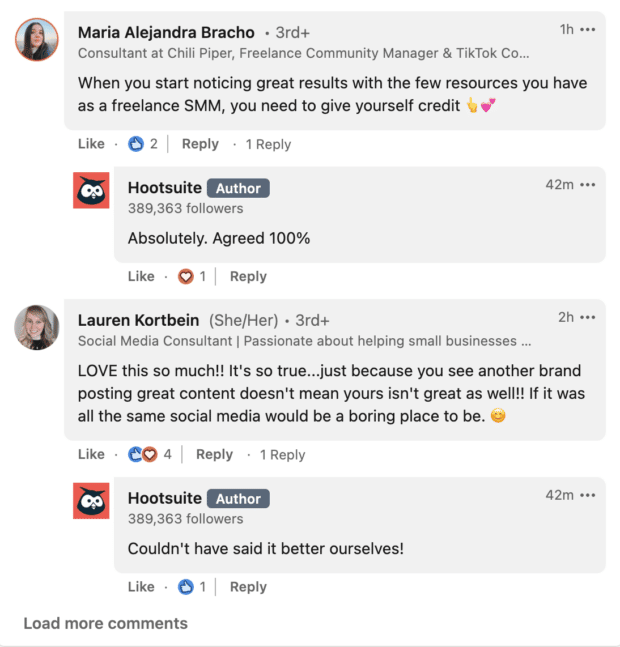 Clicks
A click tells you your call-to-action worked. In other words, a user engaged with something of yours on LinkedIn instead of just scrolling past it.
On LinkedIn, clicks are counted when a signed-in member clicks on your post, company name, or logo. It does not include other interactions like shares, reactions, or comments.
CTR, or click-through rate, is a metric that divides the number of clicks your post receives by the number of impressions it got. This percentage gives you a better idea of the post's engagement.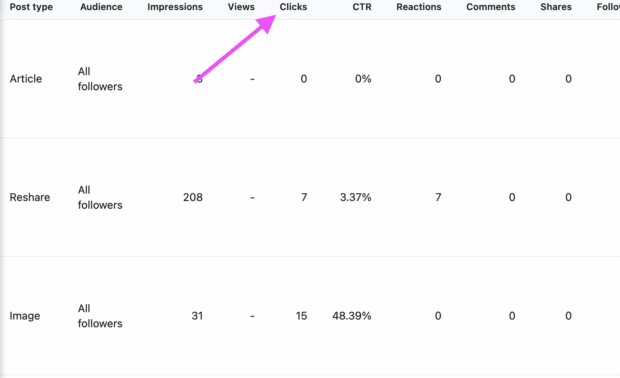 Engagement rate
LinkedIn calculates engagement rate by adding the number of interactions, clicks, and new followers acquired, divided by the number of impressions the post receives.
Follower and visitor metrics to track
Here are the most important LinkedIn metrics for followers and visitors to track.
Follower metrics
Followers analytics measure the number of people who would like to stay connected with your brand. Important metrics your brand should monitor include:
Number of followers over time: This shows how the number of your brand's followers has increased (or decreased) or a set amount of time.
Total followers: The total number of current followers your business page has.
Follower demographics: This is useful for understanding how your content resonates with followers in certain industries, seniority levels, and locations.
Visitor metrics
This shows key metrics about the visitors coming to your LinkedIn page, but who aren't following you in order to see your updates regularly. Important metrics your brand should monitor include:
Page views: The total number of times your page was visited.
Unique visitors: How many individual members have visited your page. This gives you a good idea of how many people are interested in your company.
Custom button clicks: Your business profile can include a custom button, including 'Visit website,' 'Contact us,' 'Learn more,' 'Register,' and 'Sign Up.' This metric shows you how many clicks your custom buttons receive in a set amount of time.
Employee advocacy metrics to track
Metrics from employee advocacy analytics might not mean much if you're just starting out with your LinkedIn business page. But depending on your social media goals, there are important metrics here to track too.
You can track:
The change in the number of recommendations.
Posts from recommendations.
Reactions to posts.
Comments on posts.
Reshares of posts.
LinkedIn profile metrics to track
You can also review some LinkedIn metrics without a business profile. If you're using the platform as a business influencer or to share thought leadership articles, try tracking these metrics:
Search appearances: The number of times your profile appeared in search results during a given period.
Post Views: The total number of views your posts, documents, or articles have received. You can also dive deeper for a post-by-post breakdown and to see insights like reactions, comments, and share details.
Premium accounts will get more in-depth information, like who those users are, what their job title is, and the keywords they used to find you.
How to make a LinkedIn analytics report
Now that you know which LinkedIn LinkedIn analytics to use, it's time to start creating reports.
You can create six types of reports using LinkedIn Analytics. These are:
Update reports
Follower reports
Visitor reports
Competitor reports
Lead reports
Employee advocacy reports
We'll explain these in more detail below.
To create a LinkedIn analytics report, follow these steps:
First, navigate to your LinkedIn page and access your Page Admin View.
Then, choose the Analytics tab and choose Updates, Followers, or Visitors from the drop-down menu.
On the upper right side of the screen, you'll see an Export button. Choose the timeframe you'd like the report to cover, and click Export.

You can export data from up to a year in the past. Data will be downloaded in an .XLS file.
LinkedIn analytics tools to learn even more about your performance
Here are a few of the best LinkedIn analytics tools to help you track, measure, and optimize your LinkedIn content.
Hootsuite Analytics
If your company has accounts on several social media platforms, Hootsuite Analytics can make your job a lot simpler.
Connecting your LinkedIn account to Hootsuite lets you schedule posts in advance and at optimal times, but that's not all. You can also measure how your LinkedIn analytics compare to your other social metrics.
Hootsuite Analytics lets you:
Track, monitor, and compare metrics for your brand's multiple social accounts from one place.
Set performance benchmarks, making it easier to work toward your goals.
Create customizable, clear-to-read reports that are easy to share with your team.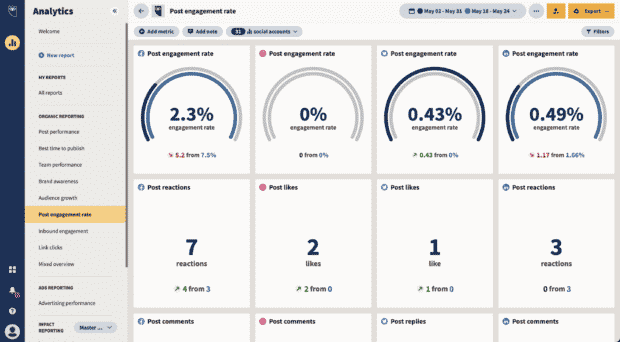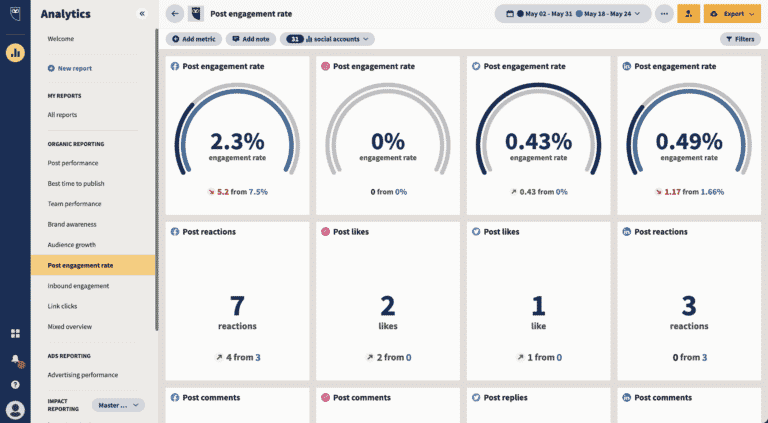 Try Hootsuite for free. You can cancel anytime.
Hootsuite Insights
Social listening tools like Hootsuite Insights powered by Brandwatch help you monitor ongoing conversations about your brand.
This tool helps you "hear" what people say about your brand on social media. You can use Insights to track mentions, highlight trends and join important conversations.
You can even compare audience demographics across networks or look at the aggregate picture of your audience for all networks combined.
This is a tool that tells you a lot about your audience — and how they feel about you.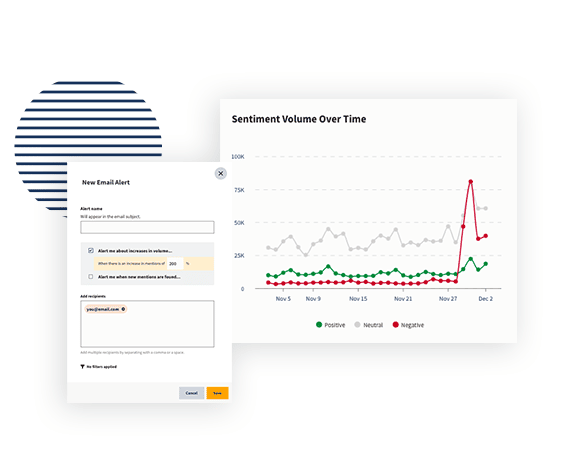 Request a demo of Hootsuite Insights
Hootsuite Impact
Hootsuite Impact is our enterprise-level analytics tool. It lets you measure the value of your social efforts, including those on LinkedIn.
Hootsuite Impact goes beyond vanity metrics to showcase the entire customer journey.
For example, see how someone goes from clicking on your LinkedIn post to making a purchase. Or from reading your LinkedIn update to signing up for your newsletter.
Hootsuite Impact also integrates with other metrics tools like Google Analytics. Analyze your numbers by timeframe or campaign.
Learn more about Hootsuite Impact here:
Request a demo of Hootsuite Impact
For more information on using LinkedIn for business, check out our step-by-step guide.
LinkedIn Hashtag Analytics by FILT Pod
Ever wonder how your hashtags are performing on LinkedIn? This FILT Pod tool lets you track how many likes, comments, and follows your hashtags bring in. You can use it within your Hootsuite dashboard.
You can even view your entire history to see which past hashtags have brought in the most traffic.
Learn more about Linkedin hashtag analytics by FILT Pod here:
Easily manage your LinkedIn Page alongside your other social channels using Hootsuite. From a single platform, you can schedule and share content—including video—and engage your network. Try it today.
Do it better with Hootsuite, the all-in-one social media toolkit. Stay on top of things, grow, and beat the competition.