Since their introduction in 2020, Instagram Reels have become the app's fastest-growing feature (and a great way to give your content a boost with the Instagram algorithm).
Hopefully, you've familiarized yourself with the basics of Instagram Reels by now — because it's time to kick things into Expert Mode.
In this post, we're sharing the Instagram Reels hacks, tips, tricks and features that the pros know and love, so that (fingers crossed!) your next video will wow all 1.22 billion Instagram users/potential new followers.
How to use voice filters for Instagram Reels
In addition to adding sound effects, music clips or voiceovers to your video, you can also change your voice.
Use the magic of audio effects to transport your audience to another world: one where you are a robot, giant, or the sort of person who sucks on helium.
Film your video clip using Create mode. Tap Next when you're done, and then hit the music-note icon at the top.
Tap Edit (located beneath the audio-level meter).
Select the effect you'd like to apply to your original audio. Tap Done to preview. If you're happy with it, carry on posting as usual!
How to add sound effects to your Instagram Reel
Make a moment pop with the addition of a bleating goat or an insistent doorbell. All you've gotta do is add a sound effect to your Instagram Reel with the audio editing feature.
Make or select your video in Create mode and then tap Next to enter Edit mode. Tap the music-note icon at the top of the screen.
Tap Sound Effects on the bottom right.
In the edit bay, your video will play through. Tap the button for the effect you want to add at the moment when you want to add it.
Add as many sound effects as you want. You'll see a timeline of your additions as a visual representation of where these fun noises happen in your video.
Tap the reverse-arrow button to undo the addition of the most recent sound effect. Your video will loop, and you can add as many goat noises as your heart desires.
When you're ready, hit Done. Proceed with publishing as usual.
Why reinvent the wheel? Instagram Reels templates allow you to copy the formatting of other Reels so that you can learn from other Reels success stories.
Tap the Reels icon (right on the bottom center when you open the Instagram app).
Tap the camera icon in the top corner to enter Create mode.
Below the record button, you'll see a tab that says Template. Tap that!
You'll now be able to scroll through a menu of Reels templates. Tap the one you'd like to emulate.
Follow the prompt to select photos and videos from your own camera. These will be slotted in and synced up to the timing of the Reels.
Proceed to settings and post from there!
How to use transition effects in Instagram Reels
Instagram's built-in transition effects can help you stitch together scenes with some real razzle-dazzle: think warping, swirling, or stretching.
In Reels Create mode, tap the Sparkle (effects) icon on the left.
Tap the Reels tab (between Trending and Appearance).
Tap the effect of your choosing and follow the instructions to record a scene that begins or ends with the visual effect.
How to schedule your Instagram Reels
Who has time to live in the moment?! You can use social media management apps like Hootsuite to schedule Instagram Reels automatically.
You can find more details on how to schedule Instagram Reels here, but here's the TL;DR version:
Record and edit your video, then save to your device.
In Hootsuite, open Composer mode and select the Instagram account you want to post to.
Above the content text field, tap Reel. Upload your video and add a caption.
Adjust additional settings, preview your Reel and then tap Schedule for Later.
Pick a manual publication time, or let the recommendation engine suggest the best posting time for maximum engagement.
Respond to comments on a Reel with a new Reel! Reels on Reels on Reels! What a world!
This feature turns a comment into a sticker that you can incorporate into your video for context as you share your response with the world… which may just encourage more followers to engage and comment. Get that chatter going!
Find an amazing comment on one of your Reels. Below it, tap Reply.
A text field for responding will pop up. Next to it, you'll see a blue camera icon. Tap that to record a Reel response.
The comment will appear as a sticker laid overtop of your new recording. Complete your recording and post as usual!
How to turn highlights into Reels on Instagram
Maybe you have already read about our big experiment turning Stories Highlights into Reels. But if you didn't, we'll catch you up on how to do it right now!
Go to your profile and tap the Highlight you want to convert into a Reel.
As the Highlight is playing, tap the three horizontal dots on the bottom right. This will open a menu of options. Select Convert to Reel.
You'll be offered some suggested audio, which your clips will auto-sync to. Tap Skip if you'd rather not give this task to Instagram AI to handle — you'll be taken to the editing page where you can add effects and sound and such yourself.
Tap Next to add a caption and adjust settings before posting.
How to search by lyrics in Instagram's audio library
Less of a how-to, more of a fun fact: Did you know you can search by lyrics to find a song in Instagram's audio library? If you don't know the title or the artist, you will not be hampered at all, my friends.
Tap the music note icon in Create mode.
Type in the lyrics that have captured your heart and pick the right song from the list to score your Reel.
Proceed with creating your Instagram Reel as usual.
How to save songs to use later in Instagram Reels
Love that song but don't quite have the content ready to do it justice? You can bookmark songs on Instagram to use for Reels later.
While browsing the audio library, swipe left on a song to reveal the Bookmark icon. Tap it!
Review your saved songs by tapping the Saved tab.
How to import your own audio for an Instagram Reel
Maybe your karaoke rendition of "It's All Coming Back to Me Now" is superior to Celine's! Who am I to judge?
Share those musical stylings with the world and upload your own audio to use as background music for your next Instagram Reel.
In Create mode, tap the music-note icon to enter the audio clip library.
Tap Import.
Select the video with the sound you want to use. Instagram will pull out the audio.
Record your visuals to go along with your new custom audio track and proceed as usual with the rest of your Reels-crafting.
How to auto-sync your Instagram Reels to the beat
Editing is hard! Let the computers do it — we won't judge, promise.
Just upload a bunch of photos and videos at once and let Instagram's auto-sync feature do the rest.
Enter Create mode and tap the photo gallery thumbnail in the bottom left.
Tap the multi-photo icon on the top right.
Select several photos and tap Next.
Instagram will provide suggested audio to sync your clips to, but you can browse the whole audio library by tapping Search. When you're ready to roll, tap the Next button and see the preview. You can add final editing touches from there.
Hot tip: You can also use the new Grooves feature to add automated dynamic edits to a single video clip. Just tap the Grooves button at the top right, pick your video, and wait for the music-video magic to happen.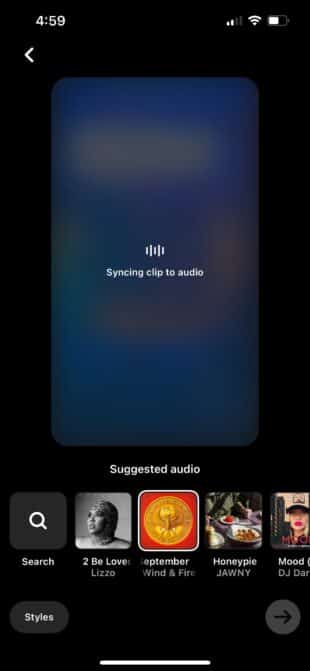 How to change your Instagram Reel cover photo
You can use a clip from your Reel or upload a separate photo to act as your cover image. We're not the boss of you!
Create and edit a Reel. Once you're on the final adjust-the-settings, get-ready-to-post screen, tap the thumbnail (it says "Edit cover," so you can see where we're going with this).
Scrub through the video footage to find the moment that best represents your vid. If you'd prefer a static image, just upload one from your camera roll by tapping Add from camera roll.
You can even preview and tweak how it will look in your profile grid by tapping the profile grid tab.
How to record hands-free with Instagram Reels
Sometimes you need your hands to, like, make a chef's kiss motion or show off your karate skills.
Here's how to set up a video timer so you can record hands-free with Reels.
Tap the clock icon on the left-hand menu.
Tap the countdown number to toggle between 3 seconds and 10 seconds. Drag the timer to set how long the video will record for.
Tap Set timer, then tap the record button when you're ready to roll.
How to lip-synch like a pro on Instagram Reels
The trick to lip-synching like a pro isn't to learn the words perfectly: it's to bend time. The pros use the slow-it-down app to make sure they can mouth every lyric.
In Create mode, tap the music icon and select a song or sound clip.
Next, tap the 1x icon and then choose 3x. This will slow the sound clip down by 300%.
Now record your video and mouth or dance along to the super-slow song. When you preview the recording, the music will be at normal speed, and you'll be weirdly fast. It's fun! I promise!
How to add gifs to your Reel
Pepper some pep into your Reels with pop-up gifs!
Record your footage and enter edit mode.
Tap the sticker icon and select all the gifs you'll want in your Reel.
You'll see a little icon of each gif in the bottom left corner now. Tap one.
You'll be taken to the video timeline for that gif. Adjust the beginning and end time to indicate when the gif will be on screen. Repeat for each gif.
Made it to the end of this monster list of hacks for Instagram Reels? I guess that means you're a Reel pro now. Congrats!
Ready to share your sweet new skills with the world? Check out our big ol' list of creative Reels ideas and get ready to make your next masterpiece.
Take the pressure off real-time posting with Reels scheduling from Hootsuite. Schedule, post, and see what's working and what's not with easy-to-use analytics that help you activate viral mode.
Save time and stress less with easy Reels scheduling and performance monitoring from Hootsuite. Trust us, it's reely easy.